In the wake of the recession, some private golf clubs are hanging on by a thread, quietly desperate for new members but unwilling –- or unable –- to initiate programs to attract them. Generally, private clubs don't go out of business; they go public. The National Golf Foundation reports that since the recession began in 2008, 78 private clubs closed their doors but 400 opened those doors slightly or fully to outside play. For many members who joined a club for its exclusivity, though, going public is a fate worse than death of the club, literally.
Since the recession began, many private clubs have dropped or eliminated altogether their initiation fees, an act of desperation that is typically confined either to clubs already in a death spiral or those in highly competitive areas in which the other clubs are dropping or eliminating joining fees. Those clubs that have a bit more flexibility employ more creative approaches, the most popular among them the "trial" membership.
The Virginia golf community known as Viniterra, located in New Kent, midway between Richmond and Williamsburg, has run a successful trial membership campaign since 2008. It offers a one-year membership for just $1,800, with no additional payment of dues or any other fees except for golf cart rental when you play.
Viniterra converted to full membership 80% of those who signed up for a one-year trial membership.
By the month, that amounts to just $150, which are the dues Viniterra members have paid since 2008. At the end of the trial year, according to Viniterra Director of Marketing & Sales Holly Stephens, the potential member can "pay the initiation fee ($5,000) or walk away." To date, says Stephens, 80% of trial participants have converted to full memberships. That seems to vindicate the trial membership as a low-risk marketing effort for both the trial member and the club itself.
Viniterra was slated to be a private golf club but the recession and its effect on lot sales there forced the club into semi-privacy. The Rees Jones designed course, which passes by some of the on-site vineyards that give the community its name and supply some of the grapes for the on-site working winery, is an interesting, rolling layout and was in fine shape when I played it a couple of years ago. You can read my original review of the golf community and golf course by clicking here. Homes in Viniterra begin in the $500s; check out a few of their listings at GolfHomesListed.com.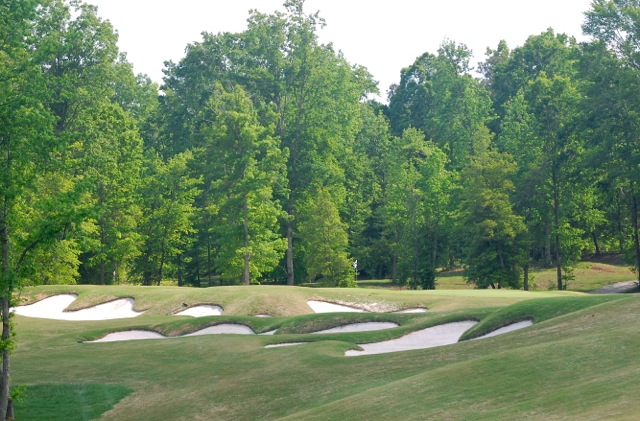 The approach to the par 5 9th at Viniterra
Comment
Be the first to comment