We recently shared some observations about deeply discounted public golf course memberships in the Myrtle Beach area. Along the entire 90-mile stretch of the Grand Strand, there are only four strictly private golf clubs. (Two of them, The Reserve at Litchfield and The Members Club at Grande Dunes, are managed by the same organization and, therefore, accessible to members of each.)
Here is a brief rundown on private golf club memberships in the Myrtle Beach area.
Private Options
Wachesaw Plantation is ideally sited a couple of miles west of Highway 17, the coastal route that runs through Brunswick County, NC, down through Myrtle Beach and Pawleys Island and, eventually, to Charleston and beyond. The Wachesaw golf course was designed by Tom Fazio in 1985, and its layout hits enough high notes to appeal to double- and single-digit players alike, with some narrow well-bunkered fairways framed by live oaks and tall pines. (According to local golf historians, Mike Strantz, the designer of the heralded Caledonia and True Blue layouts a few miles away, did much of the shaping of the golf course for Fazio.) Greens are generally large and undulating, protected by both bunkers and false fronts. Fazio shows his mischievous side with a split fairway on a par 5 and a par 3 green wedged between a dune and a lake.
Wachesaw's non-equity member joining fees and monthly dues programs are pegged to the ages of its members. Dues rise gently in five-year increments from the age of 30 to 46 where they top out at a reasonable $444 per month for a single member and $549 for a couple. Joining fees for a married couple living outside the gates of Wachesaw are just $1,250; property owners are required to purchase an equity membership at $5,000, which gives them voting rights on club issues.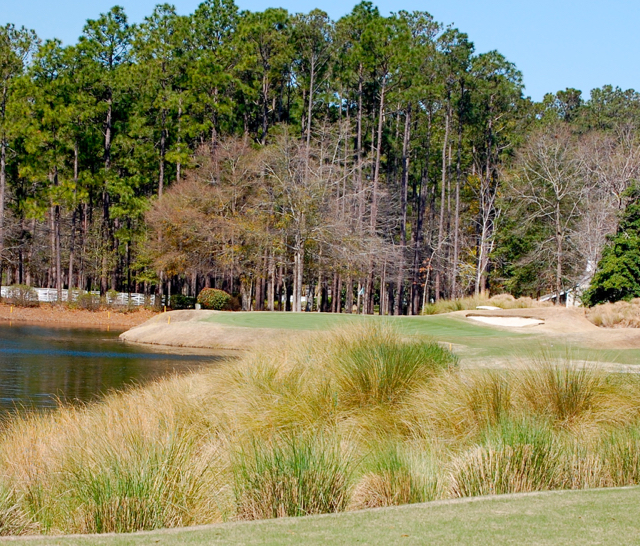 Wachesaw Plantation, designed by Tom Fazio, features one of the best and most intimidating par 3s on the Grand Strand.
I've written often about the McConnell Golf Group's string of private golf courses throughout the Carolinas, but its membership plan warrants mention here. One of the group's dozen courses is The Reserve Golf Club in Pawleys Island. McConnell also manages the Grande Dunes Members Club about 35 minutes north of The Reserve, which gives members of The Reserve a strong second option nearby. (Note: Members' rounds are limited to a maximum of three per year at any McConnell course not their own, and a total of 12 rounds combined.) Greg Norman designed The Reserve course to accommodate the sandy soil beneath the fairways and the forests of scrub pines beside the fairways, all just a mile from the Atlantic Ocean. It is one of the rare area golf courses that forces you to consider putting from as far as 15 yards off many of the greens.
Best of all, members enjoy full access to all the other McConnell courses, including the famed Sedgefield Country Club in Greensboro, designed by Donald Ross and the site of the annual PGA Tour's Wyndham Championship; Arnold Palmer's Musgrove Mill in rural upstate South Carolina, perhaps one of the five toughest golf courses in the state; and the Country Club of Asheville, another Donald Ross classic layout opened in 1894. The Reserve initiation fee and dues levels are impressively reasonable for all the golf available, as well as for the impeccable service standards John McConnell imposes. Currently, the joining fee at The Reserve is just $5,000, payable over a few years but discounted to $4,000 if you pay up front. Dues are just $345 per month for an individual and $500 for a family.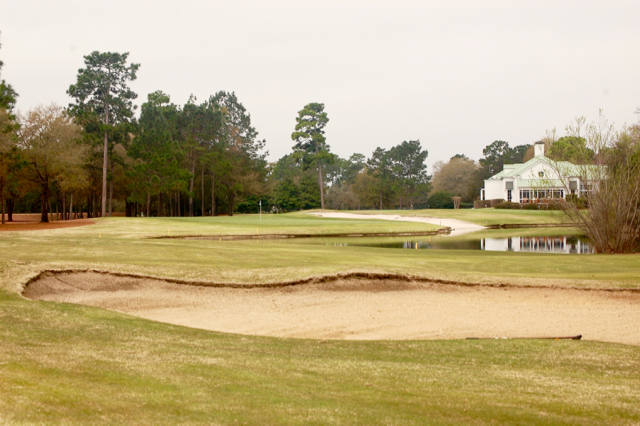 All elements of Greg Norman's layout for The Reserve Golf Club -- the pine-tree-lined fairways, yawning bunkers, well-placed ponds -- are on display at the finishing hole.
Only Wedgewood, a well-worn public track just outside of Georgetown, is farther south among Myrtle Beach's golf courses than is DeBordieu Colony, which stretches behind its front gate on Highway 17 to the Atlantic Ocean. DeBordieu –- locals refer to it as Debby Doo -– is the most upscale golf community on the Grand Strand, its homes ranging from around $500,000 a half-mile from the beach to nearly $4 million on the oceanfront. It is the only gated golf community from Wilmington to Georgetown in which residents have access to a beach without leaving their community. One of only two Pete Dye designed courses of the Myrtle Beach 100, this one shows all the familiar flourishes we recognize about Dye, including pot bunkers, railroad ties and fairway moguls. The first 16 holes are an enjoyable but not brutalizing experience, but the final two holes, typically played into a stiff breeze off the ocean just 100 yards away, might be the most challenging finishers on the Grand Strand. They are long, with water along the right sides of both, and the bunkers at front left of the 18th green at its narrow entrance are magnets for those seeking to avoid the water at greenside right.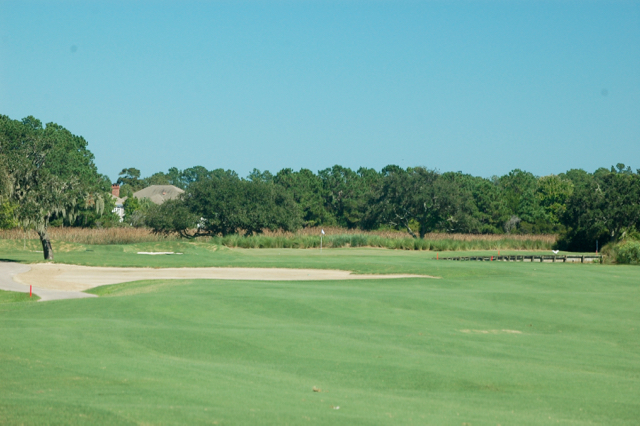 A series of pot bunkers just left and at front of the 18th green at DeBordieu are barely noticeable from the fairway. The specter of water against the right side of the green put those bunkers very much in play.
Befitting a golf course and club of this quality, and with a beach club as part of the membership, initiation fees at DeBordieu are the highest on the Grand Strand at $34,000 for an equity membership and a "capital contribution" of $21,000. (Most of the equity is returned to the members when they resell the membership.) Dues are $454 per couple, which certainly meets our definition of "reasonable." Other sports and tennis memberships are available at lower joining fees and with a few rounds of golf per year available. Creative golfers who crave easy access to an Atlantic Ocean beach could combine a lower cost DeBordieu membership (Sports or Tennis) with one of those public option memberships we wrote about in an earlier article and develop a nice hybrid private and public golfing lifestyle.
For more information on golf real estate and golf memberships in the Myrtle Beach area or anywhere in the Southern U.S., don't hesitate to contact me, Larry Gavrich, founder and editor of Home On The Course.
Comment
Be the first to comment