Honest competition is always good for the consumer. And nowhere is the competition among golf courses greater than it is on the Grand Strand of Myrtle Beach, an area that runs about 90 miles from mid Brunswick County in North Carolina to Georgetown, SC. Filling that space are more than 100 golf courses, down from a peak of 120 a decade before the economic meltdown of 2008 but still as densely packed with golf clubs as any comparable area in the world.
Most couples used to the perquisites of private country club membership decide to replicate that experience in their retirement. In the Myrtle Beach area, just four clubs, all in South Carolina, offer a strictly private experience: DeBordieu Colony in Georgetown; The Reserve at Litchfield, Litchfield Beach; Wachesaw Plantation, Murrells Inlet; and Members Club at Grande Dunes, North Myrtle Beach. (Nominally private clubs like The Dunes Club and Surf Club claim to be private but permit some golf package play in association with nearby hotels.)
The following will help those on the fence about which type of golf club membership works the best based on frequency of play and costs. We cover the public courses today and the Private Options in the next posting.
Public Options
Although in recent years the buddy and family golf tourists that Myrtle Beach depends upon have returned to almost pre-recession levels, 100 golf courses are still at least a few too many for the volume of traffic. Since the recession, some companies have purchased clusters of area golf courses and are offering memberships that provide access to all the courses in the group. A Chinese-based company, for example, formed the Founders Group International after purchasing 22 area courses, including the Jack Nicklaus designed Pawleys Plantation, TPC Myrtle Beach, Long Bay and Grande Dunes. Members who join the Founders Group Prime Time Signature program for just $225 gain access to all 22 courses at deeply discounted prices, up to 70% off. Other companies own smaller groupings of courses in the area and offer similar annual memberships.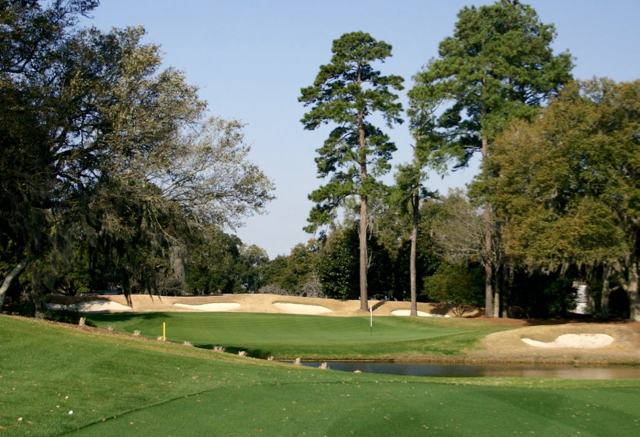 The par 5 8th at Caledonia Golf & Fish Club is all about the pin position on the two level green. If the pin is at bottom, putts from above could make the water below the green.
As a member of the semi-private Pawleys Plantation –- my Prime Time membership is free with my Pawleys membership -– it makes little sense for me to sign up for an additional membership. But if I did, my choice could very well be the combined annual membership for Caledonia Golf & Fish Club and True Blue Golf Club (formerly True Blue Plantation). Caledonia, located in Pawleys Island, is arguably the best golf course of the Myrtle Beach 100. Designed by the late Mike Strantz (Tobacco Road, Royal New Kent and 10 others), the Caledonia layout is rare among area golf courses in that houses are virtually nowhere to be seen (a few behind the trees along the first fairway, one or two at the back areas of the course). Strantz, who is known for dramatic visual touches that include acres of waste areas and large and multi-leveled greens, restrained himself a bit at Caledonia, but the green complexes are still rife with eye-popping surprises, such as a rollercoaster green on the par 3 3rd hole, a severe two-level green on the par 5 8th, and the intimidating 60-yard long Redan-style green at the finishing hole, which forces an approach over water or a bailout to the front of the green that could leave a putt as long as 150 feet to a back pin position. To add even more drama, the porch of the clubhouse restaurant and bar virtually hangs over the green, providing the unsuspecting golfer an audience that only adds to the hole's intimidation factor.
True Blue is across the street from Caledonia, which makes it possible for more hearty and enthusiastic members to, in the words of the immortal Ernie Banks of the Chicago Cubs, offer to "let's play two" easily in one day. Sand dominates True Blue, with wide fairways surrounded and interrupted by hazards. You are likely to never drive a cart through as many waste bunkers as at True Blue, where a ball on the compacted sand can often have the feel of a fairway lie (and, of course, you can ground your club behind the ball). Greens are huge and well protected by sand and, in some dramatic cases, water. At the par 3 3rd, for example, water from tee to the wide but not deep green laps up onto the sand directly in front.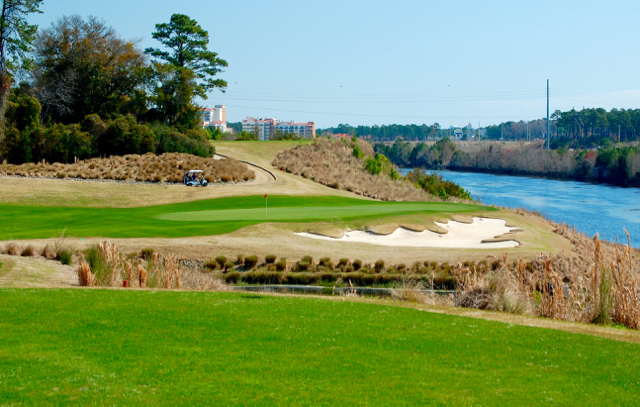 Both Founders Group International and Myrtle Beach Passport include the Grande Dunes Resort course in their membership programs. Shown is the par 3 14th hole along the Intracoastal Waterway.
Annual membership for a single player at the two courses is $1,895 and for a couple $2,695. However, members pay a $25 fee to play each time, cart included. As good as the courses are –- both rank comfortably in the Top 5 in the Myrtle Beach area -– such a membership only makes sense for those who can play the courses two or three times per week. Some quick math indicates that playing Caledonia and True Blue twice per week annually would cost around $4,400 for the year, or about $366 per month, still a better deal than at virtually all private clubs. And although the tee sheets at Caledonia and True Blue in peak season are jammed from early morning to mid afternoon, pace of play rivals that of a private course on most days. For more information, see the Caledonia and True Blue website.
The Myrtle Beach Passport is among the oldest of the "affinity" memberships in the area. For just a $49 membership annually, Passport holders who show proof of residence in one of 15 counties in North and South Carolina can play more than 70 of the area courses at deep discounts and bring along up to 3 friends who will play for just a little bit more than their hosts. All the best public golf clubs are represented, including Caledonia, True Blue, Pawleys Plantation, TPC Myrtle Beach, Grande Dunes Resort Course, Kings North and all four Barefoot Resort courses. The annual fee is typically paid for in savings after just one or two rounds. For the gourmand golfer who wants to sample virtually everything on the Myrtle Beach golfing buffet table, it is as good a deal as a conceded putt to close out a match.
Next: Private Club Golf Options in Myrtle Beach