Mark Saunders, head of Coastal Communities in North Carolina, has managed to make headlines about golf communities he has built between Myrtle Beach and Wilmington, including Rivers Edge and Ocean Ridge Plantation. Some of those headlines involve claims filed against him by property owners in his developments. In the most recent, filed in Brunswick County Superior Court, Coastal Communities was the plaintiff and emerged with a favorable judgment when the court ruled that property owners in Ocean Ridge, not Coastal, were responsible for tax assessments after Saunders turned over the community's governance to the residents. It seems that the tax bills kept going to Coastal for a few years and the company kept paying them, despite original covenants indicating responsibility for the taxes belonged to the property owners after turnover. In the wake of the judgment, the two sides are expected to engage an arbitrator to help decide on just how much, and on what schedule, Coastal Communities should be repaid. Read here.
This is a good reminder for those considering a golf community home to read the written covenants that govern details of the turnover of the community from developer to residents –- not only on what schedule the property owner's association takes responsibility for paying fees but also about who will have control of the golf club after the developer leaves. In some cases, the developer retains control; in other cases the property owners have the right of first refusal to purchase the club and, in still other cases, the agreement is that property owners will take over ownership of the club, either for a price stipulated in the covenants or for no cost at all. It would be a good idea to know what financial commitments are in your future.
As we said above, Mark Saunders has been involved in lawsuits before, but what is of particular interest is the rather unusual way in which he and Coastal Communities have chosen to defend themselves. They created a web site and blog to post articles about their side of the story and to testify to how seriously they take the legal actions. The title of the site, "Mark Saunders Lawsuit," serves mostly as a reminder to people that the words "Saunders" and "Lawsuit" go together. Plus, there is no content on the site, other than a few sentences on the home page that assures that "The unfounded Mark Saunders lawsuit stories should not be of concern" and "there has been exaggerated news of a Mark Saunders lawsuit in the past…" The evidence offered for these assurances is that "Mark Saunders takes lawsuits very seriously and it shows in the careful and detailed work of The Coastal Companies" and that Saunders has done a great job of developing local communities. It is hard to figure out how bringing attention to the lawsuit without any attempt at arguing the merits of their case is a smart play…not to mention how a court weighing evidence might look on a defendant or plaintiff arguing the case so publicly, if insipiently.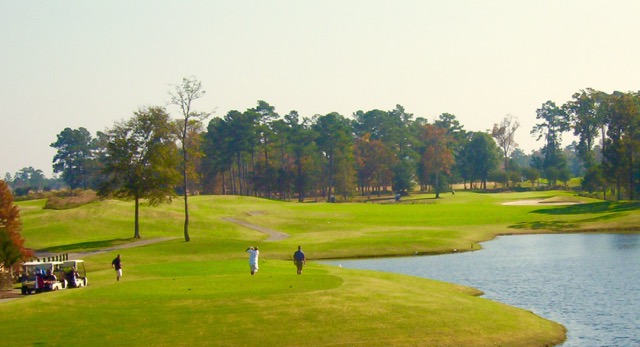 Ocean Ridge Plantation
This is all kind of sad because Ocean Ridge Plantation in Sunset Beach, NC, is a nicely conceived, multiple-golf-course community whose major misstep, it appears, was to promise a new section, called Jaguar's Lair that, after 10 years –- and a few angry lot owners –- still does not have a basic complement of roads, electricity lines and other basics required to build a home there. Despite the fact that Jaguar's Lair properties were opened just in time for the Great Recession and the collapse of the planned development housing market, the relative few property owners have suffered with rapidly depreciating assets, although the rest of Ocean Ridge seems in good shape.
In August, according to television station WWAY in Wilmington, the town of Sunset Beach and Coastal Communities reached an agreement to deliver utilities and roads in the next couple of years.
Comment
Be the first to comment