Home On The Course Newsletter
Click here
to sign up for our Free Home On The Course newsletter, providing you with helpful information and observations about golf communities and their golf courses.
        Like life itself, the search for the perfect golf home often takes some unexpected turns. You should always have a plan and follow it when you are looking to invest hundreds of thousands of dollars but, as Yogi Berra once said, "If you come to a fork in the road, take it."
        Barry and Carol Hudson, most recently of Fayetteville, NC, learned the lessons of flexibility when they went searching for their perfect golf home. They knew they wanted to live in a golf community in the Carolinas, but they thought it would be on the coast. They went so far as to put in a bid on a home in the sprawling Dataw Island golf community after visiting 10 other golf communities in the Carolina Lowcountry. If their bid had been accepted, they might be living happily ever after in a marshland community that features two excellent golf courses by Tom Fazio and Arthur Hills. Instead, they find themselves a full five hours from the coast, on a beautiful lake in a community, The Reserve at Lake Keowee, with one fine Jack Nicklaus golf course.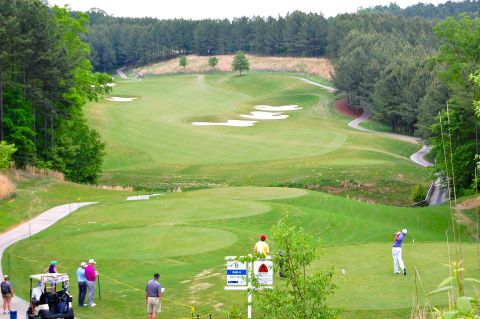 Competitors in the BMW Charity Pro-Am tee off on the 6th hole at The Reserve at Lake Keowee, one of three venues used on the first three days of the tournament.  (The others are Greenville Country Club's Chanticleer course and Thornblade Club.)
        Dick and Chris Bishop of Vienna, VA, just outside of Washington, D.C., had water on their minds, as well as mountains and good golf, when they began their search for a golf home, even though they were not boaters. "We just like to look at it [the water]," said Dick. There are dozens of golf communities that would have fit their ideal location, but as so often happens, friends who had purchased a property in The Reserve at Lake Keowee urged Dick and Chris to take a look there.
        "We thought a golf course was the number one amenity we were after," says Dick, "but when we found the perfect lot, that turned out to be our top amenity." That lot, which has some of the best lake views in the community, has had a big beautiful house on it since 2008.
        "We built it with our family in mind," says Chris, referencing the three daughters, their husbands and nine grandchildren who visit at least once a year.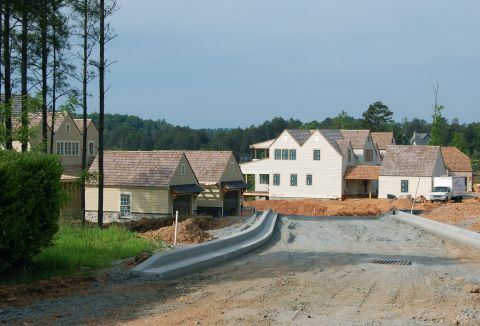 High-quality golf communities like The Reserve at Lake Keowee are seeing a resurgence of interest now that the economy is on more solid footing.  Homes being built in the Village Point section, adjacent to the lake and Village center, start in the $600s.
        When you talk with experienced golf home prospectors like these two couples, you understand that flexibility may be the most important characteristic in a golf home search. Both couples had lived suburban lives for decades, with plenty of services and conveniences nearby; and yet, they wound up in what, by most definitions, is a remote part of the South, Sunset, SC, a half hour from the town of Clemson and a full hour from Greenville. Such distances don't lend themselves, say, to dinners out that include a couple of glasses of wine and then a drive along dark country roads. But you learn to make accommodations.
        "If we know we are going out to dinner in Greenville," said Dick Bishop, "we usually bring a designated driver along with us." Grocery shopping also tends to be a communal exercise in a community like The Reserve; if the Bishops are heading to the supermarket in Easley, 20 minutes away, they'll ask their neighbors if they need anything. The neighbors return the favor.
        Carol Hudson confided that she would have been content to live in or near the city of Greenville itself; the Hudson's son and wife and their young children live there.
        "But it is so beautiful out here by the lake," said Carol, "that I was convinced." Both the Hudsons' son and a daughter who lives in Oklahoma and visits once or twice a year have become "Legacy" golf club members who have all the club privileges of their parents without any additional dues payments.
        "The Legacy membership is a nice benefit for our family," says Barry.
        Golf overall at The Reserve is a big deal, so much so that, despite what may seem a hassle at some other clubs was welcomed by most club members at The Reserve –- a professional golf tournament. Preparations by the PGA Tour closed the course for a week prior to the Web.com tour's BMW Charity Pro-Am event last weekend, and then for the three days of the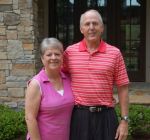 tournament itself, but few residents complained, according to the two couples.
        "It's a minor inconvenience," said Barry Hudson, "but we are happy to have the tournament on our course." (At 7,112 yards, The Reserve was the longest of the three in the tournament rotation. The course, which I've played, is no pushover, but suffice to say that the tournament winner finished 27 under par, most of those on the Thornblade Club course but 9 of them at The Reserve. Indeed, these guys are good.)
        Dick and Chris Bishop not only welcomed the tour event, they also jumped right in to help run things at The Reserve. (The BMW Charity Pro-Am field plays the first three rounds on three different Greenville area golf courses, then at the Fazio-designed Thornblade Club for the fourth and final round.) Dick Bishop was named co-chairman of The Reserve's part of the event and was glued to his golf cart for the three days, making sure things went smoothly. (They did.) More than 120 residents of The Reserve volunteered to be walking scorers, hole marshals, drive shuttle vans, serve food and drink and provide hospitality services for players and guests during the tournament.
        "I loved to see the pros play the course I play every week," said Dick.
        Both couples supervised the building of their homes at The Reserve and tout the benefits of having things laid out just the way they wanted them.
        "We were always going to build," said Dick Bishop, who conceded that their project went smoothly in 2006, "and we enjoyed the process with the architect and builders."
        For the Hudsons, the process was not quite as smooth, with a number of "redos" necessary along the way, an issue that didn't seem in retrospect to bother Barry too much.
        "Carol wound up being the 'foreman' on the project," he admitted.
Tuesday, 21 May 2013 12:15
        Prospective buyers love to see a golf community developer with deep pockets. A strong and steady backer, like Lord Baltimore Capital at Leland, NC's Brunswick Forest, not only provides a sense of financial security but the extra cash the community can spend to market itself. That is a big reason why Brunswick Forest sales kept chugging along through the recession.
        Ken Kirkman, a veteran of golf community development, knows that money talks when it comes to positioning a golf community in a crowded market. You might think it counterintuitive that he would entertain the purchase of his Carolina Colours community in New Bern, NC, just as the market is showing strong signs of a rebound. But whether you consider it selflessness or smart business –- we see it as a bit of both –- Kirkman recently announced the sale of Carolina Colours to Preston Development Company, a Cary, NC based company with decades of experience in golf community management and development.
        "Everything is still the same as always [at Carolina Colours]," Kirkman, who initiated the deal with Preston, told us.  "I am no longer majority owner, but still run everything.  We just needed some deep pockets to get rid of debt and get the pool complex built." Residents of Carolina Colours with questions about the deal don't have to work too hard to get them answered; Kirkman lives at Carolina Colours and regularly shows up at Friday night gatherings at the community's clubhouse.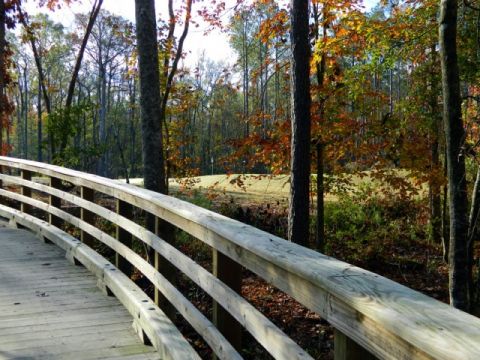 Sweeping wooden bridges on the Carolina Colours golf course are well integrated into wooded settings.
        The developer was not about to sell to just anyone the baby he had nurtured for almost a decade. He had worked with the Preston group at Landfall, the large and upscale coastal community just east of Wilmington, NC, and told us he has great respect for their approach and established portfolio of successful communities.
        "This deal is the best for everyone," he said.  "The market is definitely improving, but there are five factors that allow a community to take advantage.  It must be in a decent location; have a sense of community, with activities [in place]; be relatively secure (little debt); have no risk of amenities not being built; and, finally, have some marketing money to tell people about what you have.  (Note: These are precisely the qualities a golf home buyer should be looking at as well.)
        "We [Carolina Colours] had the first two attributes already," he added. "This transaction gives us the other three."
        Please contact me if you would like to learn more about Carolina Colours or want me to ask Ken Kirkman any questions about the community and its new management. Next week, I will visit Carolina Colours, play golf with Ken, and meet with residents at their regular Friday night gathering at the clubhouse.  In the meantime, check out some current golf homes for sale at Carolina Colours, listed at our companion web site, GolfHomesListed.
Thursday, 16 May 2013 20:47
        For those dedicated readers wondering why your correspondent has been missing in action for the past week or so, the excuse is that I have been in the Lowcountry of South Carolina for a few days of some of the best golf you can enjoy in the southeast. My Connecticut friend Larry, a former work colleague during our corporate lives, maintains a "national" membership at Secession Golf Club near Beaufort, SC (that's the one pronounced "byooh-fert" as opposed to the town of the same name in North Carolina, which is pronounced "beau-fert"). Most of the more than 700 members of Secession hail from some distance, including other countries. (I heard a few Scottish brogues in the clubhouse bar.) But no members anywhere -– or guests for that matter -– are treated any better than at Secession, where a doting staff, excellently trained caddies (they are mandatory, no carts available) and golf professional Mike Harmon, straight out of central casting for gregarious old pro, are well in evidence.
        Larry wasn't kidding when he told me that if he couldn't play golf anymore, he'd never give up his membership at Secession; he'd just have them wheel him out onto the deck that overlooks the 18th green and the expansive marsh beyond and shoot the breeze -- and enjoy the breezes –- with his fellow members. After three days of being cosseted at Secession, I perfectly understand his obsession with the place.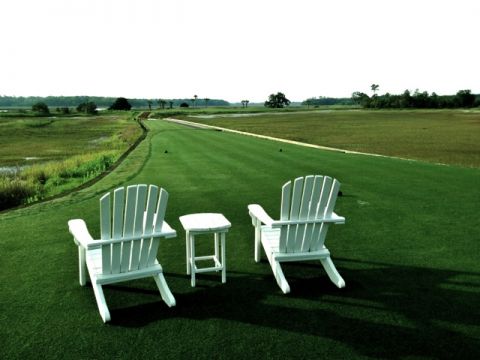 The first shot at Secession plays over the marsh to a fairway that runs away the closer it gets to the green.  The hole is not long -- just 310 yards from the middle tees -- but greediness off the bat can make for a long day.
        Our first day at Secession was spent following a group of golfers attempting to make it through the first stage of qualifying for the U.S. Open. My son Tim was in the group of three that included a local boy, Mark Anderson, who played his junior golf at Secession after being "discovered" by Mike Harmon and other members. Anderson, who is 27, finished just outside the top 150 on the PGA Tour last year, earning more than $400,000 but was relegated to the Web.com tour this year. His ball striking was the best I had ever seen up close, and his putting was what we all dream of -- rarely a putt left short, never going too far past the hole but always giving it a chance to go in. His 40 footer that dropped early on the first nine helped set him up for a seven-under 65; he shared medalist honors with one other golfer. (Tim shot a 71, one of his best competitive rounds ever, finishing a stroke out of a playoff for an alternate's position.)
        After the qualifying round, Larry and I drove 20 minutes for a round at Chechessee Golf Club, another club that opened some years ago with a "national member" model but which attracts more local golfers than does Secession. Chechessee is in Okatie, just a couple of miles from two excellent golf communities, Callawassie and Spring Island, whose Old Tabby Links is one of the top rated courses in the state and was recently renovated. (I plan to give it a go later this year.) The golf at Chechessee is high end but the layout differs substantially from Secession. I can't recall a hole at Secession where the surrounding marsh was not in view or, in most cases, in play off the tee or on tricky, windblown approach shots to the slick greens. Chechessee is more of a parkland layout, somewhat protected from the windiest conditions, closer in style to the earlier holes at Hilton Head's Harbour Town before that layout emerges onto the Calibogue Sound for its famed finishing holes.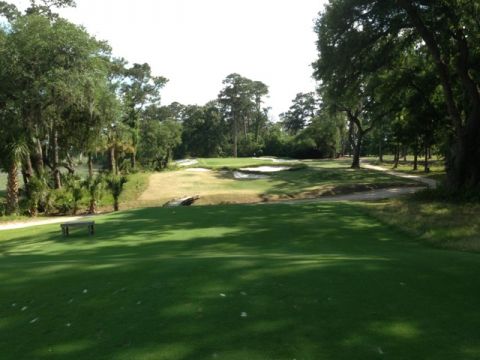 Surrounding trees prevent the prevailing winds from playing too much havoc with shots at Chechessee, but designers Coore and Crenshaw make sure other influencers, like well bunkered greens, make you think twice before you strike your shot.
        The greens at Chechessee, every bit as firm and slick as those at Secession, will play a bit more penal for the golfer who chooses the right club for approach shots but pushes or pulls them slightly off line. Virtually every green on the Coore/Crenshaw designed layout was elevated on one or both sides, making it very difficult to get chip shots close to pins. Only excellent lob wedge players will avoid stress and bogies at Chechessee.
        Secession tests all clubs in the bag equally, especially if the wind is blowing, as it so often does. With no out of bounds stakes (or homes) anywhere on the course, you find yourself with the occasional shot from the marsh, especially if the tide is out. Secession regulars, faced with a lay-up to 200 yards or a shot into the marsh to leave less than 150 yards, will often choose the latter. The aforementioned Mark Anderson went for one par-5 green in two and pulled his long fairway metal into the marsh 40 yards from the green; he blasted his third from the firm mud to 30 feet as if he had played the shot hundreds of times before (which he likely had).
        Secession appeals to "players," those who make competent swings with all the clubs in their bag. You can get away with a few errant drives at Secession, if they occur at the more generous par 4s and 5s, but if you can't hit the ball 200 off the tee at least, you will fall short on some of the forced carries. Right off the bat, the drive on the first hole must carry the marsh to a narrow-looking fairway that is closer to the tee box on the left but runs away on the right toward a small green. The knowledgeable caddies will ask how far you hit your drive and then point you to an appropriate landing zone; but you better hit it on that line or you will be playing from the marsh on one side of the fairway or the other.
        Pete Dye and Bruce Devlin -– the latter took over the design of the layout after founding members and Dye had a falling out over positioning of a green on the 14th hole –- place plenty of bunkers throughout the course but they are to be avoided as aggressively as you might steer around bunkers at the Old Course at St. Andrews, and for much the same reason: They are small and steep, with sodded faces, and if you find one, you are likely to be forced to come out sideways. I speak from personal experience.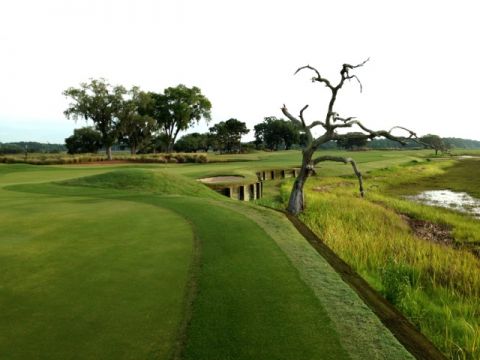 A few dead formerly live oak trees that dot the landscape at Secession add a note of foreboding before you attempt a windswept approach shot to the marsh-protected greens.
        There isn't a bad hole at Secession, and I find myself thinking about what might be my favorite or the toughest or the most memorable. I can't, which is testimony to how consistently good the course is hole to hole. I suppose the most iconic hole on the course, and the one that will invade the sleep of serious golfers most, is the 17th, a short par 3 with a green surrounded by marsh and held together by wooden bulkheads. We played it with a 20 mph crosswind, right to left both days, at 130 yards, which is pretty much the tips. A few meticulous members of Secession measured the green some years ago and then compared it to the size of Dye's most famous par 3, the 17th at TPC Sawgrass.  As you watch Tiger Woods and his fellow competitors play the 17th at the Player's Championship final round today, and listen to the TV commentators moan about how difficult it is, consider that the green at Secession's 17th is half the size of the TPC green. The good news is that if you make the green at Secession, you are virtually guaranteed a two-putt par, given the tiny size of the green. The bad news is the stuff of golfing nightmares.
        A few days at private courses like Secession and Chechessee are good reminders that serious golfers do not have to live inside the gates of a golf community to enjoy spectacular golf on a regular basis. The charming southern town of Beaufort is just 10 minutes from Secession, and for those who like both sterling golf and in-town living could do worse than combine the two. I'll consider this type of combination in more depth in an upcoming edition of our free monthly newsletter, Home On The Course.  You can subscribe by clicking here.
Sunday, 12 May 2013 11:28
<<

Start

<

Prev

1

2 3 4 5 6 7 8 9 10 Next > End >>


Page 1 of 493