My late father, Ed Gavrich, earned a Purple Heart in World War II after his B-25 Liberator belly flopped on Okinawa after its landing gear had been damaged by enemy fire during a run over Japan. The belly held two unexploded bombs. Thankfully for me, the award was not posthumous. Whenever I see the words "Purple Heart," they get my attention, as they did when Dataw Island's director of marketing, Laura McCarthy, sent along a few press releases about that golf community's activities during the week of Veteran's Day.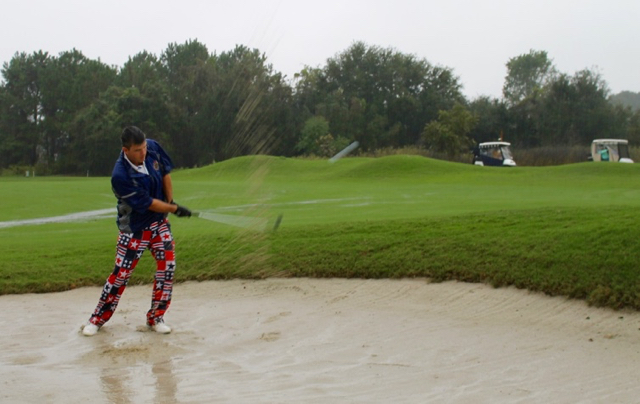 Dataw Island Club Assistant Pro Chris Fearn sloshes his ball out of a wet bunker on his way to a marathon round of golf that raised $19,000 for veterans organizations. He played the first of his 156 holes in darkness at 4:30 a.m. and finished around 5:30 p.m. It rained most of the day, and cart path only regulations kept him from his goal of 200 holes.
The Veteran's Purple Heart Golf Classic is held annually at Dataw's two excellent golf courses. At 20 minutes from the charming port town of Beaufort, SC, Dataw Island is not exactly in a thriving metropolis, and the fact it attracted a field of 200, plus 30 wounded vets, from all over the nation is testimony to its residents' consistent involvement and support. The event has raised nearly $130,000 over the last eight years for organizations that support veterans, including OnCourse Foundation, Folds of Honor (scholarships for children of servicemen and women killed or injured in the line of duty), National Military Order of the Purple Heart and the Wounded Warrior Project. A Dataw Island resident, Colonel Glenn Blackburn, a Vietnam veteran and Purple Heart recipient, helped found the event which, this year, raised another $17,000.
The Purple Heart Classic was not Dataw's only contribution to veterans this year. The club's assistant golf professional, Chris Fearn, played a "marathon" group of holes –- 156 in all – and was followed most of the way by supporters, including a group of wounded warriors. His efforts raised $19,000 for the Green Beret Foundation. Heavy rains most of the day restricted Fearn to cart path only and kept him short of his goal of 200 holes, but starting at 4:30 a.m. (with lighted golf balls) and finishing in near darkness was a warrior-like effort.
Dataw Island comprises two 18-hole golf courses, one designed by Tom Fazio and the other by Arthur Hills, and is located about 20 minutes from Beaufort, SC, and the same distance from the beach at Hunting Island. Home prices at Dataw range from the mid $100s to over $1 million. Contact me for more information or see our overview on Dataw Island, with a link to current properties for sale.