W
intergreen Resort in the western mountains of Virginia is a bit of a mixed bag.  I am spending the weekend there with my family and we have rented a comfortable two-bedroom home that is also on the market for $349,000.  Everything works except for one of the three satellite TVs, and although the outside of the three-decades-old wood home is showing a little wear, the inside is in good shape and the view from the back deck this morning when we awoke was enough to make you forget any minor imperfections.
        The golf is darn good too.  We followed our son around during the Virginia State Intercollegiate tournament held on two of the three Rees Jones designed nines at Stoney Creek at the bottom of the combo ski and golf resort's mountain.  I haven't played the resort's other golf course at the top of the 3,500-foot mountain, the Ellis Maples-designed Devil's Knob, but most who have played both prefer Stoney Creek for golf and the Knob for views.  Devil's Knob, whose first tee is a couple hundred yards from the top of the resort's ski lift, will close for the season in a few weeks.  Stoney Creek will remain opened for the winter and, as residents like to brag, there will be a few days in January when you can ski in the morning and play golf in the afternoon.
        For active retirees who enjoy two season's of sports and those who live and work in the D.C. area, Wintergreen has the wide selection of real estate at a wide range of prices to suit every interest and pocketbook.  The local town of Nellysford isn't exactly a metropolis, but we stopped for breakfast in a terrific bakery, tasted a wonderful selection of beers at a local brewery in nearby Afton, VA, and are looking forward to breakfast early tomorrow on the top of the mountain.
         If you have more interest in Wintergreen, let me know and I will provide more information for you.  Right now, a round of golf with cart and range balls included is just $49 at either course.  Homes like the one we are renting run $200 per night, a little less for the one bed units and a little more for three or more bedrooms.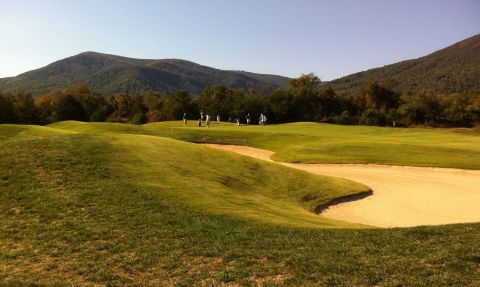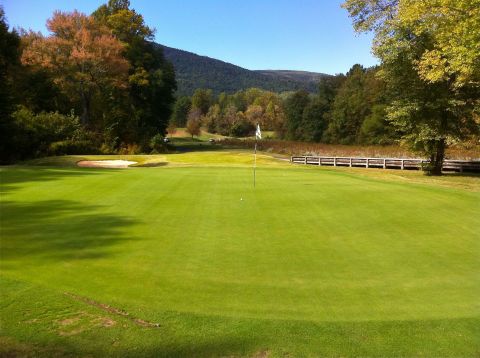 Take your pick:  The Stoney Creek golf course (photos above) at the Wintergreen Resort is surrounded by mountains (Blue Ridge).  The Devil's Knob golf course (not shown) is on top of the mountain.