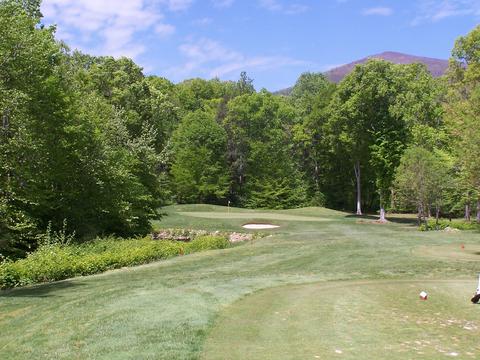 The golf and ski oriented Wintergreen Resort, and its excellent Rees Jones and Ellis Maples layouts, is about 25 miles from Osceola Mill.

Innkeepers who seem genuinely happy to see you have a leg up before they start serving you. If they seem hungry for your business, chances are you won't go hungry by the end of the dinner they serve you.
That was precisely the reception and experience we had last Saturday at the Osceola Mill Inn in Steele's Tavern, VA. Kim Daly, the chef and co-owner with her husband Kevin, greeted us warmly at the door. We learned in short order that the Dalys are originally from up north - she from Long Island, he from New Jersey - and that they purchased the inn only recently after selling another Virginia inn near the West Virginia border.
"It was a little too remote," said Kevin of the former establishment. Osceola, which feels as if it too is out in the wilderness, is just 2 ½ miles from Interstate 81, making it a potential great stopping point for folks traveling the north-south route to Florida. It is also within 40 minutes of some excellent golf, including the Wintergreen Resort (36 holes), Country Club of Staunton,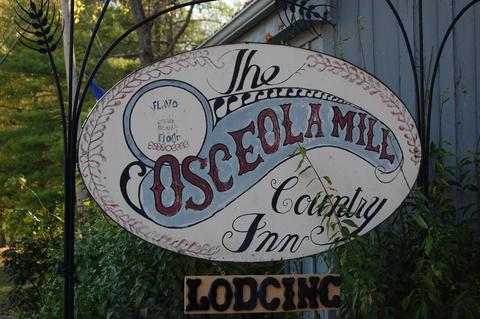 Vista Links and the Lexington Golf and Country Club.
The food that emerged from Kim's kitchen was very good, and a few things were outstanding. For those who don't take bread for granted, Osceola will impress. The rolls were hard crusty on the outside, with a soft surprise inside - a few subtly scented olives. The accompanying olive oil dip had a nice balance between the pungency of the oil and the bite of a liberal dose of salt and pepper. Once we devoured the first three rolls, we were asked if we wanted a refill; we did, and the next group were seeded on the outside, but still hard crusted out and soft inside, with a slight hint of anise. I could have gone for round three, but prudence - and a warning look from my wife -- won out.
Our shared appetizer of bacon-wrapped shrimp and scallops was not the customary cliche. The two large shrimp and two large scallops were bathed in a pleasant garlic-infused oil, the bacon of the slab variety and thankfully not tooth-picked to the shellfish. It was a warm way to start the dinner although next time I might opt for the baked brie with raspberry sauce or the crab stuffed mushrooms (especially if the crab is as generous as it was in the soup; see immediately below).
The soups were memorable, both the crab bisque and lobster bisques loaded with meat, creamy but not thick with too much flour as happens so often. The taste of the shellfish came blasting through. I'll be hard pressed to consider the cream of potato & leek soup next time if the bisques are being served.
Having tested the kitchen's ability with fish, we moved on to land-based entrees, my son opting for the rack of lamb, my wife for the veal oscar and me for yet another cliché, veal cordon bleu. The lamb rack was split into chops that were not dainty in the least, closer to lamb chops than riblets in size, and were cooked perfectly to order, medium rare. Although Tim, an always-hungry teenager, would have liked one or two more ribs on top of the four served, it looked like enough to me, and he thought the lamb had great flavor and was only slightly chewy, the way it should be.
My wife's veal scallopine was pounded perfectly thin and bathed in a nice sauce with just a hint of lemon, very tender. The accompanying South African lobster tail, undoubtedly previously frozen since South Africa is a long way from Steele's Tavern, could have had a little more chew to it and seemed a little salty to my taste. Still, it complimented well the veal and its lemon-cream sauce.
My veal cordon bleu was well prepared, with one minor shortcoming. It could have stood another 30 seconds of heat; the ham and cheese innards, which were well contained in a crusted exterior of tender veal, had not quite reached the hot state, preventing a nice ooze to the cheese. The combination, though, was quite tasty, but in the manner of a good ham a cheese sandwich. All of us were quite pleased with the entrees' accompaniments, three large stalks of excellent asparagus and roasted potatoes that mirrored the bread in consistency - hard exteriors and soft insides.
The restaurant offers a unique touch in that you choose one of the salads from the a la carte menu to accompany your entrée (they are priced at $4.95 each if you were to order them separately). One featured mixed greens with strawberries, mandarin oranges and candied pecans with a poppy seed dressing; the other was a spinach and arugula with tomato, aged parmigiano cheese and a reggiano cheese and tarragon vinaigrette. They were excellent, and it was nice to have choices beyond the customary mixed or Caesar.
In a rush to get back to campus for my son's wind ensemble concert, we passed regrettably on the range of desserts which were written on a blackboard. Most were in the category of familiar, like crème brulee and bread pudding, but the raspberry and blackberry tart caught my eye. Service was professional and friendly, and the prices were more than reasonable for this kind of quality. Entrees range from just $12.95 for a pasta dish to the mid $20s for main dishes that feature steak or lobster tail. Appetizers are well under $10 each, and the soups, at under $4, are a special bargain. The wine list is rather modest in size, with a number of unfamiliar vintages, but the prices were modest as well. We were quite satisfied with our bottle of Gruet blancs de noir at just $24. Gruet is a New Mexico bottler of faux-champagne, and we found the fruity bubbly a nice accompaniment for our veal dishes.
The Daiys have owned the 160-year-old inn for only a few months. They are smart - and practical - to start with dinner only two nights a week, especially in view of Kim's full-time job as a nurse and the challenge of running the bed and breakfast part of the operation. They have the pluck and enthusiasm to do both, and we expect once they work out the kinks and start the marketing machine, they might be able to expand operations. The combination of convenience to I-81 and some good mountain golf courses nearby, as well as their caring and professional service and cooking, could win over golfers and other travellers.
The Osceola Mill, Steele's Tavern, VA. Tel: 540-377-6455. Web site: OsceolaMill.com. Rooms: $110 to $200 per night, including breakfast. Dinner (Friday & Saturday only, reservations encouraged): Entrees $12.95 to $27.95. Nearby golf courses, all in Virginia and within 40 minutes: Wintergreen Resort, Nellysford; Country Club of Staunton, Staunton; Vista Links, Buena Vista; and Lexington Country Club, Lexington. We have mentioned all but Staunton on this site; use the search function above left for more info.