Vermont is a bit too granola for many people. The state has contributed the only self-described socialist U.S. senator, Bernie Sanders, although he is listed as an "independent," and its aggressive environmental protection laws have made commercial and residential development in the state difficult if not impossible. No one can argue about the overall beauty of the state; they don't call it the Green Mountain State for nothing.
Goldilocks lending practices
Yet liberal Vermont is a conservative's dream when it comes to financial planning, according to an interesting Page 1 article yesterday in the Wall Street Journal
Liberal Vermont is a conservative financial planner's dream because of its approach to mortgage lending.
which describes how the state's consumer protection for homeowners has protected them from predatory lending and wild dips in home values. The state's Goldilocks lending laws have ensured home values that are not too hot, not too cold, but just right, and a low foreclosure rate that leads the nation.
Those who enjoy both skiing and golf, and those seeking to flee the hot summers of the deep south, will feel right at home in Vermont, no matter their political persuasion. I am planning extensive travel this fall throughout the state and the rest of New England, with stops for reviews at the region's best golf communities and resorts (in New England, many resorts are communities as well). I will be looking at these communities with two types of buyers in mind: Those who love the game enough to own homes north and south; and those for whom one home adjacent to ski slopes and golf courses is the perfect combination.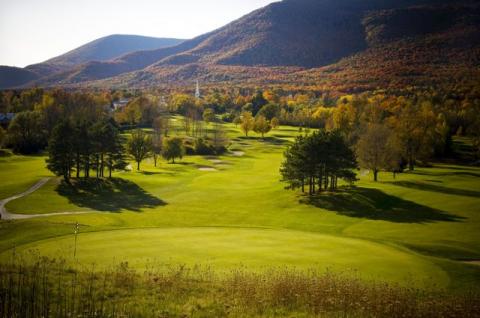 Visitors to Vermont clog the local roadways and golf courses in the fall for views like this from the famed Equinox golf course. (Photo courtesy of The Equinox)

My roster of potential visits in Vermont includes some of the most recognizable resorts in the travel industry, including: The Equinox (Walter Travis, 1926); The Woodstock Inn (R. T. Jones, Sr., 1961); Queechee Country Club (36 holes, G. Cornish 1970 & Cornish/Robinson, 1975); Stratton Mountain Country Club (27 holes, Cornish/Robinson, 1969); Sugarbush Golf Club (R. T. Jones, Sr., 1961); Killington Golf Club (Cornish, 1983); Mount Snow (Cornish, 1967); Green Mountain National Golf Club (Bates/Durkee, 1996); and The Essex, Vermont's Culinary Resort & Spa (Links at Lang Farm, 18 holes executive, M. Asmundson, 2002; Vermont National Country Club, Nicklaus Design, 1998).
Most underrated golf architect?
For those unfamiliar with the designs of Geoffrey Cornish, you are in for a treat if you like the classics. At 95, Mr. Cornish is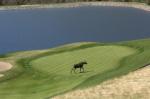 the grand old man of golf course architecture, with more than 200 golf courses in his portfolio of completed projects. He has long been acknowledged as the architect most knowledgeable about turf grass, having studied the science at the University of Massachusetts. His many course designs may not be the best known but they are well regarded by architects and players alike. Mr. Cornish designed my home course of 23 years, Hop Meadow Country Club in Simsbury, CT, a long and undulating layout I have seen echoed in other of his designs I have tackled. They are all fun and challenging, and I am looking forward to a few more in the mountains of Vermont this fall.
If a particular Vermont course or community is of interest to you, please let me know and I will do all I can to put it on my schedule and review it here.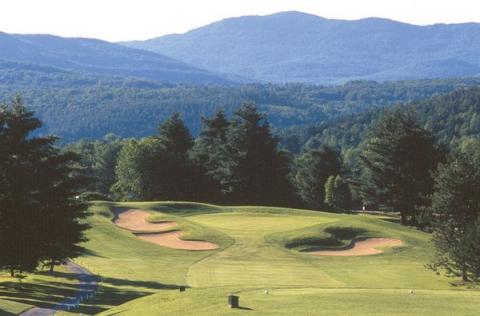 Vermont National Golf Club was designed by the Nicklaus Design group. (Photo courtesy of Stowe Area Association).