The current economy is especially tough on independent, member- or family-owned golf courses in areas of low population. Many of them are in a battle for survival as the golf industry tries to figure a way around declining rounds. From time to time in this space, I will feature off the beaten path golf courses I can recommend, in the hopes that a few choice words and photos will lead to greater awareness of these little gems, and more play. The clubs will feature reasonable green fees, generally under $50, and, in our opinion, will be worth a couple of hours side trip or long weekend. I will share some info about local vacation rentals, as well as a reference to a home or two for sale in the area. As always, if you would like elaboration on my opinions or more info, please contact me.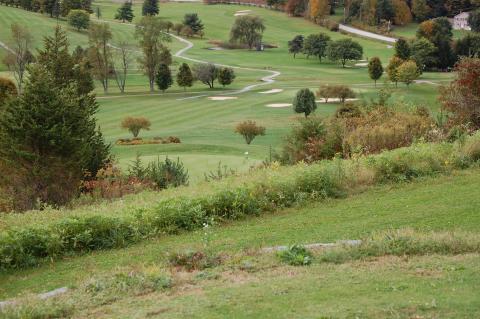 The partially obscured view of the 16th green, the mountain winds and hangtime for a wedge shot make the short par 3 16th at Lake St. Catherine long on challenge.
On my way last week from Rutland to Manchester, VT, home to the luxurious Equinox Inn and golf course, I wandered onto the grounds of Lake St. Catherine Country Club. It sits in a postcard setting, as do many of the golf courses in the Green Mountains area of the state (and indeed in virtually the entire state). After introducing myself to golf professional John Sodoma, I wandered just outside the three-year old clubhouse taking photographs of nearby holes. Then a friendly assistant, Lou King, drove up in a golf cart, and with the kind of enthusiasm every club wants in its employees, said, "You know, the best photos are from up on the 16th tee." He offered to drive me there.
Boy was he right. You can see a lot from there. Like the straight downhill par 3 16th, short enough at just 147 yards from the tips but probably 25 yards shorter because of the height of the tee. If that sounds like a piece of cake, consider that half the green or more is obscured from view by the front of the tee box, grasses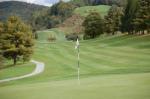 and a fir tree, depending which tee box you choose. Hit a good shot and you might find yourself skipping, Sergio-style, to the other side of the teeing area in time to see your ball land. More daunting are those tricky mountain winds; from that height, you just can't avoid their effect on your tee shot, which will have more hang time than any you will hit all year. To keep the ball from being windblown, a skulled wedge is probably the best play at the 16th, but most of us only skull a wedge when we don't want to.
On a cool October mid-morning, with the surrounding mountains beginning to blaze with fall colors, the parking lot was virtually empty and the first tee was clear. Course conditions were not the reason; the fairways were lush and green, and the greens were well cut and looked fast. Green fees are quite reasonable. Walk-up rates for daily play are just $47 on weekdays, cart included (you wouldn't want to walk some of those steep hills), and $54 on the weekend. Full-family golf memberships are less than $1,000 annually.
The club built a new clubhouse three years ago, and while not lavish, its lack of pretension and clean lines stand in harmonious contrast with the majestic surrounding mountains. The prime rib dinner special in the club's dining room is just $14.95, a real inflation buster. The nearby town of Poultney, VT, could use a fresh coat of paint, but like a well-worn pair of jeans with a few scuff marks, it is comfortable and honest, with some postcard views of the Green Mountains. Just like Lake St. Catherine Country Club itself, without the scuff marks.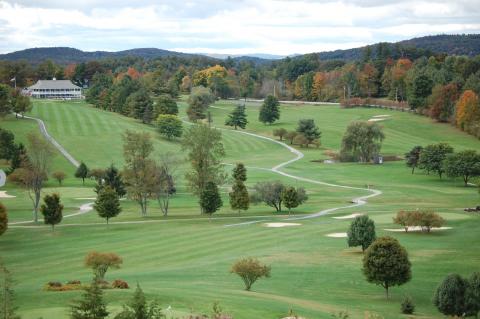 From the 16th tee at Lake St. Catherine, you can see much of the course, including the three-year old clubhouse.
Lake St. Catherine Country Club, Route 30, Poultney, VT. (802) 287-9341. Head golf professional: John ("Jack") Sodoma, Jr. Designer: Unattributed. Green fees: $47 weekdays (cart included), $54 weekends. Full-family membership $925 (other memberships available). The club is less than an hour's drive from the Glens Falls exit on the N.Y. State Thruway and less than 2 hours from Albany. Combined with other excellent mountain courses within an hour's drive, including the famed Equinox in Manchester, VT, Lake St. Catherine should be included on any golf itinerary in and near western Vermont.
Example of nearby vacation rental:
Rye Chalet, Wells, VT, 3 BR, 3 BA, sleeps 10, 3,600 square feet, 20 acres of privacy, summer season rates $200 per night (3 night minimum), $1,200 per week. Peak season (foliage and ski seasons) higher.
Cottage on Lake St. Catherine, 2 BR, 1 BA, sleeps 4, 950 square feet. Rates from $125 to $175 per night, $650 to $950 per week.
Example of nearby home for sale:
Two-story, circa 1880 cottage on Lake St. Catherine5 BR, 2 BA, 1,400 square feet. 250 feet of lakefront, oak floors, two-story garage with maid's quarters. $499,000.