Consider, if you will, the toughest holes of golf you have ever played –- the severely elevated greens, the forced carries over yawning ravines, the swirling greens with pins perched at the edges of plateaus. Now smash all those toughest holes together into one golf course, and what you get is…Royal New Kent in Providence Forge, VA.
I played Royal New Kent last Monday during its grand re-opening celebration. It had been on my golf bucket list for years, since it opened in the '90s and I learned it was laid out by the late Mike Strantz, whose designs are never boring and include Tobacco Road in the Sand Hills of North Carolina, Caledonia and True Blue in Pawleys Island, SC, all publicly accessible -- as is Royal New Kent -- and Bulls Bay just north of Charleston, SC, Strantz's former home. There are echoes of all those golf courses at Royal New Kent but, inarguably, RNK is the most challenging.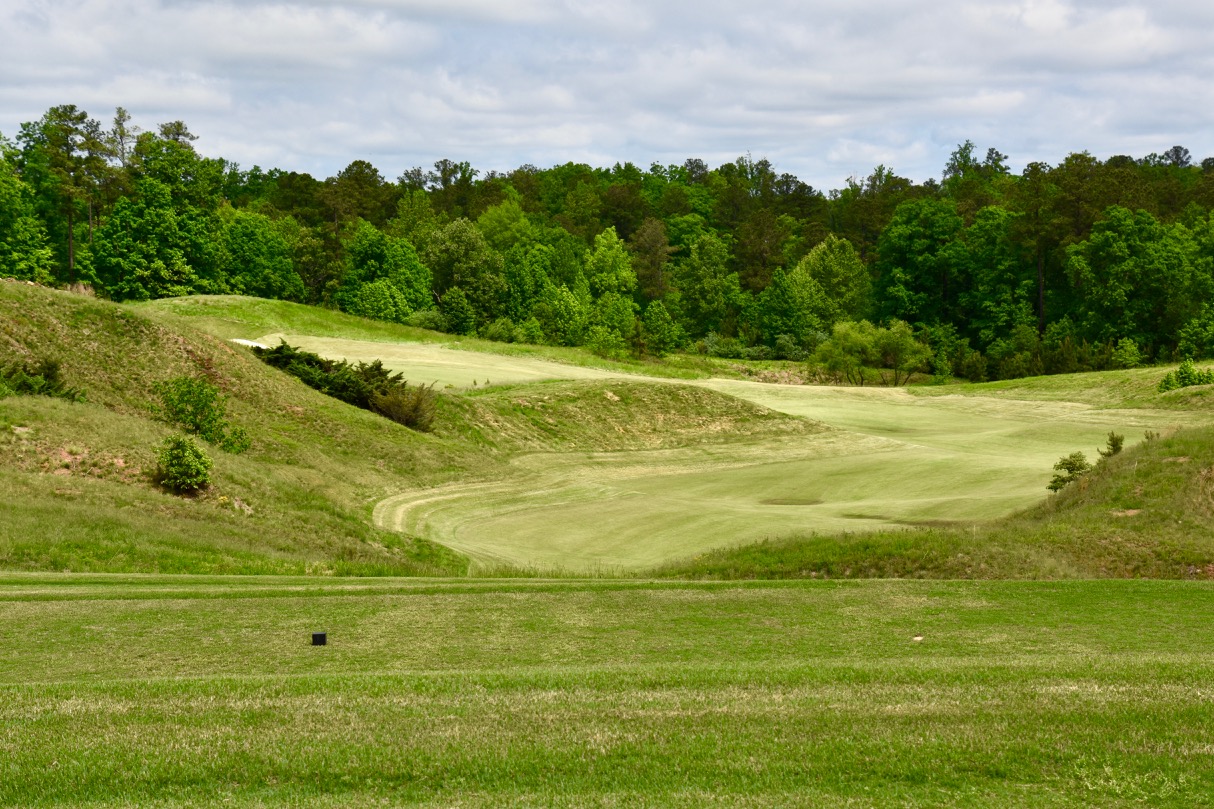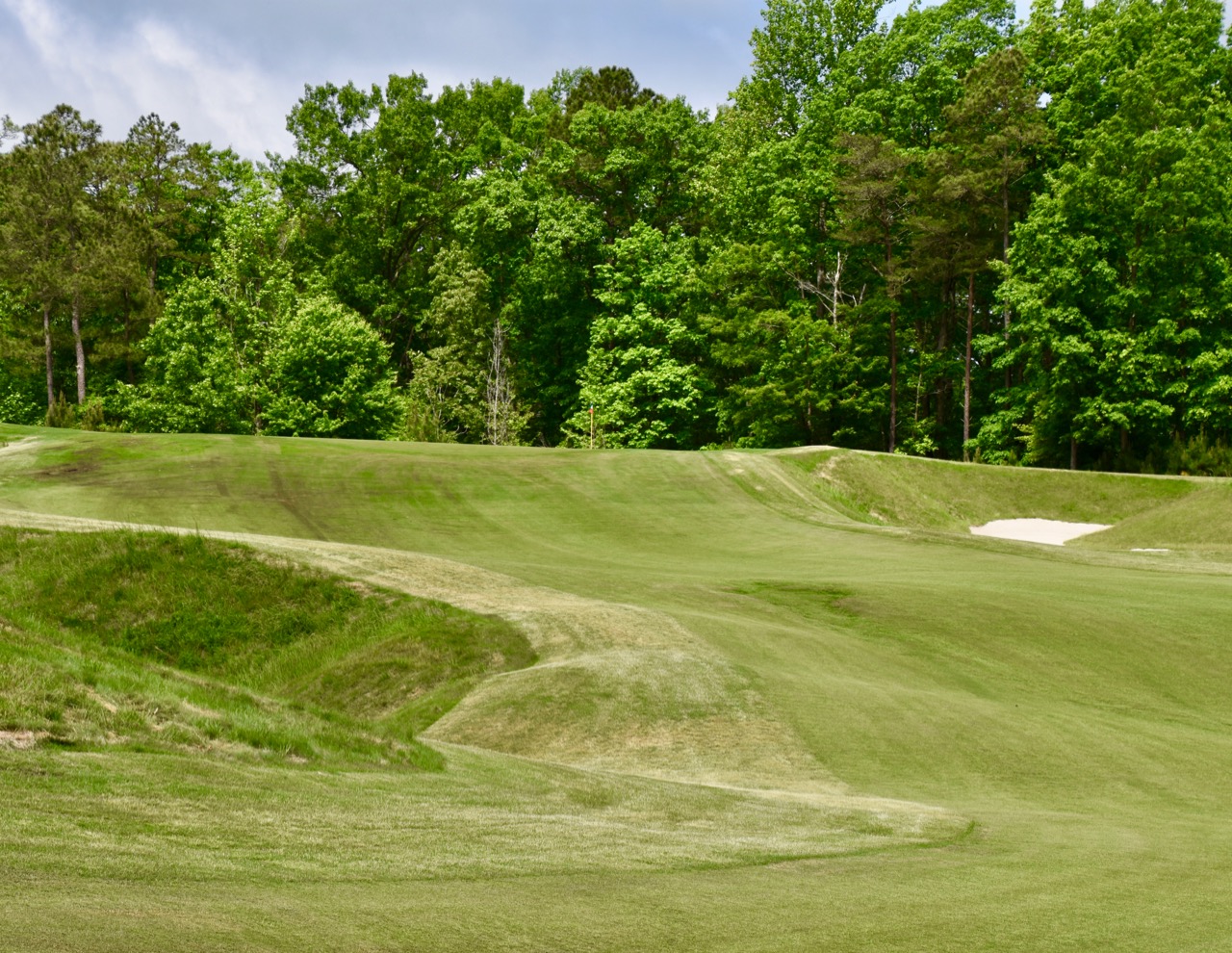 A 3 wood is good enough off the tee at #1 at Royal New Kent (top photo), but the approach to a severely elevated green means a par is well earned.

Saving a Modern Classic Golf Course
The golf course closed 18 months ago, and its future was severely in doubt until Barton Tuck and a few partners stepped in with $2 million and a lot of resolve to save and restore a work of art. The Wingfield Group owns golf courses across the South, and Mr. Tuck, now in his 80s, has lots of experience pairing golf courses and housing, most notably Forest Creek in Pinehurst, with 36 holes of Tom Fazio golf and a reputation for overall quality. (Royal New Kent first opened with some homes beside the back nine, but few would confuse it for a golf community, such is the separation of the two. Still, one of our foursome lives in Kentland and is a member of Royal New Kent.) A few years before the purchase of Royal New Kent, Mr. Tuck bought the floundering Viniterra golf community 15 minutes away; Viniterra is one of those communities that had the bad fortune of opening a nanosecond before the 2008 recession, but now most lots have been sold and a couple dozen homes (and some villa/condos) are built.

Strantz Gets His Irish Up
Restored to its original glory after a few years in the wilderness, literally and figuratively, Royal New Kent is relentlessly challenging. You can't sleep on a single shot. Strantz purposefully based the layout on Irish golf courses he admired, specifically Royal County Down and Ballybunion. The scorecard for RNK tells you all you need to know about its degree of difficulty, the back tees playing to a course rating of 76.8 and a slope rating of 154. That puts Royal New Kent in territory occupied by Pine Valley (75.6, 155), Bethpage Black (77.5, 155) and the Ocean Course on Kiawah Island (79.7, 153), and it blows away Shinnecock Hills (75.0, 140).
Our group of four, beginning at the fifth hole in a shotgun start, played from the white tees at just 6,194 yards with a rating of 71.1, modest enough, but with a daunting slope of 134 for such a short overall distance. (The slope rating calibrates a golf course in terms of how well a bogey golfer should be expected to play it.) Playing in a scramble (Captain's Choice) format, we experienced as a group what individual golfers surely go through on their first play at RNK -– early intimidation, then awe, and then a bit of settling in. During our first nine holes, even with hitting four shots from each position, we had difficulty making par; but over the last 10 holes, we birdied six of them, albeit with a few lucky long putts.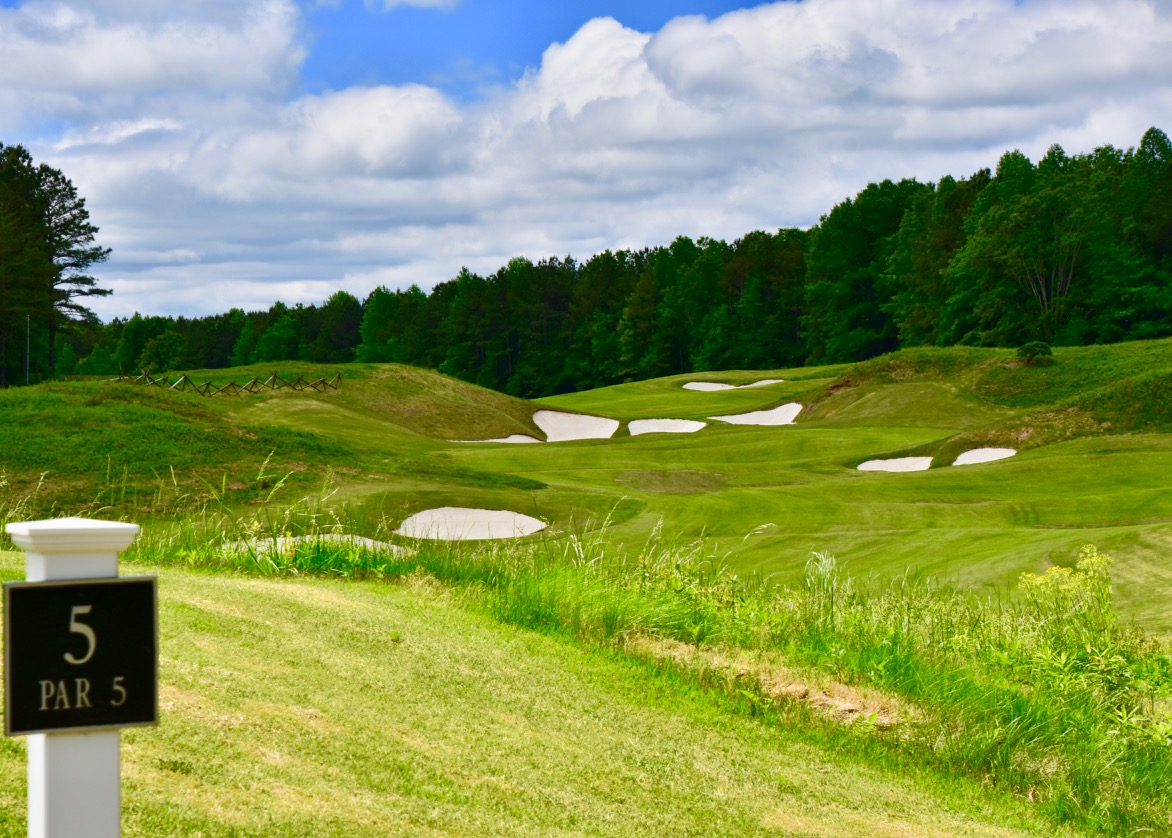 The par 5 5th requires three well-placed shots to reach the green in regulation. It starts with a tee shot that should not be too long or too shot, but just right.

Horse of a Different Color Could Help Royal New Kent
The relatively short overall distance from the white tees is more than neutralized by the number of blind shots, the elevated greens with barely visible flags and the large and swirling putting surfaces –- most first putts broke at least a foot. Most of all, the greens were fast and firm, and many putts from above the hole could not be stopped within five feet unless the flagstick got in the way. The member we played with warned us on the first tee to "Keep the ball below the hole," advice that is pretty much irrelevant for double-digit handicappers.
The New Kent County area seems to be in a period of renaissance, not only with the reopenings of the two epic Strantz golf courses, but also with the planned reopening of the historic Colonial Downs racetrack, which abuts the Royal New Kent layout. The first races are slated for later this summer, and RNK officials are hoping that their sports venue and the racetrack will feed off each other.
Mike Strantz was an artist, both on and off the course. Some of his sketches that hang in the RNK clubhouse demonstrate his talent and creativity. Any golfer who pays attention to the design of the layout will find it both intimidating and beautiful in equal measure. Although single-digit players will find many of the course's challenges surmountable, the low double-digit handicapper should approach it with measured expectations. Pars will make them feel that the trip to RNK was definitely worth it. A birdie will make them feel as if they homered to win the World Series.

Royal New Kent Golf Club is located at 10100 Kent Field Road in Providence Forge, VA. (804) 966-7023. Architect: Mike Strantz. Royal New Kent plays to 7,440 yards from the back (Invicta) tees with a course rating of 76.4 and a slope of 154. The men's White Tees play to 6,194 yards and a 71.1 rating and 142 slope. Ladies Green Tees are at 4,937 yards with a rating of 70.6 and 134 slope. Single-player memberships range from $205 to $250 per month, depending on whether it is a Monday through Thursday or 7-day per week membership. Family memberships range from $250 to $300 on the same basis. There is currently no initiation fee to join the semi-private club. https://royalnewkent.com/
Another Mike Strantz design, Stonehouse, is located a few miles from Royal New Kent and is slated to reopen within the next six weeks. Between the two Strantz layouts and the sleek Rees Jones design at Viniterra, plus the well-regarded Williamsburg golf courses less than a half hour away, this area of Virginia has the makings of a nice golf buddies destination, half the drive between New England/New York City and the Carolinas.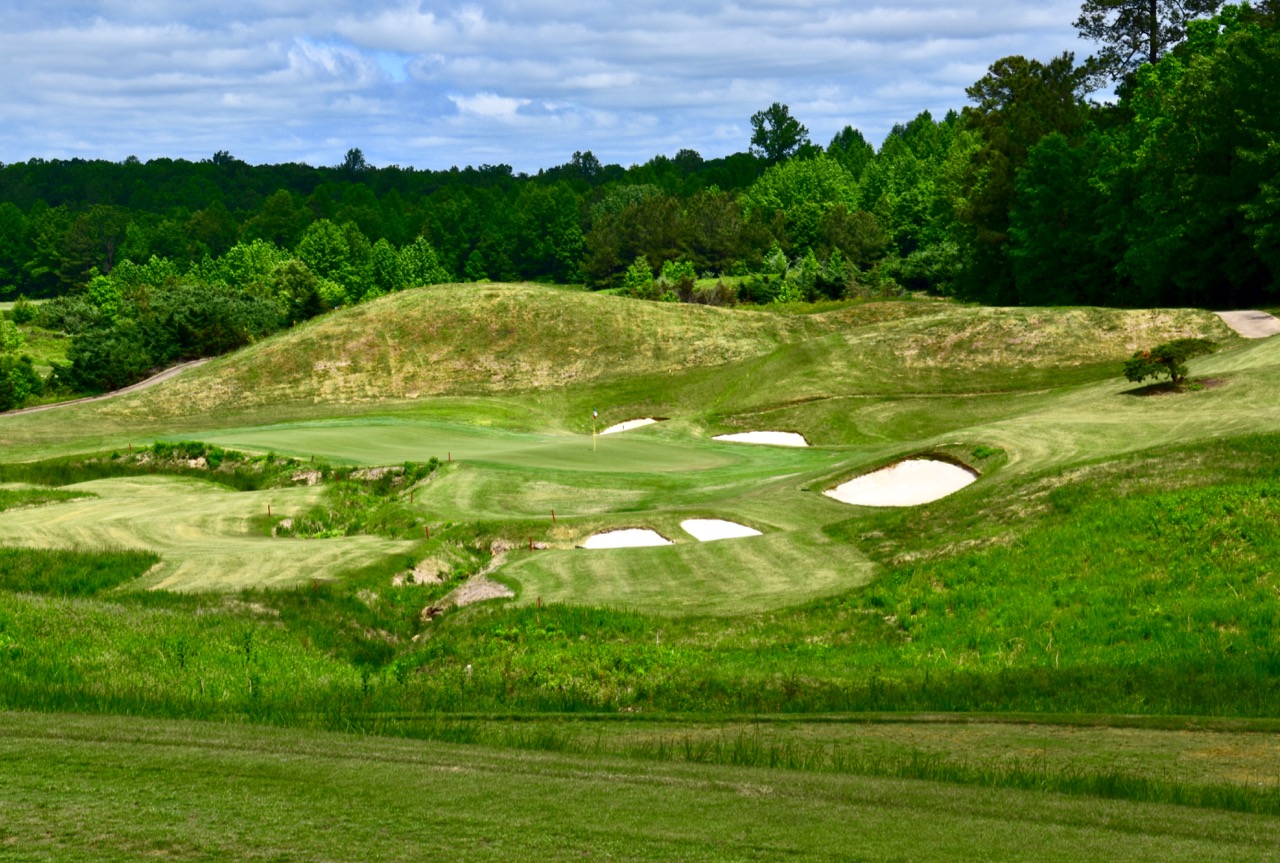 The green at the par 3 7th is vintage Mike Strantz, huge and contoured and offering a wide range of options for pin placements. On the day we played, a shot toward the back of the green could have sent the ball back toward the front pin position. A shot at the pin risked the ball falling down the hill and into the bunkers 30 feet behind the pin.