Note on April 22: The flu bug prevented the trip to VA. We will regroup and head there later this year and report on our research. Apologies for the inconvenience. Trust me, I would have rather gone.
Small growing cities in the southeast can offer almost as much in the way of golf and lifestyle options as some of the more notable areas, such as Savannah, Charleston and Asheville. One of my personal favorites among these "mid-major" cities is Roanoke, VA, located in the Blue Ridge Mountains and featuring all the attributes of larger urban areas without many of the problems, except for crime rates, which are higher than the national average in a few of Roanoke's inner-city areas.
I am heading to Smith Mountain Lake, in the southwest region of Virginia, to meet up with a friend for a few days of golf. My friend's home at the lake is about 45 minutes from Roanoke, although Smith Mountain Lake is so irregularly shaped that you can be an additional half hour away at the other end of the lake; the roads leading to and from the lake do not roll out in anything resembling a straight line.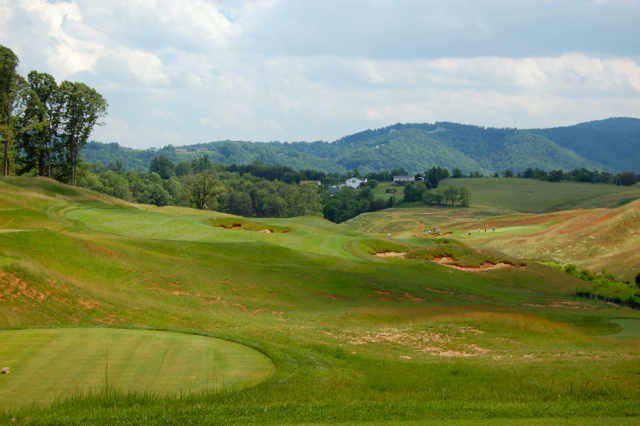 Lester George's layout at Ballyhack, on the edge of Roanoke, is one of the toughest in the east.
To date, the only golf course I have played in the Roanoke area is Ballyhack, a Lester George monster of a layout that dips and dives around some of the most treacherous looking bunkers you will find anywhere other than Kinloch, near Richmond, another Lester George layout. I can't wait to play it again next week, although it is probably a bad choice for a first round of the spring. You have to be fully prepared for Ballyhack, and I plan to find at least a driving range on my trip South from Connecticut to warm up the right muscles.
Two other interesting courses by designers of historical significance are on the itinerary next week. Roanoke Country Club, located near the city, was originally the work of A. W. Tillnghast (think Winged Foot, Bethpage Black and Baltusrol and dozens of others). The club offers 27-holes of classic golf to go with all the other country club amenities one expects, including top-flight tennis and swimming programs. The club's junior golf program at Roanoke CC has convinced one of my customers to consider relocating his family and his two teen golfers from Florida to the Roanoke area.
I wind up my stay at Smith Mountain Lake with a round at Mariners Landing, whose layout, designed by Robert Trent Jones Sr., runs along one of the many fingers of the lake. Although a few local contacts tell me condition has been an issue on the course over recent years, they rave about the layout itself. During a phone conversation, the golf pro told me the course has recovered well from a recent aerification, and that with a few warm nights to promote turf growth, conditions should be nice next week. "The greens are in terrific shape," he added, enough to get my attention and ridiculously cheap green fees ($30 with cart).
After Roanoke, I head to northern South Carolina to meet up with my friends from the state's Golf Rating Panel for a go at Rock Hill Country Club, about 35 minutes south of Charlotte, NC. Tilllinghast originally designed the front nine at Rock Hill in 1934, with then Charlotte Country Club pro Arthur Hamm serving as the construction supervisor. (Fifteen years later, Hamm would designed the second nine at Rock Hill.) A little more than a year after his work at Rock Hill, Tillinghast designed the heralded and brutally difficult Bethpage Black on Long Island, the first public golf course to host a U.S. Open championship.
My drive from the Roanoke area to Rock Hill will take me past the Winston-Salem & Greensboro areas, as well as Lake Norman, north of Charlotte. If you are considering a relocation to a golf community in these areas, contact me and I will try to stop for a tour and, if time permits, to play the golf course. It's a tough job but someone has to do it.
Comment
Be the first to comment