As we have noted here a few times before, smart money is on the prowl for quality golf courses with surrounding real estate potential. Golf communities are being seen as good investments not just by developers experienced in building and managing such developments, but also by deep-pocketed investment firms who look at all areas of investment and put their money where the opportunities seem best. The benefit to buyers is that home prices in a formerly "damaged" golf community are still low, but they won't be for long once the owner invests in a meaningful and visible way.
        The previously ill-fated Westham Golf Club in Moseley, VA, and its surrounding residential community, known as Magnolia Green, may be an example of just such a golf community (although we have not visited or reviewed it previously). According to a recent article at
Richmond BizSense.com
, Magnolia Green was foreclosed in 2009 when the owner could not make payments owed to funder iStar Financial, a 20-year old investment company that had loaned Magnolia's operator $96 million. Rather than sell off the asset at a loss, iStar decided to finish the nine-hole golf course -– it opened in 2010 -- and ride out the recession as the community's new developer.  Now that things are looking up in the market, iStar is going all in to reinvigorate Magnolia Green and its fledgling golf club. The investment company has announced that it will spend $7 million to upgrade the golf course, add another nine holes, and build a $2.5 million clubhouse. Construction begins soon and the full 18-hole course should be ready for play early in 2015.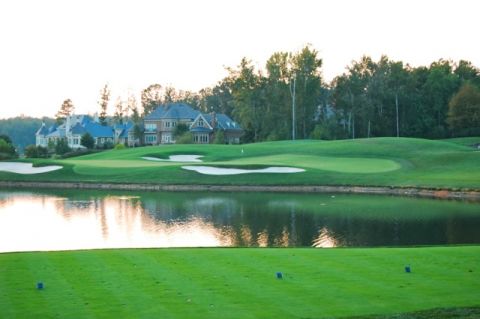 The 18th hole at Kinloch, a par 3, is one of the few with adjacent homes.
        Richmond does not seem to be on many golfing baby boomers' radar for a retirement location, which is somewhat mystifying. The city and surrounding area offer everything in the way of services and entertainment, including excellent minor league sports teams and a university -– University of Richmond –- which offers a wide range of cultural and continuing education opportunities. Richmond's mid-Virginia location puts it a couple of hours from both the mountains and the Atlantic beaches, and about 1½ hours from Washington, D.C. Fine golf communities encircle Richmond; we recall fondly our round of golf at the private Kinloch Golf Club in Manokin-Sabot, VA, a players course with well-trained caddies and a layout by Lester George and legendary amateur golfer Vinny Giles that can stand up to any championship golf course anywhere. (Kinloch played host to the 2011 Senior Amateur championship.) A neighborhood of modern, upscale homes sits adjacent but unconnected to the golf course (few houses are visible from the layout). Across the road from the Kinloch community is The Hermitage, a 36-hole golf course development that is fully grown out and popular with both families and retirees. Homes in Kinloch begin around $650,000, and at The Hermitage they start a couple of hundred thousand dollars lower.
        Except for a few freak snowstorms during winter, you can pretty much play golf year round in Richmond's gentle four-season climate ("gentle" as in jacket or sweater in winter and air conditioning in summer). But on days off from golf, there is plenty of history to encounter in the area and plenty of other pleasant distractions that should move Richmond toward the top of the list for golfing retirees.
        If you would like more information about the golf communities of Richmond, please contact us.
Comment
Be the first to comment