K
eswick Hall, which is part golf resort, part golf community and all horse country elegance, has been sold by the Orient Express company to a wealthy businessman from Richmond, according to a report in The Hook, a weekly Charlottesville, VA, newspaper.  New owner William Goodwin also owns Sea Pines Resort in Hilton Head and The Sanctuary at Kiawah Island.
        Goodwin has close ties to the area, having chaired the board of the Darden School, the nearby University of Virginia's graduate school of business, as well as having served two terms on the University's Board of Visitors.  His worth is estimated in the hundreds of millions.
        I visited Keswick Hall and played its Arnold Palmer golf course almost five years ago. Its homes at the time were selling for $1 million and up.  The resort community's focal point is Keswick Hall, which sits at the highest point in the development and can be seen from most points on the golf course.  Of the course, I wrote that it was "a pleasant routing but overwrought in a few places." You can read my full review by clicking here (apologies for the absence of photos there).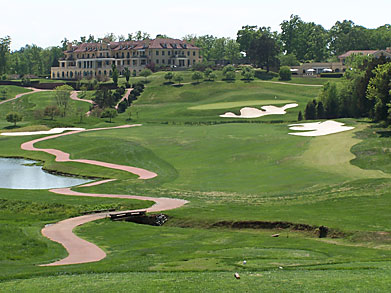 Keswick Hall, the structure for which the golf resort is named, dominates most views from the Arnold Palmer golf course.
Comment
Be the first to comment