Our family is celebrating the college graduation of our son Tim this weekend by gathering at the Wintergreen Resort in Nellysford, VA, atop
For a mountaintop golf course, Devil's Knob is both flatter and narrower than one might expect.
the beautiful Blue Ridge Mountains.  On Friday, Tim, Tim's uncle David from San Francisco, family friend John from Connecticut and I played the Devil's Knob golf course atop the Blue Ridge Mountains at Wintergreen.  What the layout lacks in length -– it is just 6,700 yards from the tips -– it makes up for in sloped fairways and contoured greens.   Position is key off the elevated tee boxes at Devil's Knob; on a few holes, a tee shot faded or hooked to off-center of the fairway will continue bounding toward the rough which, on the day we played, was cut (or I should say, not cut) to U.S. Open style.
        Still, the Ellis Mapls design is more restrained, if a bit more narrow, than I expected from a mountaintop layout.  Some of the locals suggest keeping driver in the bag "unless you play from the back tees."  We gave it a go from the tips, which I hadn't done in years, but the elevated tees at Devil's Knob actually took some fairway bunkers out of play (too far away) and left more middle irons than long irons and woods into the greens.  The greens were still recovering from an earlier aeration but we were told that when they get back up to speed in both senses of the word, they will be treacherous.  Understood; the sloping of the fairways are mimicked on the greens, sometimes in the same direction but other times in the opposite direction.  Devil's Knob is a golf course that begs for you to stick around at Wintergreen an extra day to take full advantage of what you learn on the first go.
        Today we make a return visit to Stoney Creek, the resort community's bottom-of-the- mountain layout designed by Rees Jones.  Stoney Creek does not hide its charms. We wrote a few years ago during our first visit to the resort that, "The routing is clear and without surprise, with only one or two blind shots from the tees and no gussied-up landscaping."  It should be fun.  Look for more notes on the Wintergreen golf community and its golf courses in this space in coming days.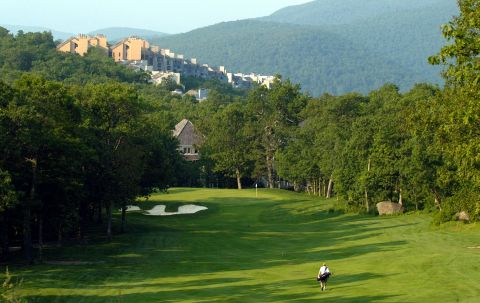 Although on the mountain top, Devil's Knob golf course is relatively flat.  Many condo units at the Wintergreen Resort, such as those beyond the 16th hole, are available for nightly, weekly or weekend rental and are a short drive from the interesting layout.  Another 27 holes are available for play at the bottom of the mountain. 
Photo courtesy of Wintergreen Resort Premier Properties.

Comment
Be the first to comment