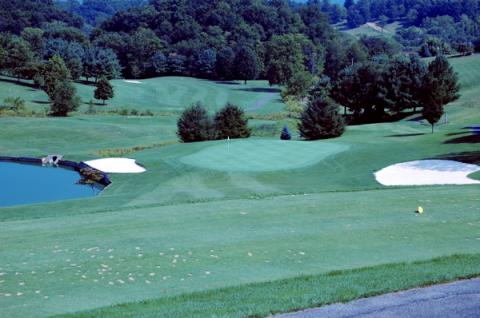 The par 3 7th at Draper Valley combines most of the elements of the rest of the course.

When I am on the road and have a few minutes to spare, I like to follow the signs from the interstate to a golf course I have never heard of. Typically, I don't have quite enough time for a four-hour round, but I'll pick up a scorecard, nose around the clubhouse and take a few photos of the course.
I knew nothing about Draper Valley Golf Club in Draper, VA, but it was just three miles off Interstate 81 and I decided to stop there today. It turned out Draper Valley is in the middle of a golf community of nice homes of recent vintage, well spaced out and almost all with views down to the golf course below (they are serious about the "valley" in their name). Although the landscape appears to be former farmland and, therefore, few home sites have any trees on them, the prices on the home sites and homes for sale seemed quite reasonable. A five-bedroom, three-bath home adjacent to the fifth green is on the market for just $319,900 and lots begin around $60,000.
The setting for the golf course is both convenient - just off the highway - and picturesque, with the Blue Ridge Mountains framing the background. I didn't have quite enough time to play, but from what I could tell, the course was in excellent condition, the greens were small but contoured, and there appeared to be enough sand and water to make things interesting if not particularly challenging. From the tips, the course measures almost 7,100 yards but plays to a rating of 73.5 and slope of just 127, pretty wimpy for any course of that length. Judging from the little hole diagrams on the scorecard, the approaches at six greens must carry over water in front, including at the finishing hole, a short but testy looking par 4 which makes a 90 degree right hand turn less than 100 yards from the green.
Draper Valley, I learned, was rated by Golf magazine in 2007 as one of "The Top 50 Golf Courses in the U.S. for under $50." Sure enough, green fees on the weekend are just $49, electric cart included.
Draper Valley Golf Club is located just off Interstate 81 in Draper, VA. Tel: (866) 980-GOLF. Web: DraperValleyGolf.com. Blue tees: 7,070 yards, rating 73.2, slope 127. White tees: 6,412, 70.3, 112.
If you are interested in a home in the Draper Valley community or any other golf home, let me know and I will be happy to put you in touch with a qualified real estate agent in the area. No cost, no obligation.
Comment
Be the first to comment