From time to time, we will share a stretch of three memorable holes from our visits. Here are three that impressed us at the relentlessly challenging Colonial Heritage Golf Club in Williamsburg, VA. We played it in early spring when some of the grasses were still dormant.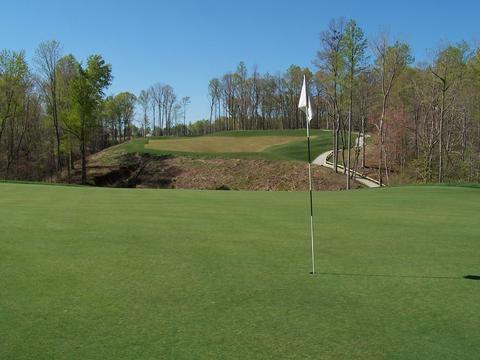 Our stretch starts with the 404 yard par 4 7th hole at Colonial Heritage (above). The tee shot has to fly a ravine -- one of many on the course -- and find an ideal position at right center of the fairway that runs a little left to right. The approach on the dogleg right must negotiate another ravine to a slighly elevated green that is not as deep as it appears from the fairway. From behind the pin, the approach looks easier than it is; but designer Arthur Hills has built three traps into the hill in front of the putting surface. Short, left and right are pretty dead, and long is no bargain either.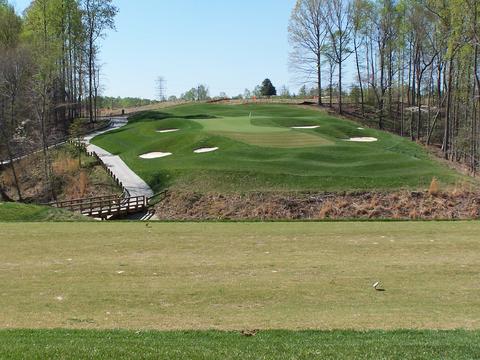 What a marvelous par 3, one of four really good ones at Colonial Heritage. The two-tiered green offers all sorts of devilish pin positions. The one here, just above the false front, may be among the easiest as the green narrows and swoops upward at its midpoint (about 160 yards from the tee box), and although the back of the putting surface is a little more generous, it is another club or two off the tee.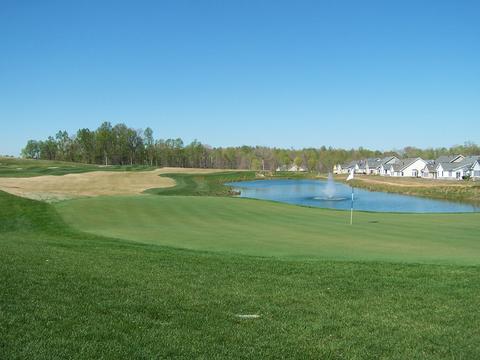 The 9th at Colonial Heritage is a par 5 that zig zags its way back toward the clubhouse more than 500 yards away. Like most fairways on the course, this one is narrow and tilts left. Those tempted to go for the green in two should be wary. A slightly hooked fairway wood will skitter down toward the lake that guards the entire left front side of the green (and most of the fairway too).
Colonial Heritage, Williamsburg, Virginia, 1-866-456-1776, www.colonialheritageclub.com. Greens fees $65 weekdays, $75 weekend. For map location, click here.
Comment
Be the first to comment