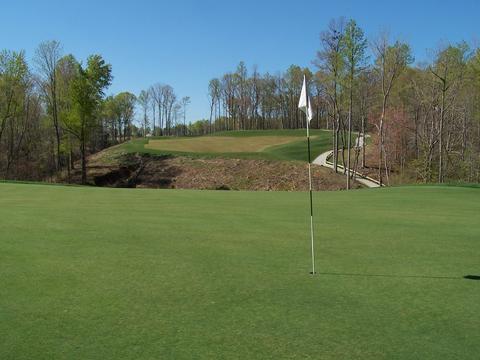 The fairway at #7 at Colonial Heritage is built above a ravine, necessitating a carry of at least 200 yards on your drive and then a medium to long iron over the ravine to the green.
The Arthur Hills course at Colonial Heritage in Williamsburg is a stern test of golf, almost too stern at times for any but the most accomplished golfer. This was at least the fourth Hills course I've played, and each one of them has left me feeling totally satisfied in a slightly masochistic way. The architecture cognascenti don't necessarily agree, but Hills is a vastly underrated designer in my less than humble opinion.
The Colonial Heritage layout is tougher than Hills' respected Palmetto Course at The Landings at Skidaway Island, which I played last year. Colonial Heritage, which opened for public as well as member play last October, is set right in the middle of a large, age-restricted community of the same name; you must be at least 55 to live inside the gates. But anyone in the area can play the course for relatively modest greens fees. On the first sunny day in a week, we teed off at 8:45 a.m. and didn't see any other groups during our round. And given that the golf club has just 44 current members, one logical conclustion is that the Hills course has gained a reputation as being difficult. Despite its five sets of tees, many men past 60 and women will not have the length to carry the wide ravines that front a few of the greens; and the casual public course player might feel abused by the "reward" of a blind shot after a good drive. Even for those who can hit a six iron 160 yards, it is not easy to get close enough to front pin positions; anything past the pin yields nasty downhill putts on fast greens from behind the hole (or difficult chip shots from U.S. Open length rough). The pins on the day we played were in reasonably accessible areas, but it would not be fun to go at them on a morning the greens keeper is in a bad mood.
I was matched with Tom Abbott, a resident of Ford's Colony and former member at the Two Rivers course at the Governor's Club. Tom and his wife are contemplating a move to a golf community in West Virginia; local real estate agents have been telling him his home in Ford's Colony has appreciated as much as 30% in the three years they have lived there. Tom and I agreed that the price appreciation is the result of two things; a good housing market in Williamsburg and the increase in construction materials that has pushed costs from an average $150 per square foot up to around $180 or more.
Tom had played the course a few times earlier and came out to push himself and his game to the limit. He played well, but with a handicap of 12, he chose the silver tees (6,000 yards) to fully enjoy the game. I played from the green tees, at almost 6,400 yards, and enjoyed my game when I hit the ball on my chosen line which, surprisingly, was most of the time. But the approach shots I struck even slightly off line seemed invariably to find the four-to-six-inch deep rough, and the difficult chips rarely left me with a gimmee.
The greens themselves will be wonderful in a few weeks, after the aeration bumps left by a good punching 10 days ago settle in. In spite of the aeration and fertilizer spraying the greens received just before our round, they were medium fast. One of the courses rangers told us they typically read 11 on the stimpmeter, which is about as fast as any public course ever gets. Like most new courses, it was very difficult to get a good reading on the putting lines, and invariably Tom and I were reduced to whining about misreading. I didn't make one outside of four feet all day.
It was interesting to play the Hills course the day after playing Pete Dye's renowned River Course at Kingsmill. The Hills course is tougher, its fairway landing areas tighter and its forced carries longer and more threatening. Bunkers at the two courses were similar in terms of placement and size. Both courses are public accessible, and the next time you are in Williamsburg, I urge you to try them. And if you are interested in property, please let us know; we have qualified an excellent, knowledgeable broker in the area who knows all the golf communities inside and out. We'll be happy to put you in touch.
Thanks to Tom for his companionship and for guiding me on some of those blind shots. It helped.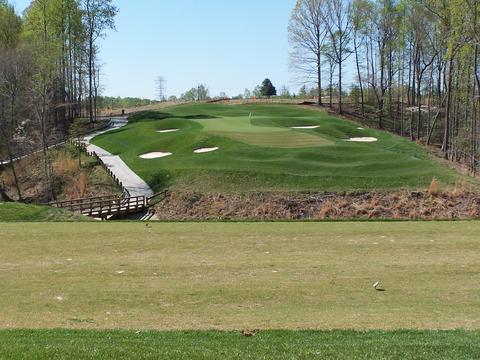 After the difficult 7th, there is no let-up at #8, with its two tiered green and trouble all around. Pull your tee shot and you are left (literally and figuratively) for dead. Right is not much better.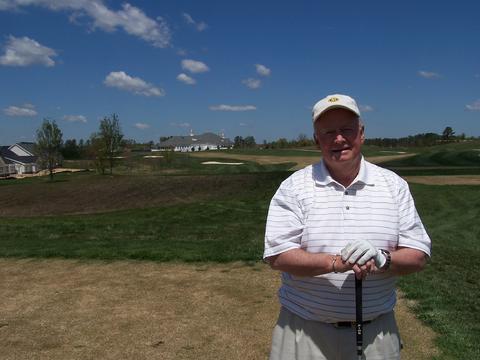 Tom Abbott lives at Ford's Colony but is considering a move to West Virginia to escape some of the summer heat.
Comment
Be the first to comment