If professional golf were a Greek tragedy, Greg Norman would be its chief protagonist, and by a wide margin.  During the height of his playing career, someone always seemed to snatch victory from the jaws of the Shark (see L. Mize in the 1986 Masters or B. Tway in 1989).  Or, alternately, Norman's strong sense of confidence in his skills –- students of Greek tragedy might call it hubris –- would do him in (see 75s and 76s in final rounds at majors, or aggressive play that led to bogeys on 72nd holes when all he needed was par to win).  Norman's golf game was downright Sisyphean; the boulder he kept pushing uphill inevitably came crashing down on him, often spectacularly.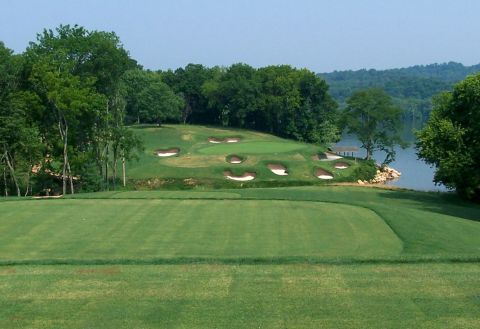 The 12th at Tennessee National still has the potential to be one of the most photographed holes in the east.
        Yet the Shark did win the British Open Championship twice, which leads one to speculate if he has a problem with U.S. soil.  The U.S. has not been all that kind to Norman's residential development business either.  His company, Medallist, which has built and managed a handful of golf communities in the U.S., has just put its five-year old Tennessee National development up for sale, announced with an ad in the Wall Street Journal earlier this week.  The web site for Norman's multi-business empire, Great White Shark Enterprises, has dropped Medallist from its list of activities, although the individual web sites for Tennessee National, south of Knoxville, and Savannah Quarters in Georgia still acknowledge Medallist's ownership.
        The Journal ad indicates that the offer of Tennessee National includes "950 acres of developable land," with home sites for 1,900 additional homes, a 17-acre golf practice facility, a clubhouse and swimming pool, and the 18-hole Greg Norman Signature golf course.  In early 2007, when I first visited the 1,400-acre Tennessee National, the golf course, just a few weeks from opening, was quite impressive looking, especially the downhill par 3 12th hole.  With its sod-lined pot bunkers and river just off the right side, the hole was destined to be one of the most photographed east of the Mississippi.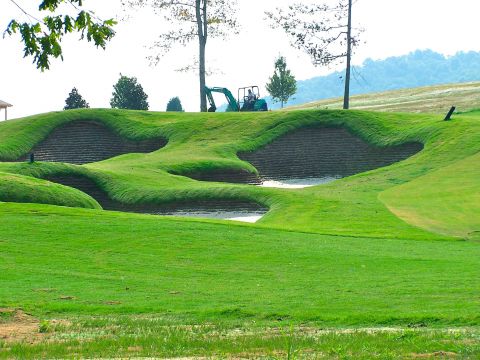 Intimidating sod-faced bunkers reminiscent of those on some British Open courses protect many of the greens at Tennessee National.  Designer Greg Norman's only victories in major tournaments were on British Open layouts.
        It is tough to pinpoint the reasons behind Norman and Medallist coming up short at Tennessee National.  Of course, timing was an issue, with the nation's economy tanking within two years of opening.  But two years should have been enough to crank up the sales machine; and not every golf community that opened before the recession fared badly (e.g. Brunswick Forest near Wilmington, NC).  We can't help thinking that perhaps a lack of preparation symbolic of the Shark's final rounds in majors may also have played into Tennessee National's problems.  For example,
Some residents complained of an odor that may have come from a local mushroom farm.
early residents of the community complained of a stench that occasionally wafted over the area, some speculating it emanated from a nearby mushroom farm, others believing it was from a local landfill.  (We should also note that one of Medallist's senior executives on site was a boor who rudely deflected any inquiries that might have implied the community was less than paradise.  That kind of attitude does not play well in the relatively small world of golf community development, and we can only guess at how potential customers and local real estate agents may have reacted.)
        Norman seems as unlucky (or, perhaps, as unprepared) in relationships as he was in major tournaments.  He married wife #3 late last year after a brief marriage to former tennis great Chris Evert.   (Wife #1 wound up with a divorce settlement reportedly in the tens of millions before Norman married Evert.)  In Tennessee, Norman formed a business relationship with John "Thunder" Thornton, a local developer and major political fundraiser, to build the $500 million Tennessee National.  That marriage ended last year with Thornton receiving a couple dozen lots in the settlement, which the developer swiftly dumped on the market at less than half their previous asking prices.  That, of course, devalues the unsold lots owned by Medallist and may have been the ultimate death knell there for Norman and his company.
        Greg Norman had a splendid professional golf career, despite the spectacular failures.  But it is tragic that the Shark's teeth are often not quite as sharp as his competitors', or his partners'.
As Yogi Berra might say, the future is still ahead for Tennessee National's marina village as its developer prepares for a sale of the entire community.