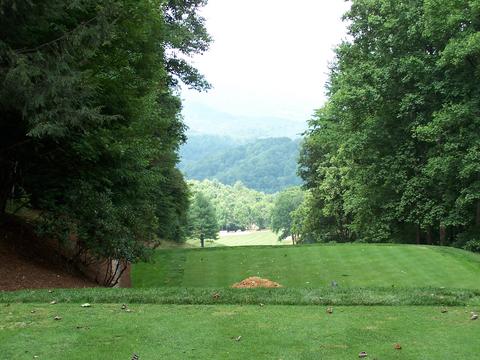 The par 5 12th at Red Tail Mountain starts a few stories above the fairway...
Red Tail Mountain, a two-year old community in a remote area of eastern Tennessee, has hired the Troon golf management company to supervise operations at its golf course. Red Tail Mountain was one of the most interesting courses I played last year, and one of its par 5s is still seared in my memory. It featured a four-story high tee, a fairway that was severely humped in the middle, and most unusual lay-up and approach shots. Entry to the green is over a rock outcropping at right front; behind the green is a sheer two-story cliff that looks as if it will throw long shots back onto the green. According to the assistant pro at the course, it doesn't work that way; he's hit buckets of balls at the cliff and very few bounce straight back.
Red Tail, which is located in Mountain City, is about 40 minutes from the attractive mountain community of Boone, NC. Real estate values currently reflect Red Tail's rural location; combine attractive prices, an intriguing golf course with a dramatic layout, and Tennessee's lack of a state income tax, and Red Tail Mountain has a great shot at success. The hiring of Troon demonstrates that it is serious about upgrading its golf facilities. That won't hurt either.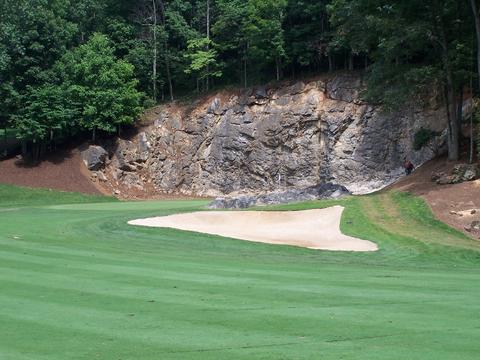 ...and gets even "harder" the closer you get to the green.