Golf Course Review
Our post yesterday regarding the narrow par 3 at Sewanee Golf Club reminded us of another rather bizarre hole we played last year in Tennessee. Red Tail Mountain, a fledgling golf community in the mountains about a half-hour north of Boone, NC, and the same distance from I-81, includes a fun course with significant elevation changes and nicely contoured fairways. The developers of the community had done a nice job of sprucing up the public-access Dan Maples-designed course in preparation for selling their first home sites late last year.
The front nine is a pleasant routing, with a fair amount of water and contoured greens to keep things interesting. But nothing prepares you for the roller coaster ride and mind-boggling approach shot on the par 5 12th hole. From the highest elevation on the course, which is to say about 100 feet above the fairway, the tee box sits in a chute of trees. A well struck tee ball is framed by the mountains beyond; that is the last you see of your ball off the tee, because the front of the tee box obscures the fairway below. I hit my best drive of the day straight through the chute and looked forward to maybe having a go at the green, since the hole was just under 500 yards.
But Moby Dick was buried in the middle of the fairway, and my "perfectly" centered drive must have bounced off the hump. It had rolled into the rough on the right edge of the fairway. But given the elevation, it was way out there, about 300 yards, leaving a short distance to the green. But where was the green? I drove up 160 yards to find that the fairway ended abruptly and took a more than 90-degree turn to the right. Since the tallest trees in Tennessee lined the right side of the fairway, I had no option but to place my approach shot to the elbow of the fairway, which I did successfully.
Then the fun really began. I had stopped my ball just short of a fairway bunker at the elbow, mere yards from the end of the fairway. Facing me for an approach shot was a most unusual tableau, as you will see in the photos below. A sheer rock cliff formed the entire area behind the green, and guarding the front right side was a significant rock outcropping. I was lucky I had hit the ball far enough because the pin was on the right side, behind the outcropping, and a shot to the middle of the fairway or shorter would have meant an approach over the granite. I went for the heart of the green, took my two putts and par, and walked off the green feeling lucky indeed.
After the round, I asked Red Mountain Assistant Golf Pro Josh McWhorter if those who play the course regularly use the cliff face as a safe way to play the ball onto the green.
"I've taken a bunch of balls out there and played them off the wall," he said. "They never bounce straight back."
If you find yourself anywhere near Mountain City, TN, stop at Red Mountain even if you have time to play only one hole. You won't forget it. Greens fees run between just $29 and $44. The golf course can be reached at 423-727-7931. If you would like real estate information about Red Mountain, contact Sales Executive Stephen Trent at 877-488-4646, or This email address is being protected from spambots. You need JavaScript enabled to view it..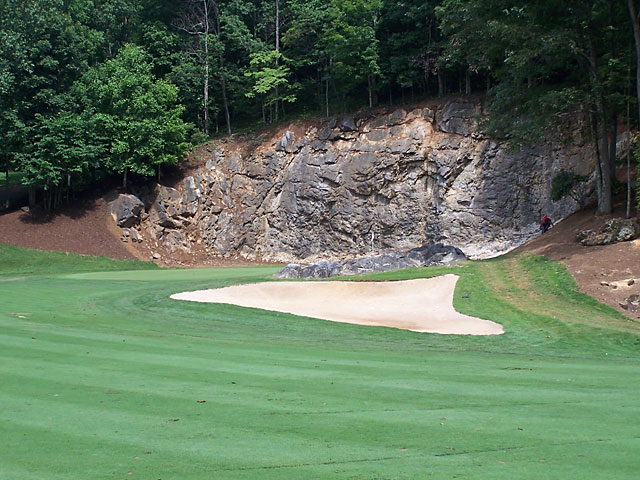 A placement shot short of the elbow at the par 5 12th at Red Mountain leaves little or no chance of getting near the pin behind the outcropping that guards the front of the right side of the green...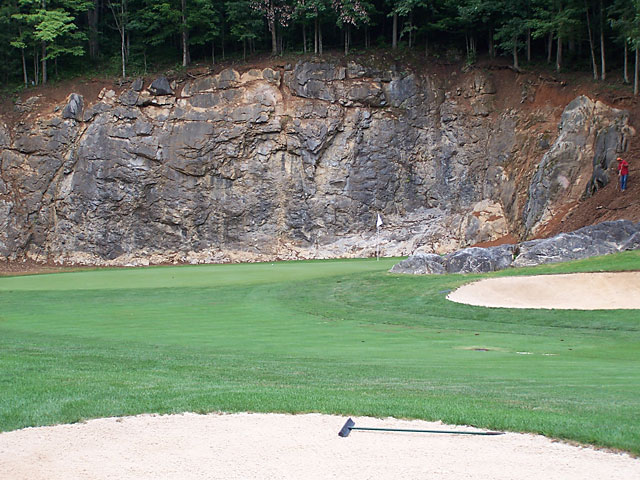 ...but even a ball in the trap at the end of the fairway leaves a more reasonable approach.

Have you played an unusual hole recently? Or do you have a favorite course you want to brag about? Please share it with other readers of GolfCommunityReviews.com by posting a comment at the end of this article.