Greenville, SC, ranks high on the list of best Southeastern cities in which to live. During our visits, we found values in golf community real estate across a wide range, from the ultra reasonably priced homes that abut the 36 holes of the Pebble Creek course, to the classy and tight community surrounding Tom Fazio's Thornblade Club in nearby Greer, to the dramatically designed mountainside homes in the Mountain Park community in the Cliffs communities portfolio in nearby Travelers Rest, whose Gary Player course along the Saluda River is about as much fun to play as any in the Carolinas. Prices in the Greenville area's golf communities for single-family homes range from the low $200s to as much as you care to pay.

Furman University's campus is beautiful, and during the growing season its gardens are a special treat.
Thornblade and Mountain Park are private clubs and appeal to local families as well as retirees. But in recent days, another option in the popular area has been announced, The Woodlands at Furman, the "Furman" being the beautiful and well-rated university and its celebrated golf course. The Woodlands 22-acre campus is geared to those who want a continuing care facility where they can live independently for years but won't have to move as they become less independent. The new section of 28 villas, ranging in size from 2,200 to 2,800 feet and offering a choice of four floor plans, will be located beside the 17th tee on the Furman University Golf Course.
I played the Furman course some years ago, after its most recent renovation, and I found its classic design easy on the eyes and the feet, should a golfer choose to walk the flat course. If you would like more information on golf communities in the Greenville area, including The Woodlands, please contact me.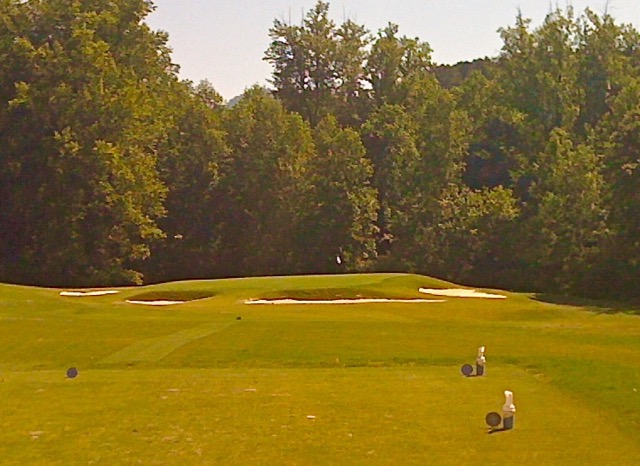 The Furman University golf course layout has many classic touches, such as bunkers surrounding an otherwise innocent-looking green.