If you consider moving to The Reserve at Lake Keowee –- and you should -– make sure your wardrobe includes something orange. You'll feel right at home.
The Reserve, which juts in and out of the beautifully misshapen manmade Lake Keowee, features a Jack Nicklaus golf course that hosts an annual Web.com tour pro event, a large and rustic clubhouse and a huge lawn that sweeps down from the clubhouse to the lake. The community also features plenty of Clemson University fans; the school is located just 20 minutes away in the town of Clemson.
I recall on my first visit to The Reserve five years ago, I ate an early Saturday dinner in the clubhouse's comfortable bar. As I indulged in the Swiss-chef-prepared meal, I noticed that virtually everyone arriving in the clubhouse was wearing orange. It was clear when the big screen TV was tuned in to the Clemson game that residents take their college football seriously. That enthusiasm is even more evident this season as the #2 ranked Tigers prepare for a Fiesta Bowl showdown with the #3 ranked Buckeyes of Ohio State. On that sprawling lawn below the clubhouse, a half-sized football field has been laid out with the bright orange Tiger paws logo emblazoned on it.
Go Tigers!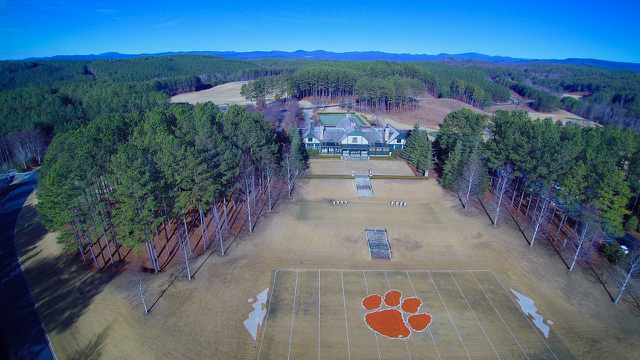 Comment
Be the first to comment