The major newspaper in Charleston, SC, The Post & Courier, is reporting that the upscale Briar's Creek, whose ownership and membership included such captains of industry as Jeffrey Immelt, chairman of General Electric Corporation, and professional football's Houston Texans owner Bob McNair, is filing for bankruptcy, citing $1.56 million in assets and $37 million in debts. Rees Jones designed the golf course that is surrounded by marshland on Johns Island, about midway between Charleston and Kiawah Island. So smitten were the original developers with the job Jones did that his large portrait hangs just inside the front door of the comfortably rustic clubhouse.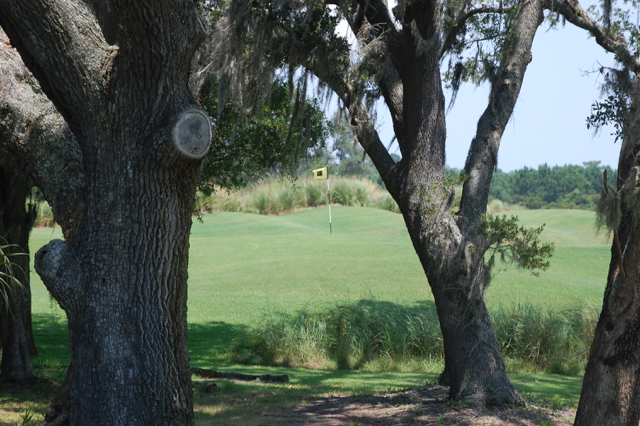 The Briar's Creek golf course captures all the elements of fine Low Country golf settings.
When I first visited Briar's Creek in 2009, I was treated royally, and I wrote the following: "Briar's Creek...does one thing much better than the rest -- it personalizes to the maximum the experience for all its visitors in a way that makes prospective buyers or even a golf community blogger feel as if they are Norm walking into the Cheers bar. Briar's Creek management makes sure that everybody knows your name." Yes, club membership was expensive, on the order of $100,000, but lived up to the cost.
Briar's Creek was the invention of local builder Steve Koenig, and its golf course opened in 2003 to a festival of awards, including "Best New Private Course" from Golf Digest and was among Golf Magazine's Top 100 in 2003. As late as 2007, the Golf Magazine "Living" issue named Briar's #11 of the "top 25 golf courses to live on." Koenig left Briar's Creek a few years ago to concentrate on his construction business and gave way to a national consortium of owners who will now seek to restructure the community.
The success of Briar's Creek hinged on the continuing interest of a wealthier class of potential residents and members, and once the economy went poof in 2008, so too did the community's market. Briar's Creek ran out of buyers and out of time. We will hope for a renaissance once things are restructured there.
You can read my original review of Briar's Creek here.
Comment
Be the first to comment