It could very well be that the Myrtle Beach area will be the last retiree-friendly housing market to rebound, at least outside Florida. At one point during the recession, the supply of homes for sale in the Myrtle Beach market would not have been exhausted for over 16 months. Now, that level is down to just over 9 months, according to the latest report from the Coastal Carolinas Association of Realtors. We also noticed for October that, although sales prices were lower from the same month last year, sellers were getting what they asked for in terms of listing prices. When buyers and sellers have reason to be equally content, the atmosphere for continued improvement in sales and an increase, eventually, in prices seems to be firmly in place.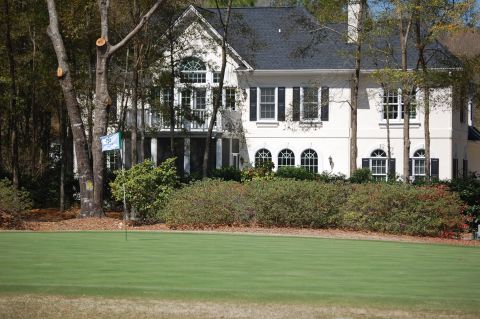 Virtually every lot at Wachesaw Plantation, the gated, private golf community that features a Tom Fazio golf course, includes trees, some of them hundreds of year old live oaks.
        I keep a special eye on the southern end of Myrtle Beach, where my wife and I own a condo and a home site at Pawleys Plantation, a gated golf community with a semi-private Jack Nicklaus golf course. The condo market is awful, with median prices at their lowest since 2008. I note that Cathy Bergeron, who sells real estate at Pawleys Plantation and other golf communities in the Pawleys Island area, has a golf villa for sale at our GolfHomesListed site priced under $125,000. At that price, you could put the unit on the rental program and have a shot at covering most of your costs -– and you can use the unit for two weeks each year for your own vacation.
        Although Pawleys Plantation does not have a private golf club, the Pawleys Island area is home to the only strictly private golf communities on the 90-mile Grand Strand of Myrtle Beach, an area that runs from just south of Wilmington, NC, south to Georgetown, SC. The gated DeBordieu Colony, which features a Pete Dye golf course and its own private beach, is located just north of Georgetown and is arguably the most upscale golf community on the southern end of the Strand. Prices for nice homes within a short bike ride of DeBordieu's beach start at $380,000, but most of the 33 current homes for sale are in the $600,000 to $800,000 range.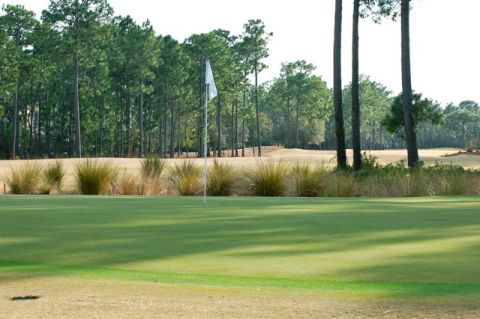 The Reserve at Litchfield golf course, designed by Greg Norman, features plenty of natural elements -- and a few manmade ones -- to make a round more challenging, including scrub pines, water, sand and sawgrass bushes.
        About 10 miles north, The Reserve at Litchfield offers a similar range of homes for sale just 1 1/2 miles from the Litchfield Resort's own beach, which is available to residents of The Reserve. Also available to residents, if they choose to join, is a golf club featuring a sleek Greg Norman layout and owned by The McConnell Group, with privileges for club members at McConnell's other outstanding golf clubs in North and South Carolina (although you will want to make an overnight trip of it since most are three hours away).
        Wachesaw Plantation, with a Tom Fazio designed golf course at its heart, is a few miles farther yet from the ocean, which might be part of the explanation for the comparatively low cost per square foot for its real estate. Yet Wachesaw features the most attractive natural landscaping of all golf communities on the Grand Strand, its hundreds of live oaks dripping with atmosphere, as well as Spanish moss. The Waccamaw River runs through the community, another reason why it is surprising that you can find cottages there priced well under $200,000, wooded home sites in the mid $100s, and full-size, traditional single-family homes beginning in the $300s.
        If you are willing to forego the private club experience, the Pawleys Island and Murrells Inlet areas offer a wide range of golf communities with semi-private golf clubs that you can join and pay no green fees, or not join,
Those disinclined to join a golf club can play deeply discounted golf on 90 golf courses for just  $40 annually with the Myrtle Beach Golf Passport card.
and pay as you play. For the itinerant golfer who likes diversity and doesn't need to play five times a week, choosing from among the more than 90 accessible golf courses in the Myrtle Beach area will be the preferred way to go, especially by signing up for the Myrtle Beach Golf Passport, a discount card available to all residents of the surrounding counties and offering as much 40% off green fees (and permitting your friends to play at your rate). The card is only $40 annually, which pays for itself after two rounds.
        Some of the Pawleys Island area golf communities where the golf courses are accessible to all are Pawleys Plantation (condos for sale beginning at $125,000); Prince Creek, home to TPC of Myrtle Beach and single-family golf homes for sale from $200,000; the River Club, with condos on the golf course for sale from $140,000; Litchfield Country Club (single-family homes beginning under $200,000); and Heritage Club, with golf homes beginning from $300,000.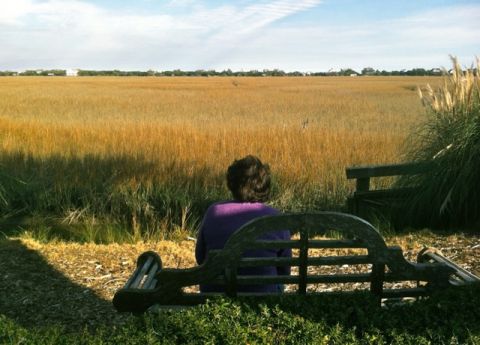 A moment of peace is possible at Pawleys Plantation, especially behind the 12th green, from where the marsh and the diabolical par 3 13th (below), played from a tee on the old rice plantation dike, beckon.  The 13th has been called "the shortest par 5 in Myrtle Beach," a refernce to the typical score when a tee ball finds the low-tide muck in front of or behind the tiny green.
Comment
Be the first to comment