So many golf communities, so little time. I head to Greenville, SC, Sunday for a few days before meeting up with my fellow panelists on the South Carolina Golf Rating Panel at Savannah Lakes Village, a large two-golf-course community abutting Lake Thurmond that should be of interest to those looking for reasonably priced real estate and a golf and water-oriented lifestyle.
        In Greenville, I will be touring and playing the courses at three golf communities that are joining Thornblade Club and the Greenville-area Cliffs Communities in our portfolio of properties at GolfHomesListed. There is
Greenville Country Club's Chanticleer course is rated the fifth best course in South Carolina.
a revived feeling of excitement in the Green Valley Country Club community, one of my stops, whose story began with its first property sales in 1958. Under new ownership, the golf club and course have reverted to private status, and the original George Cobb layout, updated by Tom Jackson in 2001, is getting more attention.
        The Pebble Creek Club is about choices for residents of its surrounding community and others who live in the area and are looking for an active club lifestyle. The club offers 36 holes of golf on its Linkside and Creekside layouts. Both clubs and their courses are available to members, but membership is required to play the Linkside course, which recently converted to Bermuda grass greens. I am anticipating the chance to talk with Lyndell Young, a local businessman who owns The Pebble Creek Club.
        Greenville Country Club is home to a golf course that is rated 5th in the golf-rich state of South Carolina by the SC Golf Rating Panel, ahead of such luminaries as Secession Club, Yeaman's Hall and Caledonia. The Chanticleer Club, which was designed by Robert Trent Jones and updated in 2001 by his son, Rees, has been hailed as one of the best in the east since it opened in 1970. Greenville's other layout, the Riverside Course, was totally renovated in 2007 by noted architect Brian Silva and has been rising in golf course rankings ever since. I'll be touring the surrounding neighborhoods, among Greenville's oldest, and playing Chanticleer late next week.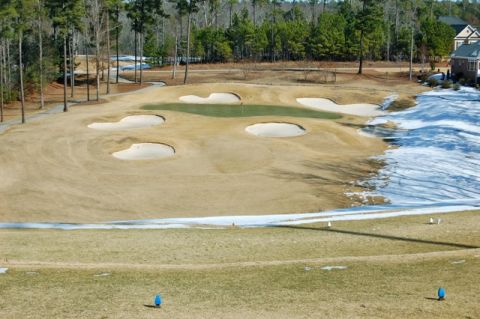 I visited Savannah Lakes the day after a freak snowstorm.  The snow was gone a day later.  I look forward to my return visit and to playing the two golf courses at Savannah Lakes next week.

        Savannah Lakes, located in McCormick, SC, near the Georgia border, is one of those communities that exists because of a manmade lake created for hydroelectric purposes 60 or so years ago. At 4,000 acres and abutting Lake Thurmond, named for the larger-than-life U.S. Senator Strom Thurmond, Savannah Lakes is big enough to encompass hundreds of miles of walking trails and two 18-hole layouts, the Monticello and Tara, both designed by Thomas Clark. Home sites on the Monticello golf course begin in the low $100s and golf homes for sale in the Tara subdivision start in the high $100s. Club membership is included for every property owner, and usage fees provide reasonably priced options for those who want to use the wide range of facilities sparingly or frequently.
        If you would like me to ask any specific questions in Greenville or at Savannah Lakes, please contact me. I will provide in this space, in the coming weeks, extended reviews, plus photos, of all the golf communities I visit.
Comment
Be the first to comment