A recent survey of Cliffs Communities members circulated by CIPOC, the Cliffs Independent Property Owners Coalition, only generated 155 responses, but the breakdown of the responses by note-holder and non-note-holder illustrates some of the challenges of building consensus as the community and its residents contemplate a future under new ownership.
        In general, non-note-holders considered financially related issues more important than did note-holders, not surprising in that note-holders ponied up at least $100,000 each of the $64 million loaned to founder and
Note-holders tend to want to see investments made and don't worry about dues increases; non-note-holders may feel otherwise.
now bankrupt developer Jim Anthony. Just 40.9% of note-holders, for example, believed that the amount of monthly dues was a "Very Important" issue while 72% of their fellow non-note-holder residents cited it as "Very Important." New owners Steve and Penny Carlile may have some persuading to do if an increase in dues is necessary to support maintenance of the expensive golf clubs.
        Attitudes toward the unfinished Gary Player golf course in the Cliffs Mountain Park community also implies an anxiety about increased assessments among the non-note-holders; 29.2% of them thought Mountain Park a "Very Important" issue. Note-holders, whose loan to Jim Anthony was supposed to support Mountain Park, saw the completion of Mountain Park as "Very Important" in 54.5% of their responses.
        The issue of keeping The Cliffs seven courses together in one membership package -– the seven includes Mountain Park –- demonstrated the greatest disparity of responses. The rate of those considering the multi-membership "Very Important" was just 13.5% for the non-note-holders and 31.8% for the note-holders. More than 38% of the non-note-holders considered the issue "Not Important" compared with just 20.5% of note-holders.
        When asked to raise any issues not covered in the survey, one of the top four responses focused on the issue of "uniting the disparate groups that this process has created." That, in a nutshell, seems to be one of the greatest challenges The Cliffs faces.
*
         A total of 450 acres, many of them inside the gates of The Cliffs at Keowee Falls, was sold at public auction two weeks ago to an Atlanta based real estate investment firm that had loaned Jim Anthony and The Cliffs $20 million. Worthington Hyde paid a reported $3.5 million for the undeveloped lots. A Carlile Group spokesperson told the Independent Mail of Anderson, SC, that the new Cliffs owners had begun discussions with Worthington Hyde to "provide stability and a new sense of vitality to The Cliffs Communities."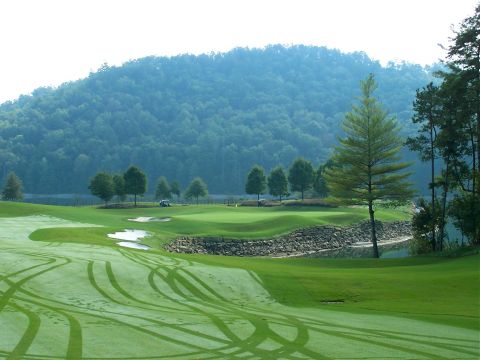 The Cliffs at Lake Keowee golf course, designed by Tom Fazio, is one of the best in the state of South Carolina.
Comment
Be the first to comment