The Paradise Lost Award
(temporarily, we hope)
Haig Point, Daufuskie Island, SC
        For years, it probably seemed to residents of Haig Point on Daufuskie Island that the resort just a 10-minute golf cart ride outside the community's gates was of no real consequence to them.  After all, Haig Point maintained its own ferry service to the vehicle-free island, and the resort's two excellent golf courses -– one by Jack Nicklaus and the other by the team of Weiskopf & Moorish –- were rated no more highly than Haig's own 29-hole Rees Jones layout (the two extra holes represent an easier routing of two par 3s).  But when the economy faltered and, along with it, the 5,000 acre Daufuskie Island Resort and Spa, outsider interest in living in an island paradise with a bankrupt resort dried up.  Today, property prices in Haig reflect anxieties about the resort's future and the viability of island living itself.  Recently, we spotted a $14,000 Haig Point lot that included the golf club initiation fee ("…a $65,000 value," the listing touted).  Homes in Haig Point are priced at significant discounts to similar properties on the mainland.
        Many baby boomers would lust after such bargain prices in a community as lush and lovely as Haig Point, but the catch is that carrying costs are significantly higher than most communities on the mainland; between the golf dues and property owner fees, a property owner is committed to as much as $17,000 annually.  And construction costs are about three times those on the mainland, owing to the need to ship all materials and labor to the golf community.  That private ferry, which is the lifeline of the island community, is expensive.
         In November, the golf resort was put up for auction.  A nice-sized audience was in attendance in a Hilton Head hotel ballroom, some of them curious and interested onlookers from Haig Point.  Bidding was to start at $16 million for the resort, its spa, dozens of unsold lots, and Nicklaus' Melrose golf course.  Unfortunately, no one bid.  Subsequently, the judge overseeing the bankruptcy case ruled that creditors could sell off pieces of the resort if a single buyer did not emerge.  The future of Daufuskie Island is still at sea.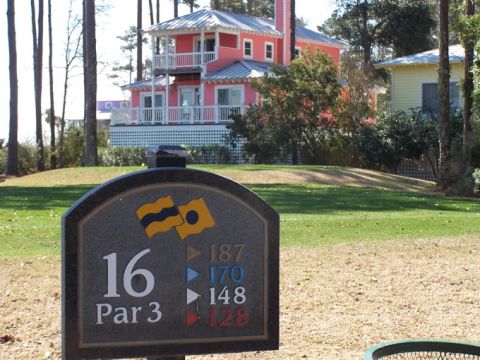 The Jack Nicklaus designed Melrose Course at the former Daufuskie Island Resort is still open, but the bankrupt resort is not.  Homes and properties in the adjacent community are selling at a discount, as are properties in the nearby and separate golf community of Haig Point.
Comment
Be the first to comment