Despite a deep recession in the golf industry that has seen many courses close, Myrtle Beach still offers golfing gourmands all they can handle.  If you are that kind of golfer and own a second home in Horry, Brunswick or Georgetown Counties, then your ticket to the golf smorgasbord is the Myrtle Beach Passport.
        For just a $39 annual fee, the Passport provides discounts of as
The ticket to the golf smorgasbord is the Myrtle Beach Golf Passport.
much as 60% of the rack rates at 80 of the area's best courses, including such tracks as the highly rated Caledonia, the four Barefoot Resort Courses (including the quasi-private Pete Dye course), Grande Dunes' Resort Course, King's North, Pawleys Plantation, Tidewater, True Blue and the quirky but strangely alluring World Tour Golf Links, with holes that mimic a few from Augusta National and other world famous layouts.
        Second-home owners in the surrounding counties need only present a tax receipt, rental income statement, or utility bill to prove residence.  (If Myrtle Beach is your primary residence, then a driver's license will suffice.)  Prices can run as low as $32 in the off-season (January, when some days are in the 60s, and July and August when it is likely to reach well into the 90s).  Passport holders also receive discounts at the Golf Dimensions stores and at some of the better restaurants in the area (e.g. 25% off at Ruth's Chris Steakhouse, Divine Fish House and Collector's Café).
         The best feature of the Passport, besides the discounts, is that you can bring up to three guests at your rate.  And there is no limit to how many times you can play a particular course.  For a list of golf courses in the Myrtle Beach Passport program, see MyrtleBeachGolfPassport.com.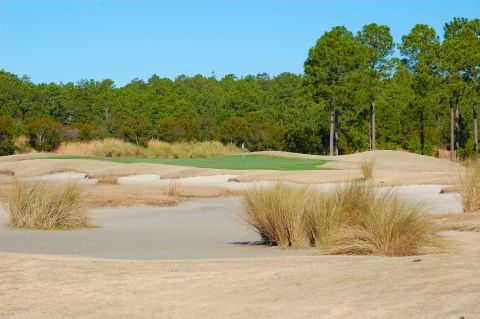 The "rack rate" at Sunset Beach, NC's Thistle Golf Club can reach $120 in peak season.  Myrtle Beach Passport members pay just $60 from January to December.
Comment
Be the first to comment