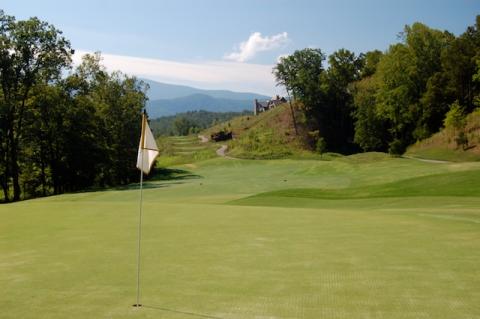 Although Bright's Creek plays at an elevation above 1,000 feet, it seems like a valley course because of the mountains that surround it.
The Nationwide Tour is making its annual stop this weekend in upstate South Carolina and just over the border in North Carolina for the BMW Charity event. Below is an article we published at this time last year, updated for this year's event.

My local paper, the Hartford Courant, may not consider the BMW Charity Championship event worthy of coverage, but to those who are members of the multiple courses on which the annual tour stop is played, the tournament is a big deal. It is fun, and sometimes sobering, to see how the pros perform on courses you know so well.
I have played two of the three courses this weekend's Nationwide Tour event uses -- The Thornblade Club in Greer, SC, and Bright's Creek in Mill Spring, NC. Although both are Tom Fazio designs, they could not be more different. Bright's Creek is the more modern, a remote three-year old course that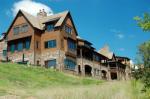 keeps the surrounding upscale community at a respectable distance. The impeccably designed and landscaped Bright's Creek community, which is a good 45 minutes from Asheville, is the brainchild of Barton Tuck, the same developer responsible for the tony and popular Forest Creek community in Pinehurst. Homes at Bright's Creek run from the high six figures into the millions. The course plays at an elevation of more than 1,000 feet, but the surrounding mountains are even higher, giving Bright's Creek a valley course feel. Otherwise, all the typical Fazio flourishes are in full flower -- the funneled fairways, cloverleaf bunkers and expansive, well protected greens, all in a pleasurably playable package.
Tomorrow, the competitors move on for the final round at Thornblade Club where the homes and the golf course are intimately connected, which is to say much closer to each other than at Bright's Creek or most other modern upscale communities. Thornblade is a private, family-oriented club with a full range of activities and an involved membership. It became the centerpiece of the Nationwide event a few years ago when the Cliffs Communities decided to withdraw from the event. BMW's major manufacturing facility is located just a few miles from Thornblade, in Spartanburg. The course's mid-1980s design, more classic than Fazio's later ventures, is especially interesting because it shows the architect early in his career, when he was "finding his voice" (or, better, his eye). It is well manicured, sleek and makes a noble stab at keeping the encroaching homes, one of which is owned by tour pro Jay Haas, at a safe distance.
Bright's Creek, Thornblade and the third course, The Carolina Country Club, do not exactly bring the pros to their knees. As I write this, tournament leader Fabian Gomez was 8 under par today at Bright's Creek. He shot 64 on Thursday at Thornblade and broke 70 at Carolina CC yesterday. These are not U.S. Open courses but chances are that you are not a touring professional; I can tell you from experience that either of these courses would be fun to play a few times every week.
I reviewed Bright's Creek some months ago. Click here for the article; if you are interested in more information about Bright's Creek, Thornblade or any other property in a golf community in the southern U.S., please contact me.




Comment
Be the first to comment