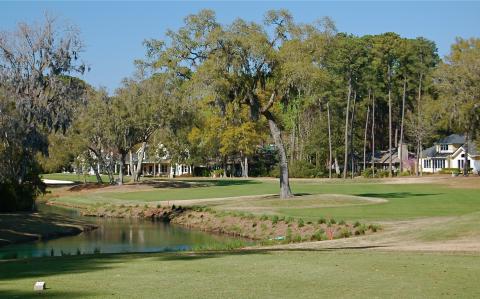 If you dare, hit a three wood or driver over the oak tree at the short par 4 10th on Dataw's Morgan River course, but if you are short of mid fairway, the trees that guard the left side of the green will block you. Better to go around.

Review: The Dataw Island Club and community

Executive Summary:
Two 18 hole golf courses by Arthur Hills (Morgan River) and Tom Fazio (Cotton Dike). Imaginative, challenging layouts in fine condition.

Lots begin at $40,000, homes begin at $230,000
Club membership $24,000 (equity) plus one-time capital contribution of $15,000; dues $6,840 per year (full golf)
Nearest town: Beaufort, SC
Mature community, 80% built out, club owned by members.
I never quite know what reception to expect when I visit a golf community. Occasionally, my hosts won't let me out of their sights, as if I might steal something. Others will just hand me a key to a golf cart and point me to the first tee. I have even had to ask some for a set of basic marketing materials.
The vast majority of golf communities I visit strike a balance between too much
My reception was Goldilocks perfect: Not too hot or cold, but just right.
information and too little, just the way I would want them to treat a customer I send them. In that regard, I would have no trouble recommending a visit to the Dataw Island community in St. Helena, SC, about 20 minutes from Beaufort. Like Goldilocks' porridge, my reception there was not too hot, not too cold, but just right.
Dataw Island Club Membership Director Silvia Lalinde had arranged things for me and promised that one of the community's residents and club members, Dick Nawalsky, would greet me mid afternoon last Sunday and take me around the golf course. After I was greeted warmly in the pro shop, Dick, who had already played 12 holes with his wife, showed up right on time.
Fazio and Hills, a great combo
Tom Fazio designed the original 18 at Dataw, the Cotton Dike course (Dataw Island is on the site of a former cotton plantation). Although Fazio is one of my favorites, Dick and I played the Arthur Hills Morgan River Course. I am also a fan of Hills designs, especially when he is given wide berth by developers to produce a challenging layout. I knew I'd be playing a few other Fazio layouts during the week, so I was happy to start at Morgan River.
The early holes begin quite modestly, with an opening par 4 that is tree lined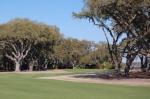 but short (337 yards from the second longest tees); 3-wood off the tee is just fine there. The right half of the green is quite accepting of approach shots, a bunker guarding the left side. But the first few holes are a bit of a tease because, by the fourth hole, a par 5, Hills began to introduce water hazards, in that case a large pond guarding about two-thirds of the right side of the green, with a bunker guarding the left side. The short par 4 fifth, at just 312 from our tees, included water down the right side that pinched in front of most of the green, daring long hitters to bust their tee ball down the left. The pond well in front of the par 3 6th green did not come into play, but the two bunkers that guarded both sides did. However, the real challenge at the 6th, as it was at many holes on the course, was the "false front" which demanded an all-carry shot to the undulating and firm green. The green complex on the par 5 9th hole provided a bold visual statement, with three grass bunkers built into the front side of the green, a sand bunker at left and one at rear right, just over the pond that guarded the extreme right side. Again, big hitters are dared by Hills to go for the green in two at #9, but the price to pay for being offline can be heavy.
Trees a crowd
No hole on the course was more contrived, or ingenious, than the short par 4 10th, a dogleg left that outdoes Jack Nicklaus' own propensity for middle-of-fairway trees. As you look toward the green from the tee, you are faced with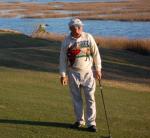 a sprawling tall oak about 150 yards out. You can fly a big 3-wood or driver over the top, but an equally tall grove of oak trees on the left blocks any shot left of center of the fairway. Land to the right of the trees and you might be rewarded with a short pitch shot to the green and a reasonable birdie opportunity. Or you could wind up in that grove of trees at left or, worse, out of bounds in someone's backyard on the far side of the fairway. A dinky 5-wood or hybrid tee shot, the smart play, leaves just 130 yards or less to the green. It is a beautifully designed short hole.
Hills plays a similar trick at the 13th, a par 4 that demands a tee shot far enough and left enough to avoid a bunch of tall live oaks that jut into the fairway from the right. Hit too far left, though, and you will have to negotiate another cluster of live oaks that jut in from the left, closer to the green. The risk on the 13th, which brings you in view of the marsh for the first time, is that you might still be playing a dogleg hole after your too-short or too-long tee shot.
Finishing touches
The final holes at Morgan River echo most of the elements of the earlier holes, but now you have the prevailing breezes to play with...and against. After a mild par 3 15th, with a couple of bunkers at greenside, the long par 3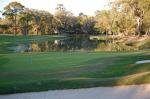 16th (yes, two par 3s in succession), at 190 yards into the wind, is a dazzler, with water down the right side and sloshing along the front right of the green, and bunkers guarding the front and left side of the severely two-tiered green. With water pinching in on both sides about 100 yards from the tee, the layout was a visual interpretation of Popeye -- no waist, all upper torso. Into the wind, I needed lots more spinach to get anywhere close to the pin at rear right. I hit my best shot of the day, a solid 5-wood into the wind. My reward was a straight, uphill 35 footer through the fringe, which I proceeded to hit 15 feet past the cup.
The toughest holes on the Morgan River course tend to be the longest, just because the designer does such a good job of protecting his greens and because the breezes make hitting long, high approach shots difficult. Once on the putting surfaces at Dataw, though, two putts are no sure things as the greens are undulating and medium fast (they'll be faster in a few weeks). Virtually all greens sloped back to front, in some cases severely. I can recall only one or two putts that did not break the width of a ball or more.
Turf on the fairways and tees was in excellent shape, but the greens are the real star here, their firmness and speed making it impossible to get anywhere close to front pin positions. That 5-wood into the wind on #16 was the only approach shot I stopped all day. The rest bounded up to 20 feet past their landing points.
A taste of the Cotton
One small touch that Dataw employs that I have not seen elsewhere: Pin positions are marked by a colored triangular cap atop the 150-yard posts -- red for front, white for middle, yellow for back. Once I was used to checking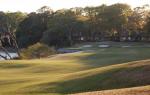 positions that way, I found it an interesting touch; the posts are there anyway, so why not use them for an additional function? And the club doesn't have to keep an inventory of three different colored flags.
After our round, Dick suggested we play the finishing three holes on Fazio's Cotton Dike course. They were the most visually dramatic of the day, the finisher vaguely reminiscent of the 18th at Harbour Town on Hilton Head or maybe even Pebble Beach -- a par 5, with marsh and water along the left side. The green juts out into the marsh, making even a short wedge approach -- assuming two excellent shots before that -- a wind-blown, knee-knocking affair. My thrill of the day -- of the week, actually -- was to loft a gap wedge to one foot, my only birdie of the day.
Morgan River plays to 6,185 yards from the blue tees, with a rating of 71 and slope of 130. Fazio's Cotton Dike course plays to 6,253 from the blue tees at a rating of 70.9 and slope of 131. You can lengthen the course and the rating and slope by moving to the back tees. Cotton Dike opened in 1985, one of Fazio's earliest designs, followed by the Morgan River course in 1989. With just 350+ full golf members, the two courses handle things quite well, although with a mid-Sunday afternoon tee time, we still had groups in front of us and behind, and the practice range was filled when I first arrived. The golf courses are definitely the centers of activity in the community, but those otherwise inclined can choose from the eight Har-Tru courts at the new tennis center, indoor and outdoor pools, a fitness center, a deep-water marina and a croquet court.
All purchasers of property in Dataw are required to pay $15,000 for club membership; an additional $24,000 buys an equity membership, of which 80% is returned upon resignation. In my experience, a $39,000 total initiation fee is not out of line for clubs with two well-maintained 18 hole courses. Annual club dues are $6,840 for a homeowner and $1,200 for a lot owner, and the $800 food minimum is reasonable, especially given the nearly half-hour to Beaufort, the closest restaurants. I did not have a chance to sample the food.
A community built by aluminum
Dick Nawalsky, who was my gracious host for the day, bought his home at Dataw two years ago. He and his wife considered communities along the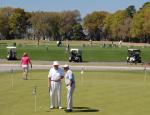 coast, but came to favor Dataw's remote location and modest size (870 acres, capacity for 1,050 homes, 800 currently built). They also like that they are only six miles from a state beach, which is a big lure for their kids and grandchildren during summers. Alcoa Corporation originally developed Dataw in the mid 1980s, in an era when large corporate landowners, like International Paper, Weyerhauser and Alcoa, thought that residential development would embellish shareowner value. Most shed their holdings years ago, but Alcoa turned Dataw over to its residents just last year. The transition, according to Dick, went smoothly, and no governance issues (or sticker shock) have emerged.
Many of the homes that line parts of the golf course are on ¼ acre "patio" lots, in close proximity to each other. Occasionally, out-of-bound stakes at the edge of backyards come into play, but for the most part they are not a distraction. Landscaping is quite nice, with trees on all lots (many of them live oaks), providing a nice buffer between homes. Few homes in Dataw are exposed to the elements, and those that are have marvelous marsh views.
If Dataw sounds right for you and you would like to arrange a visit, tour and golf,
contact me
. There is no charge for this or any other service to you.
Patio homes on the golf courses begin in the mid-$200s, although those are likely to require a little updating. They tend to feature less than 2,000 square feet. Among the larger "estate" homes, a current listing shows one at 2,580 square feet and a price of just under $400,000. One patio lot on the golf course is currently on the market for just $38,000. Of course, views of the Morgan River and marsh command a premium, often twice or even three times the price of wooded lot homes; the best one currently available is priced in the $700s but it includes both golf and stunning marsh views. A few developer lots are still available, with extra incentives for buyers who use the developer's preferred builder. However, there is no requirement to build within a certain timeframe.
Dataw seems the farthest from "civilization" of all the communities I visited last week, but it is a mere 20 minutes (10 miles) from the active and interesting Low Country town of Beaufort. I dropped off Dick Nawalsky at his home behind the green at Morgan River's 16th hole, about as far from the security gate at Dataw as you can get. It took me about eight minutes to exit the community. For Dataw's residents, I am sure that seems like a very small price to pay.
The Dataw Island Club and community is located in St. Helena, SC, about 20 minutes from Beaufort and a half hour from Bluffton and the bridge to Hilton Head Island. For a map, click here.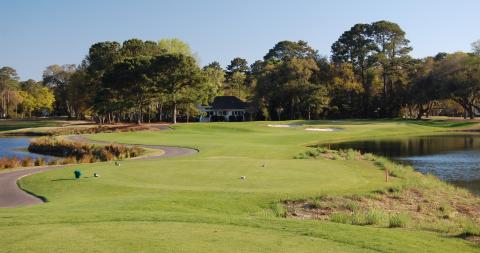 The par 3 16th at Dataw's Morgan River was the toughest one shotter on the course, especially with the pin at far right and on top of the second tier of a sprawling green.
Comment
Be the first to comment