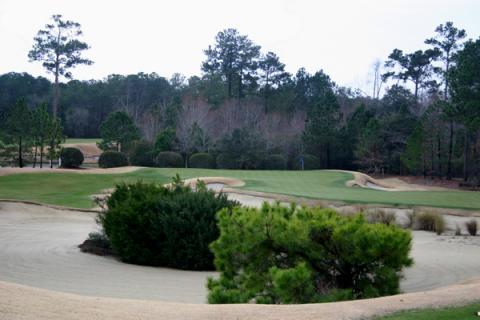 The par 3 14th hole at True Blue is indicative of many of the other holes on the Mike Strantz course, with sand, and lots of it. Photo by Elliot deBear.
The vaunted Caledonia Golf & Fish Club is arguably the best golf course between Myrtle Beach and Charleston, although members at Bull's Bay in Awendaw might argue about that. But since Bull's Bay is essentially unaccessible to the mere mortals willing to pony up as much as $180 to play at the daily fee Caledonia, we will amend the title to read "best daily fee course" between Myrtle Beach and Charleston. Always in impeccable condition, Caledonis's tee sheet is typically filled a month or two in advance.
But for those who might get shut out at Caledonia, its partner course, True Blue, is just a drive and seven-iron across the road. True Blue, which most believe is tougher than Caledonia, is dramatically tamer than when it first opened over a decade ago. Any but the lowest-single-digit players threw up their hands after their initial experience at the course and vowed never to return. The fairways were narrow, the waste bunkers were constantly in play and the greens were too severely undulated, speedy and overall penal. The package golfers, down for a weekend or a week, were threatening never to return (oh, and the conditions of the greens were none too great either).
But after a renovation, True Blue became truly playable, and I have returned a number of times in recent years to enjoy the generous fairways and big and brawny greens. And if driving a cart through expanses of waste sand has lost its kitschiness over the years, those compact surfaces seem a lot easier to hit from than they once did.
Comparisons of True Blue to the Pinehurst area's Tobacco Road are not unfair. Tobacco Road and the much tamer Caledonia were both designed by the late Mike Strantz. Indeed, Strantz must have been feeling incredibly mellow when he laid down the blueprint for Caledonia, which is the fairest maiden in the designer's small (10 course) but distinctive oeuvre. (Note: Strantz's last course before he passed away at 50 was the aforementioned Bull's Bay, near his former office just north of Charleston.) Much as I have come to tolerate Tobacco Road's idiosyncrasies, I find True Blue a fairer, less bizarre test, and one whose consistency of elements (the generous fairways, big greens and wide waste areas) challenge without being unnerving the way Tobacco Road can.
The vistas at True Blue are marred only by some rather mundane condos off to the side of a few holes. But what those units lack in design they make up for in price; as a second home and launching point for great golf in the Pawleys Island area, you could do worse than the $159,000 some of the 2 bedroom, 2 bath units are fetching in the current slow market. Owners of these condos can generate a little extra income by renting to the package golfers.
In a three-mile radius that includes Caledonia, the new Founders Club (remade from the former Sea Gull Golf Club), the classic Heritage Golf Club and the Jack Nicklaus Signature Pawleys Plantation, True Blue is an anachronism. Play it if you are in the area, and vive la difference.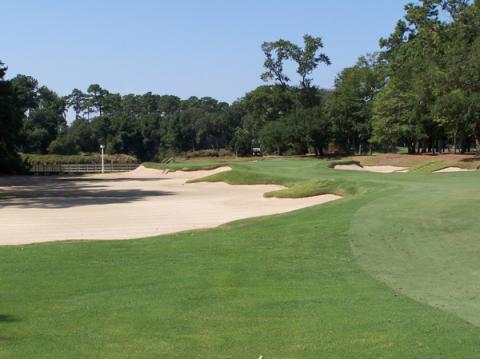 Caledonia has its share of sand but it also has a much more genteel side than does True Blue, as indicated by the flowing 13th hole at Mike Strantz' most "classic" course.

Comment
Be the first to comment