This week, the eyes of the golfing world have been on the Pinehurst Resort in the Sandhills of North Carolina. (Side brag: I picked Martin Kaymer to win the U.S. Open in my fantasy golf pool.) The USGA held its men's championship event last weekend and will conduct the women's event this weekend at Pinehurst #2, the iconic Donald Ross designed layout that was restored by the hottest golf architect firm today, (Bill) Coore & (Ben) Crenshaw, and is getting wide acclaim from pros, golfers and the general public. It looks terrific on television, that's for sure.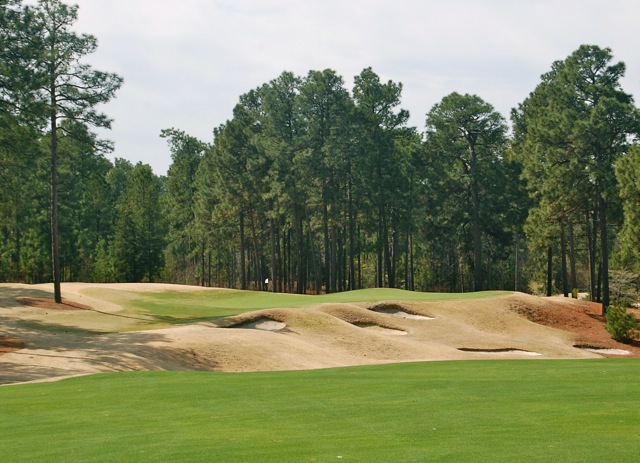 If you are looking for a break and mild introduction to National Golf Club's layout, forget
about it. From the start, Jack Nicklaus' design is a sculpted challenge. National Golf Club
was recently purchased by Pinehurst Resort and has become Pinehurst #9.


Golf is plentiful and excellent in the Pinehurst/Southern Pines area, some of the highest quality courses, and some of the most famous, on the east coast. The Pinehurst Resort now can boast nine courses in its rotation after it added a few months ago the National Golf Club just down the street, an established golf community we visited and reviewed here. (Click for our review of National Golf Club.) Blue-collar golfers with a zest for travel rave about the unforgettable Tobacco Road, just a half hour away and about as wild and exciting a layout as you will every play. Back closer to Pinehurst, Mid Pines, another Donald Ross classic, and Dormie Club, a new course by Coore & Crenshaw that adheres to old principles of design, help give visiting and local golfers more than a month of golf courses they can play without repeating a single one. For those serious about a golf retirement, there are myriad options in the Pinehurst area, both golf and real estate related.
And yet, of every 25 customers who contact us for assistance in finding a golf-oriented home in the southeast, only one or so even asks about Pinehurst. It cannot be a marketing problem -- Pinehurst does plenty of that, and who could ask for better advertising than the U.S. Open championship aired on television and publicized in virtually every media outlet. Here are a few reasons why Pinehurst is not on every golfer's radar, and a few why maybe it should.
Marketing, yes, but as a place to live?
Pinehurst has a bit of the Myrtle Beach problem; it is known widely as an excellent golfing resort, not a place to live permanently. You would think as well that all those visiting golfers, many of them baby boomers poised for retirement, would be red meat for the local real estate agents. And yet, in spite of a small real estate office tucked into a corner of the lobby, and the ubiquitous real estate brochures tucked into racks at local hash houses, the effort to explain Pinehurst as a permanent destination lacks imagination. One local Realtor I tried to negotiate an affiliation with seemed more concerned with whether I would infringe on the rights to use the image of Putter Boy, the sculpture that is Pinehurst's logo, for my own purposes than whether I would help her sell golf community homes.
Location, Location, Location? Not exactly
Pinehurst is a charming little town, with the accent almost as much on "little" as on "charming." The fact is that there isn't much to do in the area, culturally speaking, and during visiting-golfer season, which is most of the year, tables at the better restaurants are at a premium. Raleigh, the nearest city, is a good hour away. With all the options for golf communities throughout the southeast, and with the multiple courses nearby – and sometimes as many as six within the gates of a community like The Landings or Reynolds Plantation -- many folks considering a golf location for retirement would rather not share with visitors.
Sandy soil, but not at the beach
I love playing golf in the Sandhills of North Carolina, but that sandy soil and the pine needles that cover much of it much of the year are everywhere. If sand is what you like, most people will opt for a beach location. And if you are not a fan of sand, then you're the sum substance of your viewing options in the Pinehurst area are tall, thin pines -- many, many tall thin pines. Most folks we encounter prefer their views of pines of the longer distance variety -- say across valleys to the mountains just a couple of hours from Pinehurst, in the western Carolinas. One other thing: It can get pretty hot in the Sandhills in the summer, a time when golf play for visitors is down but many locals passed up the option. In short, many baby boomers are looking to live in a place of interesting topography, a place with views. Except on some of their wonderful golf courses, Pinehurst has none of that.
But for the serious golfer, few better places
Pinehurst is all about golf, and serious golfing couples, especially those who like to play multiple golf courses on a weekly basis, could be very happy with a home there. Pinehurst as a retirement destination should not be penalized for insufficient marketing or unimaginative real estate agencies; it has plenty of attraction for couples focused on golf and desirous of being within an hour or so of a big town like Raleigh and nearly as close to Charlotte. (Those who opt for such renowned communities as The Cliffs at Lake Keowee, for example, are a good hour from Greenville, SC.) And some couples, especially those who have fought traffic for years, are looking for a somewhat "remote" and laid-back location for their retirement years. And as for their being no good natural views in the Sandhills, if you play a lot of golf on any of the three dozen or so Pinehurst area courses, the views of splendid fairways lined with sparkling bunkers and punctuated by sculpted greens are compensation enough. Pinehurst is almost all about golf, and if your retirement or vacation life is all about golf, then you are home.
Pinehurst's golf community options
Anyone considering a golf home in the Pinehurst area had better do their homework – before they visit. There are dozens of good choices ranging at the top from Forest Creek, which includes two modern Tom Fazio layouts always ranked near the top of North Carolina's competitive list, and with homes that start in the mid-six figures and range into the millions; the also-exclusive Country Club of North Carolina, where homes sell from $300,000 and prospective members must be approved for membership before being able to purchase a property (would have thought there was a law against that); the Mid-South Club, with single-family homes from $300,000 and a group of four-unit "lodge" condominiums that feature huge front porches, fountains, and long views across the 1st, 9th and 18th fairways of the Arnold Palmer golf course; and the gated National Golf Club, recently purchased by the Resort as Pinehurst #9 and featuring a terrific Jack Nicklaus layout that was updated with brand new greens just two years ago.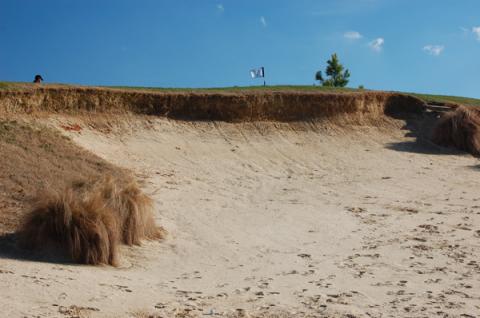 You won't find any homes adjacent to Tobacco Road in Sanford, NC, just 30 minutes from Pinehurst, but you will find enough sand to fill a beach -- a very big one.
Of course, if membership at the Pinehurst Resort is your goal, then you have a number of options, although you will have to purchase property in Pinehurst. One is to purchase a home in the community Fairways on Seven, so-named for its location on Pinehurst #7, a Rees Jones course that many aficionados believe is second best to #2. The community has its own clubhouse separate from the main resort clubhouse, but a resident of Fairways on Seven – or any other community in the area, for that matter – may become a member of seven of the Pinehurst Resort's golf courses. Cost depends on whose home you purchase: For example, some homes include a "transferrable" membership whose cost to you will be (net) $12,000. Full membership cost is $40,000, and you will of course share your golf courses with visiting golfers.
But hey, this is Pinehurst, and if you can find a nice home below your target price – contact us, we can help – then you won't feel the pain of anything but your muscles after playing golf every day of the week at one of the world's most famous golf resorts.
Comment
Be the first to comment