In the August edition of our free monthly newsletter, Home On The Course, I included a bunch of descriptions in 140 characters or less, Twitter-style, of some of the more than 150 golf communities I have visited over the last decade. I left out one deserving community, and I heard about it from Jim Daly, an obviously proud resident and member of Porters Neck Country Club in Wilmington, NC.
"Larry," Jim wrote me, "I'm surprised and disappointed that you don't even mention Porters Neck…PNCC is a gem of a [Tom] Fazio golf course, and the community has a welcoming feel as soon as you pass through the gates. If you have not visited, you should…size is just about right -- not too big and not too small -- and the same can be said for the Wilmington community. As a former Connecticut resident who has lived here for 13 years, I can attest to its quality of life and great golf year round."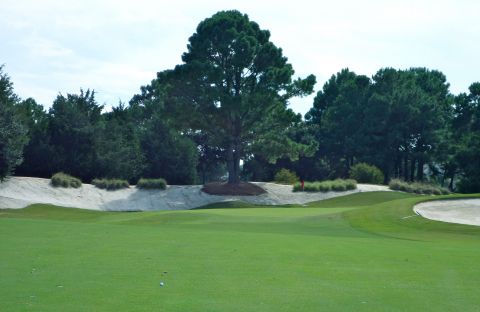 Sand at Porters Neck serves as both hazard and framing device.
A couple of weeks later, I found myself in South Carolina, about two hours down the coast from Porters Neck and Wilmington, and I wrote Jim that I'd try to get up to his neck of the woods (no pun intended) for an updated assessment of Porters Neck. It took him a few nanoseconds to respond with an invitation to join the Porters Neck Men's Golf Association at their regular monthly outing on September 11. (They had invited a group of local "first responders" to participate in the golf and dinner, but the fire and police officers were participating in other 9/11 events.)
When I first visited Porters Neck six years ago, and before the golf course was updated with Fazio's input, I found it to be a mature, comfortable gated community with plenty of friendly people who seemed disinterested in "keeping up with the Joneses." In some communities with real estate price points similar to Porters Neck's, which is to say the mid-six figures, some residents appear to be on the verge of burbling out their net worth at any moment. Not at Porters Neck.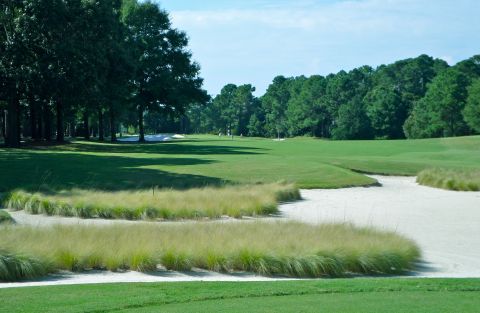 Many customers ask me what the people are like in a particular golf community, and in most cases I haven't spent enough time for a qualified assessment. But at Porters Neck, where I have now spent about a dozen hours on the golf course with a number of its members and have toured the community with local real estate agents, I can testify that Porters Neck residents seem to be an unpretentious group most interested in -– and proud of -– where they are living now. Prospective residents of a community wonder whether the people inside the gates will be "just like us"; the only way to answer the question is to spend time with them, and one of the best ways is to spend four hours on the golf course (and in the clubhouse afterward), peppering your prospective neighbors with as many questions as possible. I asked Jim how he came to Porters Neck.
"I moved [to Porters Neck] in 2000 after a 30-year career with IBM in human resources," Jim told me, adding that his wife RuthAnn and he attended a number of trade shows in the northeast that spotlighted golf communities in the South.
"We lined up a couple of vacation trips to visit some of the places [we saw at the shows]," he said. "We had lived in Charlotte, NC, for five years prior to moving back to the northeast in 1986. We knew the Carolinas a bit but we researched and visited multiple locations between Williamsburg and Georgia over two years."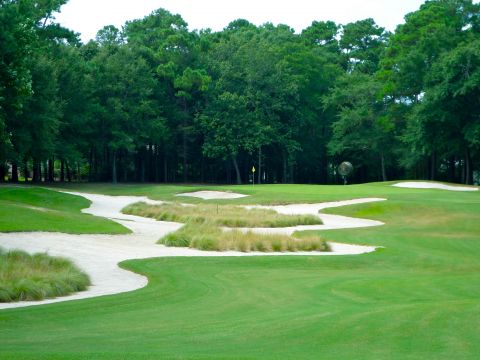 The couple actually decided to build a house at Ocean Ridge Plantation in Sunset Beach, NC, about an hour south of Wilmington.
"We must have visited a dozen places," Jim added, "and in fact, placed a deposit on property in Ocean Ridge before finding Porters Neck during our visit to Wilmington. We immediately felt comfortable with the community, the quality of homes, the quality of the golf course, and the friendly interactions with some members." The couple canceled the Ocean Ridge deposit and purchased a lot within a month at Porters Neck.
"We have never regretted the decision," Jim said.
Bill Smith, another member of our foursome, and his wife Anita didn't leave a deposit anywhere during their search, but they are just as satisfied with their decision to buy at Porters Neck.
"My wife's brother and sister lived in Wilmington when we were relocating from Washington, D.C. in 1990," said the former U.S. Army major, "so the Wilmington area seemed a logical choice." The Smiths' first home was a condo near the ocean, Bill said, adding that "we were big boaters at the time, and that seemed a logical choice."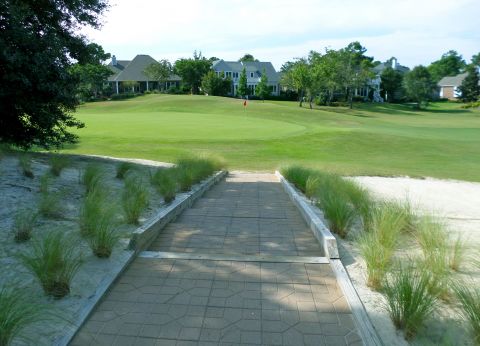 But a small windfall from the sale of a piece of property, a decision to move farther from a potential hurricane landfall, and a custom home they found on the marsh at Porters Neck compelled their move to the community.
"We had a lot of time to decide where we wanted to move," Bill indicated, "so we were able to search many locations north and south of Wilmington. I was not much of a golfer at the time, but club membership was included with the house we purchased…and I have totally embraced the sport and all the activities" of the club and community. (Editor's Note: During our round, Bill "embraced" a few 260-yard drives straight down the fairways.)
Bill and Anita are both educators, she a nursing instructor at Cape Fear Community College for the last 18 years and Bill a former instructor
Over recent years, the Porters Neck golf community appears to be "getting younger."
at Cape Fear in Data Networks and Data Communications. During our round, I learned that Bill was responsible for programming the automated electronic locks throughout the Brunswick County prison. He retired to a life of four-day-a-week golf in 2010.
As it was for the Smiths, the lure for Don Reichard, a 38-year veteran of the Naval Air Engineering Center, and his wife for a retirement in Wilmington was family -– in his case, one of his two daughters who were graduated from the local university stayed in the area to live and work.
"When it was time to leave NJ," Don told me, "we knew we were going to Wilmington. We had visited and played golf [at a number of golf communities in the area,] and we kept coming back to Porters Neck. We just felt comfortable here."
More than 11 years later, they still do, and are impressed that the community appears to be "getting younger."
"We have a swim team (our daughter was coach for the first year), and junior tennis and golf programs," he says. "There are even social events for kids. It's good to see younger families joining the club."
A day with the Men's Golf Association
If I were considering a home at Porters Neck, my day with the Men's Golf Association would have provided great insight into what my potential fellow residents are like, how the club is organized and run, and even how the clubhouse food tastes. After golf, the 70 or so players repaired to the clubhouse bar for an hour of libations and lively conversation before being called into the main dining area for a buffet dinner. Entrée offerings were wide ranging and included pork tenderloin sliders, chunks of short ribs and a flaky fish in a cream sauce; all were tasty and well prepared. Most of the golfers stayed for dinner, conversations were lively, and the pro shop dispensed quickly with the awarding of prizes. (Our foursome finished just three strokes out of the money in the two-best-balls-of-four event, and I kicked myself for the four putts I missed from within eight feet; sorry guys.)
In lieu of the first responders who could not attend the event, the MGA invited the athletics director and head basketball coach from University of North Carolina –- Wilmington to talk about this year's team and to drum up support in the form of season tickets. UNC Wilmington is a Division I basketball team that schedules some significant games, and judging from the pointed questions coach Buzz Peterson fielded, some of Porters Neck residents are fans. Access to a top-flight college athletics program, the UNCW's adult education extension programs and some of the other activities centered on a university are a bonus in terms of the benefits of living in the Wilmington area.
Eight tee-box options
The golf course and community at Porters Neck have changed little since my initial visits in the middle of last decade; I had played the golf course before its multi-million dollar renovation in 2006 and my recent round showed improvements across the board; the greens had been enlarged back to their original size, bringing the surrounding bunkers closer to the putting surfaces. (Unfortunately they were aerated a few days before we played, but you can tell that, once back to normal, they will be smooth and fun to putt on.) Other renovations were comparably subtle. You can read my original review of Porters Neck by clicking here; understand that some of the numbers regarding real estate and golf may be a bit out of date. But there is nothing out of date about Porters Neck, especially after its Sport Center (tennis, swimming, fitness, aerobics) was renovated earlier this year.
For those who worry that their golf games will change as their bodies age, the Porters Neck golf course offers more tee box options than most layouts, eight in all, including "Member Long" tees at 6,442 yards (rating 71.6, slope 131), which mix in a few longer holes from the blue tees and a couple from the way-back Gold tees on par 3s. The Member Long should be quite enough for handicaps between 8 and 12.
If you are looking for a friendly community and club within a short distance of a vibrant city –- Wilmington is a favorite location for moviemakers -- we'd be happy to arrange for a visit to Porters Neck.
*
Real estate and golf memberhsip opportunities at Porters Neck
Homes in the gated Porters Neck Plantation are priced from $250,000 to about $1.5 million, although more expensive homes are available just outside the gates and on nearby Figure Eight Island. Typical inside the gates is a 3-bedroom, 3-bath brick home on a half an acre located on Fazio Drive, with a view of water and the second green, and currently listed at $539,000. Contact me if you would like more information on this property or any of the others currently offered at Porters Neck.
Porters Neck Country Club is currently offering a special "preview" membership program. You join for a year at no up-front initiation fee and dues of $475 per month (full family). If at the end of the trial year you join within 60 days, you pay an initiation fee of $15,000 ($17,000 if you join after 60 days). Those who join within the 60-day period also receive $75 in dues credits for 12 months, a complimentary cart rental for four months, six complimentary golf passes and an extended payment program of $5,000 per year for three years. All members have a quarterly dining minimum of $200 per family; the club membership brochure brags that they serve "the best crab cakes on the east coast." If that's the case, the quarterly minimum is a bargain.
Comment
Be the first to comment