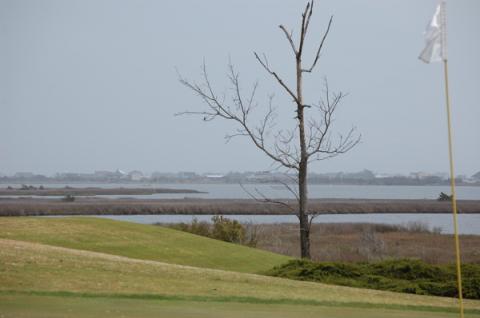 The 11th green at North Shore looks out across the marsh toward North Topsail Island.

There are plenty of out of bounds stakes around the periphery of the North Shore Country Club golf course (see review of the community in yesterday's article, below). They guard the backyards of the many nicely landscaped, mostly brick homes that frame the holes of the Sneads Ferry, NC, course. But unless you hit the ball a mile sideways, you are likely to see the white stakes only on your rides along the cart paths.
The relatively flat Bob Moore layout, opened in 1988, is quite generous with its fairways, making it an especially good track for those with handicaps of 12 and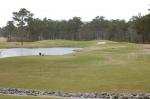 above and a good walking course as well. It will appeal also to lady golfers who carry handicaps in the high teens and above. Its 6,300 yards from the white, or men's tees, seemed shorter than that, perhaps because I struck the ball pretty well on the late March day I played. Still, I could not get close to any of the par 5s in two shots. Water for the most part is not much in play, although on the 18th hole, lakes must be carried twice. The hole is listed at 430 but doesn't play that long. The first lake in front of the tee is easy to carry, but the second one runs from about 135 yards from the green to about 20 yards short of the front of the green. On the ninth hole, a carry of about 190 yards is necessary to clear a lake between tee and fairway, and on number 10, a stream cuts across the fairway about 30 yards from the green.
Fairway bunkers guard many of the doglegs, but again, the landing areas are so wide that I didn't find any fairway sand all day despite a few wayward drives. At greenside, the bunkers are a different story, with some pinching the entranceways down to a few yards. North Shore is at its toughest when pin positions are up front, just over a protecting bunker, and with the greens firm, it was difficult to hit even good approach shots to within reasonable birdie range.
Conditions were good for this time of the year and after a few days of on and off rain. I was relegated to cart path only yet encountered only a few mushy areas on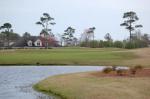 my walks to and from fairways and rough. The sandy soil beneath the fairways appeared to soak up the water well, and the slight elevation of the greens kept them dry. The greens putted at medium speed, but I didn't have any putts I felt were knocked off line by imperfections in the turf. The putting surfaces should be quite nice in a month or two and, potentially, fast. Slicker surfaces will help justify a slope of 128 and 70.4 rating which seemed just a wee bit overstated to me. Grass in the fairways, growing in little green tufts so far, had a ways to go, but a few warm nights ought to take care of that.
The North Shore club is semi-private and generous in its charges for non-members and members alike. The $80 green fees I paid, cart included, seemed reasonable for the layout and amenities, although North Shore's locker room is quite small. In order to join the club, you must be a resident of the adjacent community; the $15,000 initiation fee is included in the purchase of most homes and some lots. General Manager John Russell told me that the residency requirement was not a signal that North Shore may be looking to go private. Club membership includes access to North Shore's private beach club across the bridge on North Topsail Island.
Dues for North Shore are quite reasonable at $200 per month for resident members and just $125 for those who use their homes as vacation retreats. I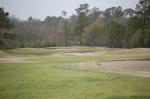 didn't get to sample the food in the clubhouse at North Shore - the kitchen was closed on a Monday afternoon - but the nice lady at the bar asked if I wanted a hot dog, and she repaired to the kitchen to make one up special for me. That kind of friendliness extended to the pro shop where everyone, from General Manager Russell to the pro shop staff to the chatty guys at the cart station made me feel like a member. A few days earlier I had met a North Shore member at the Camp Lejeune collegiate golf tournament; he was matched with my son and another collegian in a kind of pro-am set up. He spoke enthusiastically about the North Shore community and golf club, where he is a resident and member, and I saw nothing during my visit to qualify his enthusiasm.
North Shore Country Club will appeal most to golf and beach lovers who don't mind giving up close-by conveniences in exchange for house prices about a third to half lower than comparable golf communities along the Atlantic coast. If you should be headed south on Highway 17 toward Wilmington and Myrtle Beach, North Shore will provide a nice break and round of golf and, perhaps, a place for a vacation or retirement home.
North Shore Country Club, Highway 210, Sneads Ferry, NC. (800) 828-5035. Designer: Bob Moore. Championship (Blue) tees: 6,866 yards, rating 73.1, slope 135. Men's (White) tees: 6,358, 70.4, 128. Red (Ladies) tees: 5,039, 69.2,126. Initiation fee ($15,000; often included in home purchase); monthly dues $200. Non-resident monthly dues: $125.
For a connection to a qualified real estate agent in the area who can provide you with information on all available real estate in North Shore or out on the beach at nearby North Topsail Island, please contact me. There is no cost or obligation to you whatsoever.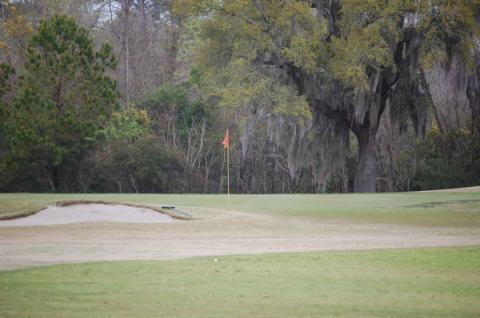 When no homes are in view, the backdrops at North Shore are especially impressive.
Comment
Be the first to comment