Reynolds Lake Oconee, Greensboro, GA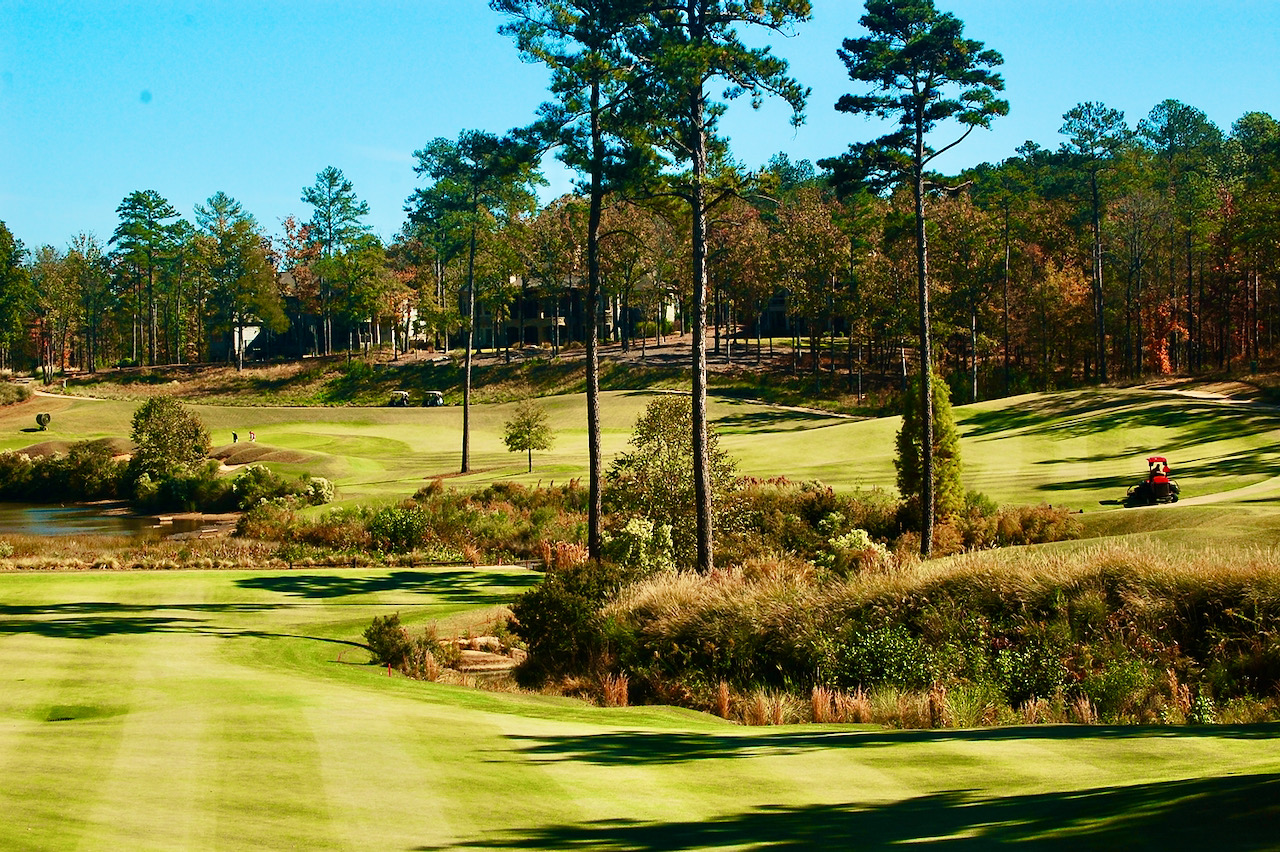 The wild and wonderful Creek Club at Reynolds Lake Oconee in Greensboro, GA
By sheer numbers, the winner here should be The Pinehurst Resort, with its nine outstanding layouts. But only the first five – Pinehurst courses are numbered 1 through 9 – are clustered together. Initiation fee for membership in so many courses was reasonable the last time I looked, about $40,000, and monthly dues were not bad either. But Pinehurst is a resort, and a popular one at that, and a daily-golfing member will have to organize tee times or rely on the single "member-only" course each day, lest some traveling group of buddies take a preferred slot. One other consideration: Pinehurst's course may be nominally public, but membership is only for those who live beside one of the resort's nine golf courses.
Reynolds initiation fees may be a bit higher than Pinehurst on a per-golf-course basis, but it is almost exclusively private, except for some traffic from the on-site Ritz Carlton Hotel and a handful of nicely appointed cottages the Club offers to prospective members. Reynolds offers a number of tiered membership plans, starting with two courses for a $25,000 initiation fee. Membership in the full complement of six courses, including the Jim Engh masterpiece at The Creek Club, is priced at $50,000. If you love the innovative designs of Mike Strantz, you will go gaga over Engh's layout. Creek Club is the sole member-only course on the property, which means that Ritz Carlton guests probably cannot even beg their way on. Dues for each membership plan rise relative to the initiation fees, but the plans are flexible enough to accommodate a second, lower-tier dues level for those who are part-timers.
I have played some of the courses at Reynolds, and all were in impeccable shape and operated by friendly and well-trained staff. That is not surprising for a community owned and guided by Metropolitan Life Insurance Company, the white knight who rode into the small town after the original developers, Mercer and Jamie Reynolds, were whipsawed by the recession and aggressive spending.
Reynolds Lake Oconee, Greensboro, GA
Single-family homes from $725,000 to $5.5 million
Lots from $90,000, golf lots from $200,000 and lake lots from $700,000
Golf: Six courses by Jack Nicklaus, Tom Fazio, Jim Engh, Rees Jones, Bob Cupp
Notes: Home prices at Reynolds have spiked in the last six months; the lowest priced house in April was around $420,000. Today, it is $629,000 (a couple lower priced are "under contract.") Greensboro is about a 75-minute drive from Atlanta international airport, from where you can get to virtually anywhere in the U.S. on a nonstop flight.
Other golf communities nearby: Harbor Club and Cuscowilla (Eatonton).

Reynolds Lake Oconee is included in my new book, Glorious Back Nine: How to Find Your Dream Golf Home, available in paperback and ePub at Amazon.com and BarnesandNoble.com.