By its relatively Lilliputian size of 1,000 acres, Harbor Club in Greensboro, GA, is overshadowed by a giant-sized community a few miles up Lake Oconee. Reynolds Lake Oconee, formerly known as Reynolds Plantation, has six more golf courses than does Harbor Club and about 11,000 more acres. It is also owned by the behemoth Metropolitan Life Insurance Company. Harbor Club, which would not be considered small in any other context, is family owned.
Harbor Club is no shrinking violet, though, as last year's sales performance testifies. The community and its real estate operatives produced a 45% increase in sales compared with 2016's performance, according to the local board of Realtors. That amounted to a total of $26.5 million in combined sales of homes, lots, cottages and townhomes, $8.2 million more than the year before.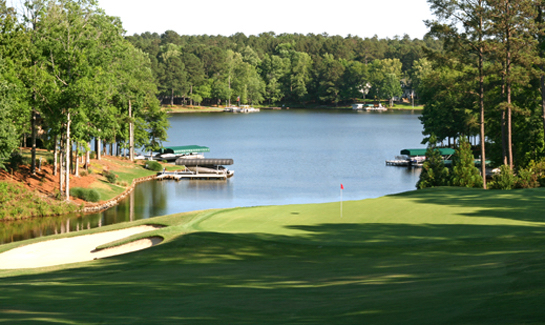 The Tom Weiskopf/Jay Moorish designed golf course for Harbor Club uses Lake Oconee for extra challenge and framing.
The mix of home options inside Harbor Club appeals to a broad base of potential residents, retirees and younger families alike.
"Over 80% of Harbor Club's homeowners live here full time," says General Manager and Partner Brandon Matney, adding that other communities on the lake, including Reynolds and Cuscowilla, sell to a larger number of second-home owners.
Greensboro, population barely 3,400, qualifies as a rural Georgia town, but the growing array of services in the town belies its size. A well-regarded charter school has been attracting younger families to the area, although the school has many more interested students than spaces (a lottery approach is used, although the elementary school grades will start accepting more students next year). And a new hospital opened a couple of years ago, significantly expanding the healthcare options for baby boomers moving to Reynolds and Harbor Club. On a visit to Harbor Club and Reynolds a few years ago, I was impressed at the size of the supermarket outside Reynolds and a couple of miles from Harbor Club, as well as the multiplex cinema in the same shopping center.
Building lots for sale inside Harbor Club start around $33,000, with resale homes starting at $329,000 and new houses in the $300s.
If you would like more information about Harbor Club, Reynolds Lake Oconee or any of the other golf communities in northern Georgia, please contact me.