I awoke this morning at Currahee Club in Toccoa, GA, to two beautiful sights: A gorgeous sunrise and a lone golf club employee cutting the green just below the cottage where I had stayed the night. That was a couple of hours before my tee time at Currahee, voted by Golfweek raters as a top 50 residential golf course. I'm going to reserve my comments about the golf course for a week or two from now. (Spoiler alert: The Jim Fazio layout deserves the praise it received from Golfweek, and then some.)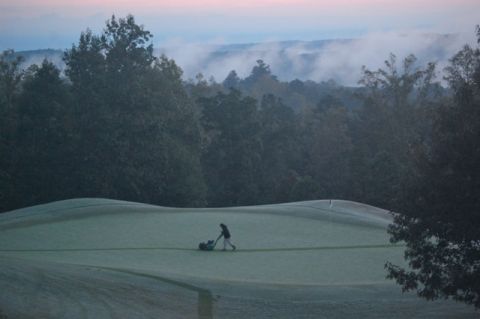 It's 7 a.m. on a Monday, and a Currahee Club worker shaves down the 9th green. (Note: The club is closed on Tuesdays, not the traditional Monday.)
Currahee is set to become one of the go-to upscale golf communities in the southeast. The community's closest competition would appear to be Reynolds Plantation, The Reserve at Lake Keowee and the Cliffs Communities; all of them had a few years head start on Currahee which got off to something of a fitful beginning just before the recession hit but was reinvigorated a few years ago by an injection of money from Europe, reportedly a family with an interest in the upscale company Gucci. The key amenities in the community show a certain upscale style of their own, including a Sports Club with an ultra-modern fitness center, large saltwater pool (with a poolside grille and Tiki bar), two bocce ball courts, Har-tru tennis courts, a sand-filled volleyball pit and a popular community fire pit. Currahee officials told me that the fire pit is a magnet for couples looking to enjoy the brilliant mountain sunsets, some liquid spirits and spirited conversation with their fellow residents. (I can vouch for the sunsets after one night there.)
And then there is the clubhouse, a behemoth at 45,000 square feet with plenty of rooms to celebrate everything from a birdie on the 18th hole –- the men's locker room bar will work for that –- to the 150-person wedding reception that was celebrated in the club's dining room the day before I arrived. The men's locker room is large and built for the future, with a terrace that looks out to the golf course and mountains beyond, and nearly 500 lockers. (The club has about 170 members currently, but that number has grown significantly in recent months.)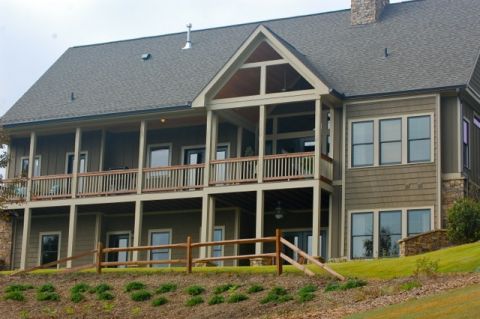 The two-story cottage that hangs above the 9th green at Currahee was designed with four "lockout" bedrooms. The cottage is for sale and could provide substantial rental income.
The 4-bedroom cottage I stayed in is both roomy and practical for families with visiting relatives or a couple looking to generate rental income; the bedrooms each can be closed off or the cottage can be used as one large home. It is possible for couples who don't know each other to have their own space in the cottage. The rental potential seems impressive for those who want to defer their move to Currahee but get in before the development really takes off. Currahee's real estate office frequently needs units to make available to couples visiting on the "discovery package," and staff handles all rental arrangements and housekeeping for a modest percent of the rental income.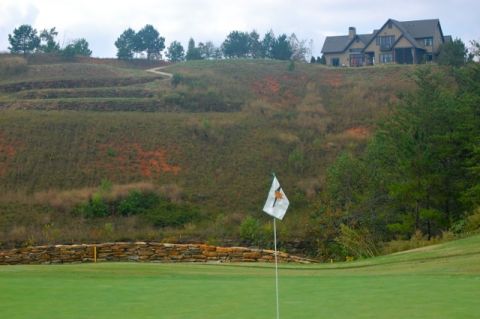 The Southern Living Builder Showcase home at Currahee includes a dramatic view of the par 3 17th hole and the quarry that fronts it. It is currently for sale.
Of course, the return on such an investment is directly related to Curahee's future popularity, but prospects look bright: More and more homes go under construction each month, and couples have been streaming in on recent weekends to check out the Southern Living Custom Builder Showcase home that recently was finished and elegantly furnished. It sits above the golf course's iconic 17th hole, a 245-yard par 3 with a do-or-die tee shot over a deep rock quarry. The display home, like all Southern Living extravaganzas, is dressed to the nines, and I have it on the QT that the home, furnishings and all, is available for around $1 million. Check out the listing at GolfHomesListed.com. (Click here.)
For couples interested in an exploratory visit to Currahee Club, the discovery package is just $129 per night and includes a round of golf and temporary member privileges. Let me know if you would like more information, and I will make sure it comes your way quickly. (Contact me by clicking here.)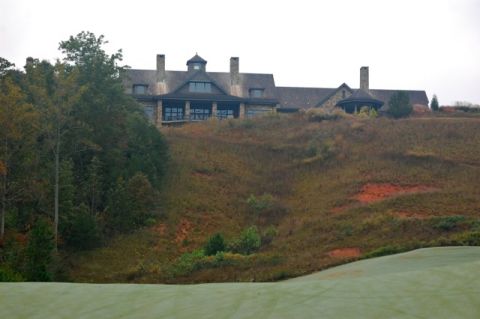 The 45,000 square foot clubhouse at Currahee provides dramatic views across the Jim Fazio golf course.