This time of year, the news media likes to publish their "best of" lists and top annual awards. People must like them because the media publish them year after year. Beginning today, we extol the virtues of a few of our favorite communities
At this time last year, Greensboro, GA's Reynolds Plantation, which covers 80 miles of Lake Oconee shoreline an hour and a half northeast of Atlanta, seemed down and almost out. Homeowners had voted, quite emphatically, to reject an offer from Mercer and Jamie Reynolds to buy the
State income tax will be phased out entirely in 2016 for Georgia residents 65 and older.
troubled community's golf clubs at an inflated asking price that might have bailed out the failing developers. Bankruptcy followed quickly and nervous owners began biting their nails. Then into the small town of Greensboro, which is mostly composed of Reynolds Plantations' 10,000 acres, rode white knights Daniel Corporation and MetLife. The savvy giant financial services company knows a bargain when it sees one, and for pennies on the dollar, it scooped up Reynolds' undeveloped land and the community's 117 holes of golf. Daniel, with experience buiding and managing a successful Birmingham, AL, golf community and skyscrapers in Atlanta, will manage land development and sales.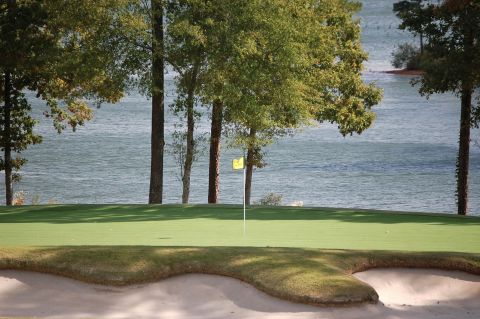 Lake Oconee is never far from any of the 6 1/2 golf courses at Reynolds Plantation. On the par 3 3rd at Tom Fazio's 27-hole National course, a narrow finger of the lake makes it clear that you are playing the "Cove" nine.
During our recent visit, we saw no visible sign that Reynolds had ever been in trouble –- the golf courses and their clubhouses were pristine, the 38,000 foot Lake Club was bustling with workout sessions, lunch crowds and other activities, and residents were roundly pleased that their
From the condition of the golf courses to the activity at the Lake Club, you wouldn't know the troubles Reynolds faced before its rescue by MetLife last year.
investments and retirement lifestyles now seemed secure. Further, after hearing from some visitors and a few residents that Greensboro was "in the middle of nowhere," we were surprised to find a large supermarket, multiple doctors offices (a hospital is on the way), an eight-screen Cineplex and enough good restaurants on and just-off the gated property to keep a snobby urbanite content for a week. Okay, at 90 minutes from Atlanta and 50 from the university town of Athens, Greensboro itself may be a tad remote, but Reynolds Plantation has definitely secured its place –- once again -- among the best upscale golf communities.
Reynolds and other Georgia golf communities received a big boost when the State announced that state tax on retiree income for those 65 and older will be phased out in 2016. Next year, the exclusion will be $100,000, with $150,000 in 2014 and $200,000 in 2015. The exclusion for residents 62 to 64 remains at $35,000.
Furnished golf villas at Reynolds Plantation start in the high $200s, single-family homes from the low $400s, and lots from around $50,000, with some lake view properties beginning in the low $100s. For a list of current Reynolds Plantation properties for sale, visit GolfHomesListed. Or contact us for more information and to arrange a "discovery" visit to Reynolds. The golf courses there are open all year.