by Elliot deBear
        On a recent visit to Georgia, I stayed at the Cloisters in the famed 5 Star Sea Island Resort.  While very expensive, it lives up to its ratings in every way, especially with its beautiful Seaside golf course.  I have, over the last few years, decided to stay fewer days in fantastic resorts instead of longer vacations in mediocre places.  It generally comes out to the same cost and turns out to be more exciting and special.  The Cloisters at Sea Island didn't disappoint.
        Seaside's design was completed in 1929 by Harry S. Colt and Charles Alison, two famed golf course architects from Scotland.  They also designed many of the country's top private clubs, such as Century Country Club in Purchase, NY, as well as a number of tracks in Scotland.  The course was updated in 1999 by Tom Fazio and retains a Golf Digest Top 100 rating with 4 1/2 stars.
        Seaside is one of the most picturesque courses I have played and certainly one of the best resort courses in the country.  The layout plays to a par 70 at 6,557 yards from the back tees, and a rating of 73.2 rating and a 136 slope.  The pros at last weekend's McGladrey Open event played longer than 7,000 yards.  The lay of the land as designed by Colt and Alison reflects their Scottish heritage, with many holes framed by dunes and native grasses.  There are large bunkers and lots of them guarding the greens.  It is said that the greens, which were in perfect condition, are very similar to Augusta National in terms of speed and the crowns on the back nine.  Breaks are a challenge to read as they often do not look as big as they are given the speeds.  The course rewards straight drives and can provide some nasty challenges if you're off the short grass, especially on the left sides of many holes.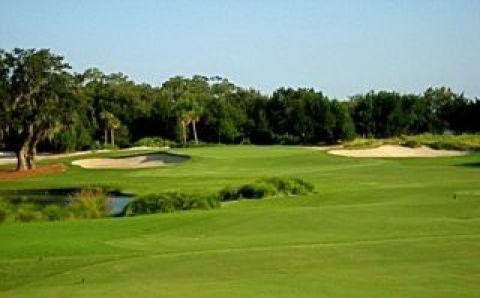 There is a lot of water throughout the course, much of it not in play but providing some beautiful views.  Breezes alternate from the ocean and river that borders the land. The par 3's are special gems.
        Seaside was fun to play, aesthetically beautiful and in prime condition.  The complex features one of the best learning centers in the country (reportedly) in the country as well as Plantation, a terrific sister course.  

The Cloisters resort was magnificent and very much like the Sanctuary in Kiawah Island.  The spa and fitness center are as good as you will find anywhere, as are the beach facilities.  Off site and nearby were a variety of great restaurants to sample seafood and low country fare.  The resort is about 1 ½ hours drive from Savannah.  We stayed in Savannah for two days and one night to visit the historic district before heading to the Cloisters.   It is a fabulous city steeped in culture, spiced with art, architecture and history.  Savannah is heavily influenced by its Savannah College of Art & Design whose buildings and exhibitions seem to be everywhere.
        Elliot deBear, who lives in Westchester County, NY, has contributed a number of articles and outstanding photographs to GolfCommunityReviews in the past.  We thank him for them all.
Comment
Be the first to comment