This is the final article in a series on Georgia golf resorts where you can vacation for a week or permanently.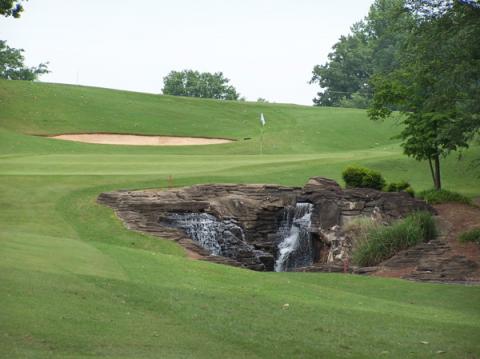 The approach to the 14th green at Chateau Elan's Chateau course is beautiful and treacherous.

Lush and convenient - it is just 40 minutes north of Atlanta - Chateau Elan is a lot larger than it looks. At 3,500 acres, enough to accommodate eventually 2,000 homes, it is home to a mix of well-to-do retirees and working professionals for whom proximity to a big city and a laid-back, sophisticated community is important. But the developers of the resort community have done such a masterful job of landscaping and separating neighborhoods from transient traffic that Chateau Elan doesn't really feel like a resort.
The three golf courses, all designed by Georgia designer Dennis Griffiths, are certainly not the mild affairs one is used to at resorts that put a premium on relaxation. They run the gamut from tricky (the Chateau course) to downright difficult (The Woodlands) to private (The Legends). The first two, open to resort guests and the public, were good enough to host the NCAA Division III championships last May, the reason for my first visit to the resort.
I found the two accessible courses at Chateau Elan rather brawny, certainly interesting but not a relaxing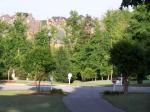 experience you expect to find at a resort. Maybe the goal was to drive golfers toward the resort's spa for a massage afterward (an ego massage in the 19th hole might work even better). Many of the fairways tilt severely, not in and of itself a design flaw, but on a resort course played by folks for the first time, blind tee shots to such fairways can make for an unnerving round. I watched some pretty good collegiate golfers who had played practice rounds on the two courses put up some big numbers; one shot a 75 on the Chateau course and then a 96 on the dastardly Woodlands layout the next day. If you like the testosterone to flow on your vacation, then the Woodlands at Chateau Elan is your kind of course.
Golf membership is $35,000 with reasonable monthly dues; that includes the Woodlands and private Legends course, but only discounted rates at the Chateau course. Another $1,500 buys into a sports club with Olympic pool, fitness center, steam and sauna rooms and many other accoutrements, including a full-size basketball court. Homes range from the nicely sized, starting in the $400s, to mansion size at prices well into the millions.
If you visit, make sure you stop in the resort's winery and sample Chateau Elan's award-winning wines. And if you would like an introduction to a sales agent at Elan, please contact me.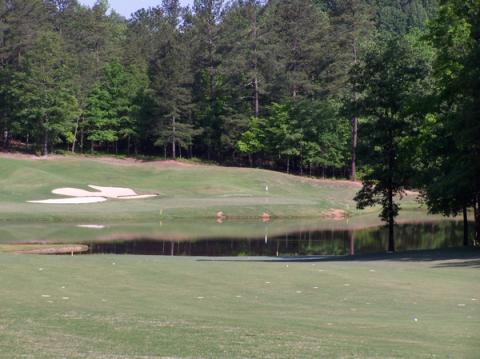 The par 5 8th hole at Chateau Elan's Woodlands course is one of the toughest holes in Georgia. The second shot, a blind lay-up, must find a narrow strip of fairway that tilts toward the trees and water on the right. Then the approach must fly a lake to a pin position that, as indicated, can be dangerously close to the false front just over the water.
Final note: I did not highlight a number of outstanding golf resort communities in this series because I have not visited them personally nor played their golf courses...at least not yet. If you are interested in a coastal golf community, do not ignore the St. Simons/Sea Island area between Savannah and Jacksonville, FL, although properties there are among the most expensive in the state. For an inland alternative, try Reynolds Plantation on Lake Oconee, about 80 minutes from Atlanta. In Savannah, The Reserve at Savannah Harbor combines in-city living with a country club atmosphere and a good golf course designed by Bob Cupp and Sam Snead.


Comment
Be the first to comment