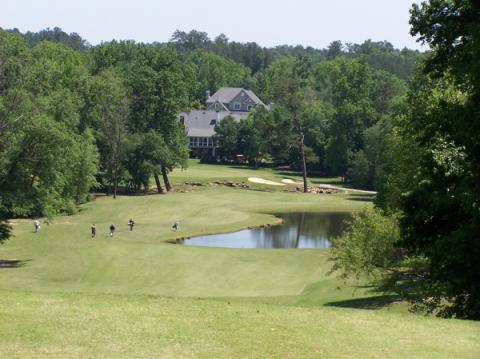 The home behind the 15th green on the Woodlands Course at Chateau Elan is reflective of many others adjacent to the layout -- large and well landscaped.

Communities in resorts have one major marketing advantage over their non-resort rivals -- built-in marketing. There is a comfort level for some us when we purchase where we have vacationed; you know the property, the golf course, the amenities and maybe even the neighbors if you were fortunate to be paired with them on the golf course or to sit next to them in the clubhouse dining room. My wife and I spent five separate vacations at Pawleys Plantation on the coast of South Carolina before we purchased a condo there eight years ago. We knew what to expect, and Pawleys has met our expectations.
The Chateau Elan Winery and Resort is banking on the same thing. The upscale community about 45 minutes northeast of Atlanta seems to have the formula down right, providing a relaxing vacation experience and a gated community that promises something of the same thing. Although some resort communities,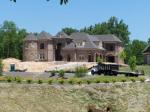 especially the ones on the coast, have a little trouble separating the interlopers from the residents - Wild Dunes in South Carolina comes to mind - Chateau Elan includes a private golf course among its total of three to ensure that member residents have free access to tee times and a course whose members have a vested interest in its maintenance. Too often vacationing weekend foursomes care little about the experience of those who follow them and leave behind unfixed pitch marks on greens and unfilled divots in the fairways.
The Legends Course, the fully private one, the tricky Chateau Course and the downright difficult Woodlands Course form the trio of diverse layouts at Elan. Denis Griffiths designed all three although the developers give design credit for The Legends to Sam Snead, Gene Sarazen and Kathy Whitworth (thus the course name). Griffiths' oeuvre includes a couple dozen courses in the southeast, mostly in Georgia.
Membership fees are quite reasonable for such a three-course menu, although odd in that they do not provide free greens fees at the Chateau Course. Full golf membership at $35,000 ($30,000 refundable) gives members free access to The Legends and Woodlands Courses and discounted green fees for just $20
The new sports club includes an indoor basketball court and track.
at the Chateau Course. (Why bother?) Monthly dues are $325 with a minimum food and beverage of $75 per month (easy to spend since the resort provides eight dining venues across the range of options). Other, lower-priced memberships appeal to those who do not live full-time at Chateau Elan or don't play quite enough golf to justify the expense of full membership.
A recently opened sports club offers a separate membership at $1,500 for the physically fit and those who want to be. The club includes the customary junior Olympic sized pool, large fitness room, aerobics room, locker rooms with steam and sauna, other rooms for card playing and TV watching and an outdoor grilling and sitting area. The unusual aspect of the sports club is the inclusion of an indoor walking track and full-size basketball court, great for playing H-O-R-S-E with the grandkids.
Many of the homes at Chateau Elan are enormous, castle-like structures that sit well above the fairways and are gorgeously and expensively landscaped. The largest ones currently available for sale in Elan are an 8 BR, 8.3 BA, 4+ garage home that will be finished in August, with a pool and view of The Legends Course. It is listed at $3.8 million. A 7 BR, 7 BA home on Gene Sarazen Drive is listed at $3.6 million, also with a view of The Legends Course. The few available lots on the Legends Course are listed between $275,000 and
The thriving major city of Atlanta is just 45 minutes away.
$375,000 and are over an acre each. New homes in the Woodlands neighborhood are listed between $600,000 and $1.2 million, the more expensive ones tending to provide nice golf views. Most are in the 4 to 5 bedroom range. A new neighborhood in The Woodlands called Sarazen's Corner will feature just 21 homes, with current lot prices in the $160s to $300 range. Transferable membership in The Legends Course is included, but buyers must choose a builder from among Chateau Elan's "preferred" list of 10.
For those with more modest aspirations or looking for a vacation home, Creekside Village features mostly four and five bedroom homes on smallish lots and beginning in the $400s. Creekside features six models by one builder.
Homeowner association dues vary from neighborhood to neighborhood but $250 to $300 per quarter is typical. Shopping is what you would expect of an exurb of a big city like Atlanta. The gigantic Mall of Atlanta is within 15 minutes drive, the city is 45 minutes away and the Atlanta airport about an hour. For lake enthusiasts, Lake Lanier, Georgia's largest manmade body of water, is just down the road although its water level still has not recovered from the drought of the last few years.
Those who find Chateau Elan to their liking probably won't stray off the reservation very much since there is so much to do on property (including sampling the Chateau's award-winning wines). But for those who have the urge for going, it is nice to have a modern, thriving city like Atlanta just down the road.
As always, if you are interested in more information about Chateau Elan or any community we review here, please contact us and we will put you in touch with a pre-qualified agent in the area. This service is free and without obligation.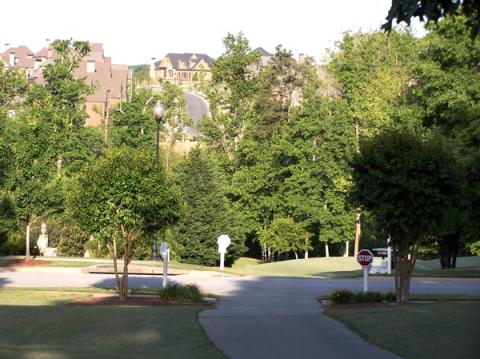 Like the Woodlands Course itself, the surrounding neighborhood has its ups and downs, literally.
Comment
Be the first to comment