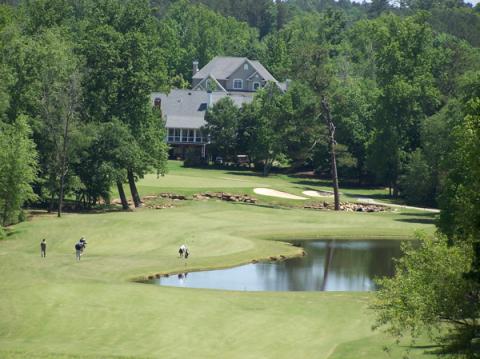 The par 5 15th at the Woodlands course requires three precise shots to get to the green, or two if you have the cojones to hit close to the pond and then over the creek at the front of the green. The hole measures 511 yards from the tips.
Size doesn't matter. The relatively short Woodlands Course at Chateau Elan Resort is a case in point. The back tees played to a modest 6,700 yards today during the first round of the NCAA Division III golf championships. The other half of the 35-team field played the resort's longer Chateau Course at over 7,000 yards.
The selection of courses was random, but there was nothing random about the order of finish after day one. The top six teams all played the Chateau Course. I walked the Woodlands, and it was firm and fast, both the fairways and greens, which would not have been such a problem if the fairways (and greens) didn't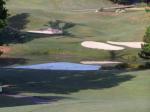 tilt, if the pins were not in the toughest-to-access parts of the greens and if out of bounds and hazards weren't cut so close to the fairways. Although the course was set up the same for half the field, only the strong survived. One team finished 77 strokes over par (that is for the best four scores of five players); props to Ogelthorpe University which finished 22 over, and 16 strokes higher than the La Verne University team, which played the Chateau and leads the tournament going into day two (one-third of the field will be cut after Wednesday's round before the final two rounds Thursday and Friday).
The Woodlands belies its rating of 73.1 and slope of 135 from the back tees. I had my little Kodak camera with me, and I hope the attached photos give some sense of the severity of the layout by architect Denis Griffiths. In coming days, I will have some comments about the Chateau Course as well as the real estate and lifestyle in the community of Chateau Elan, which is located just off Interstate 85, about 45 minutes northeast of Atlanta.
Chateau Elan Winery and Resort, 6060 Golf Club Drive, Braselton, GA. 678.425.6051. The Woodlands and Chateau Courses are both open to the public; the community's Legends course is strictly private. Green fees on the two public courses are a bargain at $70 weekdays, $50 between noon and 3 p.m. www.chateauelan.com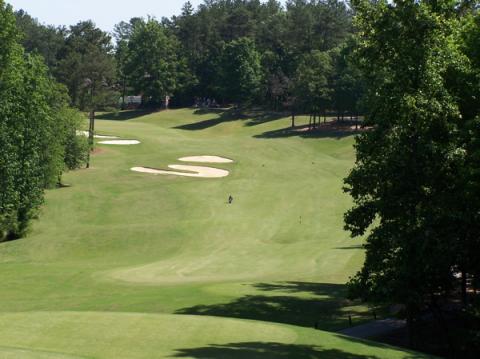 The tee shot on the uphill par 4 12th hole at the Woodlands (above) must be positioned to the right of the fairway bunkers in order to provide a reasonable approach over more bunkers to the firm and fast green (below).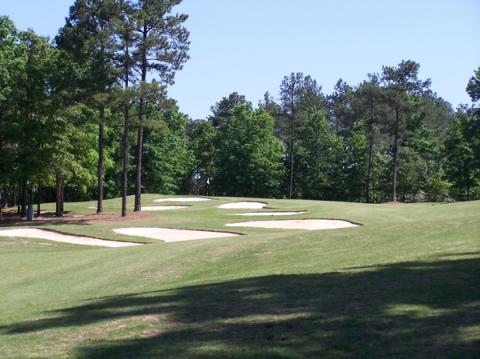 Comment
Be the first to comment