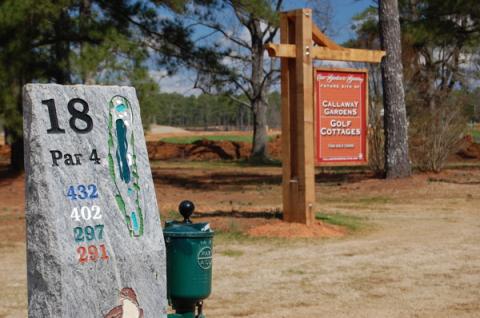 Just 30 golf cottages are being built near the 18th fairway at Callaway's Mountain View course.

The rains came down heavily starting at 7 a.m. Tuesday and did not relent until 11. The fairways, tee boxes and greens were all puddled with water and yet, by noon, the golfers competing in the Callaway Collegiate Invitational were ready to go. Good drainage is just one of the Callaway Gardens Mountain View Course's fine qualities.
With the greens softened up, the course played easier than the day before when every three-foot putt held the potential for a three-foot comeback. But the easier conditions brought into sharper focus that the Mountain View is a classic, terrific and tough golf course. Excellent short game players, especially those comfortable playing from the sand, have the best chance for a low score here. The greens are relatively small, mostly elevated and many are tucked behind bunkers that cover all but a sliver of their entranceways. Most of the greens also have severe roll-offs behind them or additional bunkers to catch shots made by the more aggressive players.
I stopped at the on-site real estate office on my way out of town. I had noticed a few construction vehicles and an area that was staked out just off the 18th fairway. A sign for future "Golf Cottages" was posted behind the 18th green. Only 30 golf cottages will be built along the final hole and will range from two to four bedrooms. The price range is $400,000 to $600,000. The sales exec in charge said sales have been strong despite the housing market problems up north.
At 14,000 acres, the huge community has plenty of room to grow, and other neighborhoods are sprouting throughout. Homes in the Longleaf section, for example, start in the $300s and range up to $700,000 for a five-bedroom home with impressive space. Not surprisingly, many of those buying homes at Callaway first came there on vacation, found it relaxing and beautiful, and decided to put down roots. Because of its remoteness -- more than an hour from Atlanta - and tiny local town of Pine Mountain, Callaway Gardens is pretty much self sufficient, with splendid golf on two courses, expansive gardens, a spa, a number of restaurants, a country store, a small airport and all the other amenities you would expect from a resort. For those who want to get lost on something like a permanent vacation, you could not ask for much more.
Let me know by clicking the contact button at the top of the page if you would like more information or would like me to arrange contact with a qualified real estate agent at Callaway Gardens. As always there is no obligation or charge for this service.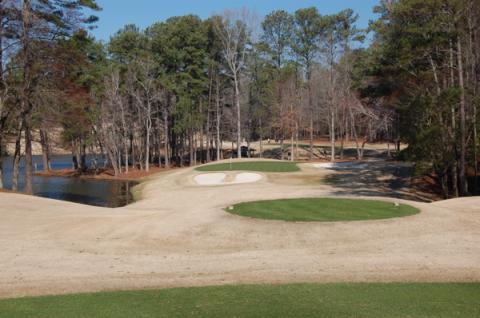 The green at the 3rd hole at the Mountain View course is small and slopes toward the water.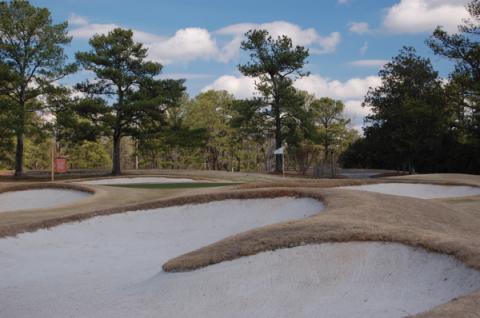 Designers Joe Lee and Dick Wilson put a premium on protecting their greens from roll-up shots. When the greens are firm, you had better have your short game working.
Comment
Be the first to comment