Rumors of the death of Florida were greatly exaggerated during the recession that began in the late mid-2000s. Indeed, according to a U.S. Census Bureau report recently, Florida has surpassed the state of New York in terms of population, growing by almost 300,000 in the one-year period that ended July 1, 2014. New York's population increased by just 51,000 in that same period.
California is the most populous U.S. state followed by Texas and, now, Florida.
After rampant building of new golf communities up until the mid-2000s and then a total stop during the recession, developers are accommodating the renewed influx of population with new construction. Naples, formerly one of the hottest markets in the state and one of its most depressed during the recession, has rebounded so quickly that it has spurred national developers like Arizona-based Taylor Morrison to announce a new golf community in the area. Esplanade, located just three miles from Interstate 75, will comprise nearly 1,800 acres and include more than 1,100 homes and an 18-hole golf course. One thousand acres of the gated community will remain "natural," including over 170 acres of lakes.
Homes in Esplanade begin in the upper $300s.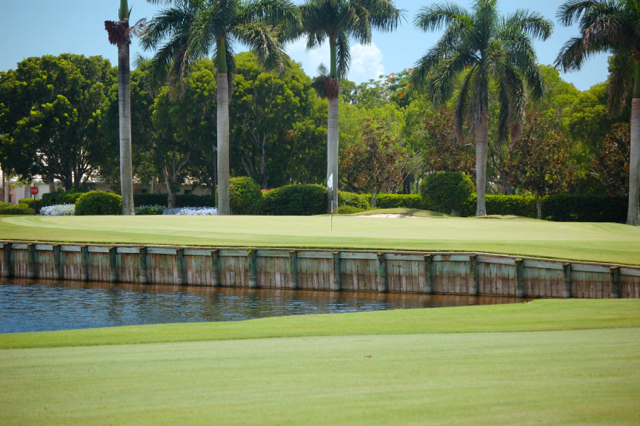 Audubon Golf & Country Club, Naples, FL The Naples area, which has a reputation for attracting wealthy residents, nevertheless is home to dozens of golf communities with the widest range of price points. For example, Heritage Bay, which was built by another national powerhouse developer, Lennar, and offers golf club membership "bundled" with the price of a home, features condos that begin in the mid $100s and coach homes that start in the low $300s. Heritage Bay's 27 holes of golf were designed by Paul Azinger and Gordon Lewis. At the other end of the price spectrum, Mediterra and its 18-hole Tom Fazio golf course, has only a few homes listed below the $1 million mark. In between the two golf communities are plenty of choices for folks looking for either a year round or seasonal home in a warm weather location.
For more information or two identify a home in Naples that will suit your temperament and pocketbook, please contact us.
Comment
Be the first to comment