A little costly, but you get what you pay for
        The March issue of our free newsletter, Home On The Course, will explore the three broad types of golf communities on the risk/reward continuum -– those where the developer owns the land and golf club; those in which the community is run by the property owners association, but the golf club is owned by the developer or another company; and the third, generally the most financially secure, in which the owners are in control of everything, including the golf club.
        The Willoughby Golf Club of Stuart, FL, falls squarely into the latter category, and although the costs to live there can run to about $20,000 annually for full-golf members, the community is worthy of consideration by those looking for a vibrant, well-organized and friendly retirement destination in a warm winter climate (but, of course, brutally hot on many summer days).  About 45% of the community's residents own another home in a cooler climate, like Asheville, NC.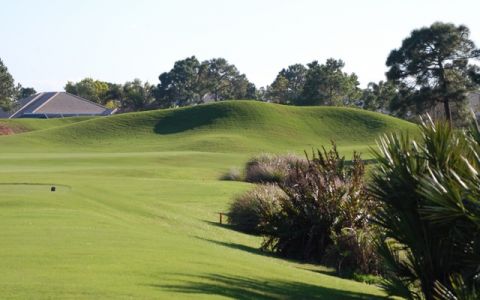 Hello Dolly:  The short par 4 15th at Willoughby tempts the big hitters to fly the mound in front of the green (top), but the less provocative play is a fairway wood to well inside 100 yards (bottom).  The trick is to leave a full wedge shot because the elevated green is small and not deep.
       Willoughby has a lot going for it inside and outside its gates.  The Stuart area itself checks virtually every box on the list of conveniences and necessities for a retired couple.  With two well-regarded hospitals at the north and south ends of town, a supermarket within five minutes and virtually all other types of shopping within 15 minutes, as well as Palm Beach International Airport just 45 minutes down the interstate, Willoughby residents have access to all the shopping and services they came to expect up north (the vast majority of residents are from the north).  Throw in an active cultural community, with Stuart's historic Lyric theater at its core, and a substantial restaurant scene in the small but bustling downtown area, and Willoughby residents can snicker justifiably at Florida stereotypes about cultural wasteland and 4 p.m. smorgasbord specials.
        Inside the gates of the relatively small community -– just 375 homes
Willoughby residents can justifiably snicker at the Florida stereotypes of early bird smorgasbord specials and cultural wasteland.
on 400 acres –- the bulk of social activity is focused in and around the 25,000 square foot clubhouse.  Even though many of the homes in Willoughby include swimming pools tucked inside screened porches, a large pool next to the clubhouse is available for those who want to do laps or just sun themselves on the deck with friends.  There is no room for tennis courts in the backyards of Willoughby homes but, no matter, the five composition courts just beyond the pool area are well maintained and lighted.
        The clubhouse will soon undergo a major renovation to its dining areas.  Last redone about a decade ago, most members were so disinclined toward the décor in the main dining room that they voted to pay an assessment of $4,650 each to give the place a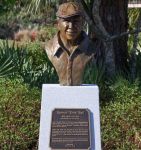 sprucing up.  Renderings of the new look were shared with all members; those I spoke with seemed excited that they would soon see the last of the "French bordello" look (a resident's words, not mine, but based on my brief visit, I concur).  An expansion of the popular "casual" dining area is included in the plans; an outdoor dining terrace will remain, with its sweeping view of the golf course and the nearby practice putting green.  All told, the clubhouse renovations will cost about $1.8 million.
        Club members are especially proud of their Arthur Hills designed golf course, and after playing 18 holes with a regular Monday men's golf group, I understand why.  Hills is among the most underrated golf designers in America.  In my experience, he balances challenges to the accomplished player against a golf community developer's instructions not to brutalize the higher handicapper.  At Willoughby, Hills' routing offers generous landing areas for the 20 handicap player but puts some nasty fairway bunkers in play for those who might hit their 250-yard drives a bit off line.  This being Florida, water of course comes into play on a number of holes.  On most, the ponds can be routinely negotiated but some putting surfaces are well protected at front and along the sides.  Thankfully, the greens held shots fairly well.
        Par 3s and Par 5s at Willoughby are especially noteworthy.  On the par 5s, shot selection on lay-ups is anything but routine as the player
The short par 4 male club members nicknamed "Dolly Parton" is one of those two-shotters that can tease you into making a fool of yourself.
negotiates around hazards and trees while attempting to get in position for shots to the well-bunkered greens.  At the splendid par 3s, the challenging positioning of bunkers and water make it difficult to bail out anywhere but the putting surface.  The very short par 4 15th stood out, literally and in memory.  My playing partners called it "Dolly Parton" for obvious boys-will-be-boys reasons.  From the tee, the green is about 275 yards away from the "back" tees, but a large mound blocks access to it (from the tee box, you can see only the top of the extra-long flag).  Big hitters could go for the green, but the chances of flying the mound and rolling up to the elevated green, and staying on the narrow surface, seem remote.  My playing partners guided me to play a fairway metal shot to the left of the mound, which left a 70-yard wedge shot into an elevated and small green.  I found the hole everything a short par 4 should be – strategic, with a reasonable chance at birdie...or bogey.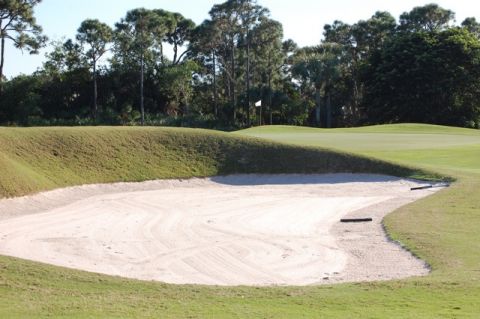 Designer Arthur Hills reshaped the flat Florida land to add visual contrast and extra challenge around Willoughby's greens.  A few small bunkers in fairways are particularly nasty.
        Although mild breezes never caused more than a one-club change on the day I played, the proximity to the ocean (about five miles away) can lead to plenty of indecision on other days.  Thankfully, the golf course turf did not offer up any unwanted challenges.  It was in excellent condition, with fairways that are cut just high enough to prop up the ball and yield some generous Bermuda divots; and greens that are cut down to a short, competitive length (more than 11 on the stimpmeter).  Although Hills' design group was brought in for some touchups a few years ago, Willoughby gives off a classic Florida golf course vibe, as if it has been there even longer than its 23 years.  Some staff and residents have been around from nearly the beginning.  Golf professional Gerry Knebels, for example, has worked at Willoughby for more than two decades; yet, for a real dose of longevity, consider that Willoughby's oldest club member is teaching pro Errie Ball, the last surviving member of the field at the first Masters golf tournament in 1934.  The wonderfully named Mr. Ball still gives lessons to residents, even though last year he and his fellow club members celebrated his 100th birthday.
        With an involved membership that is committed personally and financially to its club and community, Willoughby itself appears to be preparing to live long and prosper.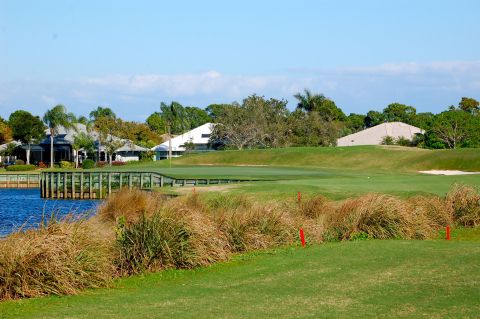 Some of the greenside ponds at Willoughby snake around to the fronts of the greens, making approach shots a hit or miss disastrously proposition.
        Willoughby Golf Club, Stuart FL. Golf course designed by Arthur Hills.  Tees:  Championship/Back/Middle/Forward.  Yardage:  6,731/6,231/5,693/5,014.  Rating/Slope:  72.9/132; 70.8/128; 68.2/123; 70.0/121.

        Web site: WilloughbyGolfClub.com. Homes from $300s to $1 million (only single-family homes, no condos or villas).  Annual fees for landscaping, amenities, trash, cable TV, security in the gated community and other services run to about $10,000 annually.  Estate House owners are responsible for their own grounds at an estimated $240 per month (less than what residents in the other neighborhoods pay).  Golf membership is not mandatory, but all homeowners are "resident" members of the club at an initial contribution of $15,000 which grants full access to all amenities (pool, tennis, fitness center, and clubhouse) except the golf course.  Golf initiation fees are $25,000 additional (non-refundable, but grants voting rights), and annual golf dues/fees are $10,300, which includes a $2,000 capital contribution (for 2011) which changes from year to year.  Golf membership is capped at 300 to ensure easy access to tee times.  Residents who opt to own golf carts pay an annual "trail fee" of $1,100; frequent golfers and those who don't want to use their cars for trips to the clubhouse or to friends in another Willoughby neighborhood choose this option. 
        Willoughby offers a nice discovery package, with a reduced rate at a local hotel and access to all amenities over the course of a day or two visit.  For those couples interested in a resident's perspective, Willoughby's "ambassador" program puts residents together with visitors for a round of golf, a meal and a tour of the community.
        If you would like more information about the Willoughby Golf Club community or to arrange a visit, please contact me.  I will be pleased to refer you to a local professional realtor who is herself a long-time resident of Willoughby.  She will can show you one or more of the (current) 32 homes for sale in the community.
Comment
Be the first to comment