Long Point is the best course on Amelia Island, the locals say. And we would agree after playing it yesterday, the third we played during our short visit. Tom Fazio's layout threads its way through the marshes at the south end of the island, emerging for two par three holes onto the ocean, just for variety's (and drama's) sake. Fazio works best when the land comes to him, and so at Long Point the fairways are as nature intended -- rolling, not funneled. We forgive the designer for a few uncharacteristically large mounds in mid fairway. But that's a minor nit on an otherwise brilliant track.
We had the great good fortune to be matched with three fine gentlemen from the Jacksonville area: Bill Swerbenski, who arranged the golf; Steve Roberts, a native of Wales; and Jack Hofstetter, a local real estate agent. All are members at th Sawgrass Country Club. Bill is a former accountant and, not surprisingly, he wound up on the positive end of the day's wagers. I paid for a few bad shots, but otherwise had my best round of the week, an 83 (not that you asked). We played the blue tees at a mere 6,121 yards and a rating of 69.6. The slope is a modest 125. The wind blew at about a steady 10 mph, with gusts to 20, and I thought ithe course played harder than the rating.
Long Point, which is a private club but playable if you are a guest at the Amelia Island Plantation resort, is a must play if you are ever in the area. The Jacksonville golf community market has heated up in the last few years, and there are many great options. The area is up and coming area for those who want to live the golf lifestyle; there is much relocation from south Florida to the area, as well as the customary snow bird migration from the north.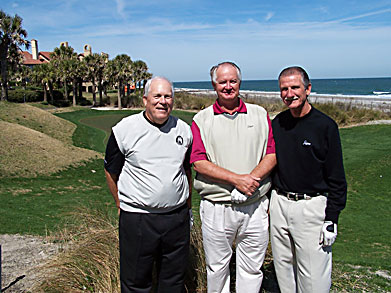 Left to right, Jack Hofstetter, Bill Swerbenski and Steve Roberts at one of the two ocean holes at Long Point, both short par 3s and both dead into the wind.

Comment
Be the first to comment