I am unabashed in my respect for Arthur Hills golf course designs largely because he does not generally dumb down his layouts to fit some golf community developer's conception of what is playable for a retired golfer.  If anything, Hills goes the opposite way.
        Although you will find a fair number of Hills' courses in destination locations (resorts, second-home spots), his layouts are no vacation for the average golfer and are sporting challenges for the single-digit player.  Curiously, some developers of age-restricted communities defer to the now 82-year old Hills, who presents them with layouts few aging, distance-diminished male golfers can play, short of teeing it up from the ladies' tees.  Hills designs are muscular, geared to golfers who can hit the ball where they want to, and a long way (i.e. the younger players).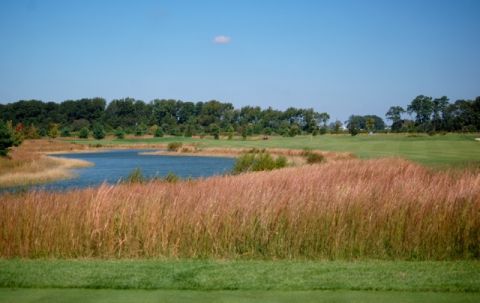 The second tee gives a strong hint of things to come on the Arthur Hills designed Heritage Shores golf course.  Water is in play for many tee shots.
        I first noticed this pre-disposition to non-compromise at the Williamsburg, VA, 55+ community Colonial Heritage, where the Hills golf course was among the most brutal I had played in years, with forced carries of considerable distance, tilted fairways and green complexes that would drive a Nationwide Tour player nuts.  Yesterday, during a week on the coast of Delaware, where I am scouting five golf communities, I played the Hills designed course at Heritage Shores, a 55+ community, with a 72 year old West Point graduate who is fit as a fiddle, played the tees from 5,900 yards, and still approached some of the par 4s as par 5s.  I chose the "Championship" tees at a total of 6,477 yards and had all I could handle on a layout with a rating of 70.5 and a slope of, gulp, 138.
        Heritage Shores, which opened in 2007 (Arthur Hills was 77 at the time), is not as relentlessly difficult as Colonial Heritage, but those 60-somethings who don't hit the ball 200+ off the tee won't find much comfort or entertainment in the ponds and lakes that are adjacent to all 18 holes, and in play at most.  The course is tough enough that a major distance accommodation is made to women, with their tee boxes at an unusually short 4,740 yards.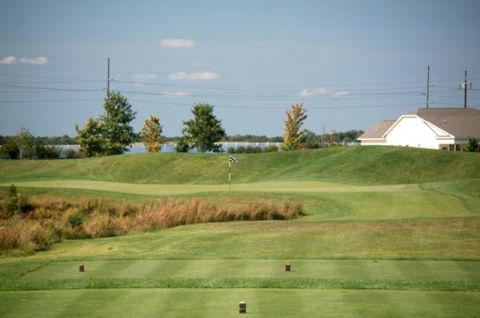 Par 3 14th at Heritage Shores.
        Conscious that the golf courses will not appeal substantially to the aging population in the homes that surround both Colonial Heritage and Heritage Shores, which is just off Highway 13 in central Delaware, about 40 minutes from the beaches, the two golf courses are open to public play.  For those heading from New England south to the Carolinas and Florida, Heritage Shores would make a great stop to break up the trip and play a terrific golf course at a reasonable price ($64, helpful GPS cart included).  The greens are smooth and receptive to well-struck approach shots and the fairways are, for the most part, wide (in some places, very wide).  Heritage Shores is all about the lay-up and approach shots and, often, the chipping around the tough green complexes.  (You might consider putting an extra wedge in the bag.)  Oh, yes, bring a long-handled ball retriever as well.
*
        In the coming week, we will begin listing homes for sale in Delaware golf communities at our companion site, GolfHomesListed, including the Bayside Resort, Peninsula Club, King's Creek, Rehoboth Beach Yacht and Country Club, Bear Trap Dunes and Heritage Shores.  Delaware's relatively mild winter climate -- golf courses stay open year round -- will appeal especially to second home owners and retirees looking to remain within a few hours drive of Philadelphia and Washington, D.C.  New Jersey and New York residents can be on the first tee at any of these clubs in less than five hours with a drive down the Garden State Parkway and a one-hour ferry ride (with your car) from Cape May, NJ, to the charming town of Lewes, DE.  Contact me if you would like more information about golf homes for sale in Delaware.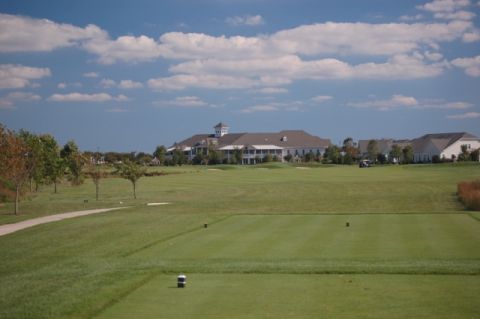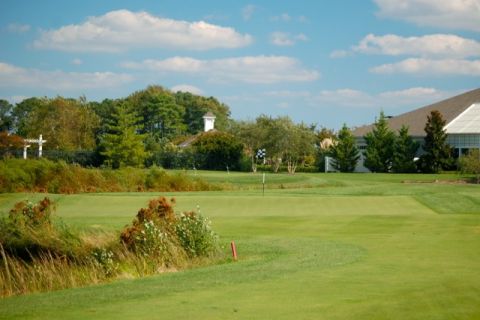 The tee shot on the finishing hole at Heritage Shores is routine (top), but the lay-up shot (middle) is anything but, with bunkers at right a better alternative than pond to the left.  With wind blowing right to left at greenside, a slighly pulled or long wedge shot will find a marshy grave.  Note the almost perfectly rectangular green.