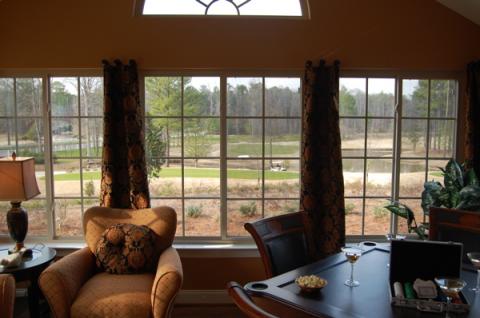 A new complex next to the Oxmoor Valley course features well appointed condos. You will be hard pressed to spend more than $350,000.
With six fine, designer courses in play, and two more on the way, including America's first by Tiger Woods, The Cliffs Communities offers more private club golf and amenities than any other set of communities I have visited. Despite the dubious source, The Cliffs' own marketing firm might be accurate when it praises its client for having "the most comprehensive and impressive club membership in the world."
But the world is a big place, and "comprehensive" and "impressive" are subjective assessments. For those
The annual Trail Pass is just $1,360 for an individual, $2,040 for a couple, which provides free access to all 26 courses.
who want their high-quality golf without the burdens of a big buy-in fee and are willing to give up extra amenities, exclusivity and a little bit of luxe, look to the Robert Trent Jones Golf Trail in Alabama. Compared with The Cliffs, for example, you could save $125,000 on initiation fees, more than $3,000 a year in dues, and more than $600,000 on a home. And with access to 18 more courses than at The Cliffs, the Trail's comprehensive membership is pretty impressive too.
The RTJ Trail, which never strays too far from the Interstates, runs from the northernmost parts of Alabama - Muscle Shoals and Huntsville - to the Gulf Coast resort town of Point Clear, about 380 miles. Along the way, no two golf complexes are more than two hours from the next closest, and most locations feature up to 54 holes of golf, including spectacular short courses that Jones Sr. patterned after his best par 3s elsewhere. I drove the nine-hole short course at the Silver Lakes complex and was impressed with how challenging each hole was; eight of the holes play over water, including the signature 6th with its greenside waterfalls. The short courses along the Trail are a great resource for any dedicated golfer who understands the importance of working on the short game.
Many of the Trail's courses are clustered near Alabama's urban centers. In the Auburn to Montgomery corridor, for example, you will find 108 holes within a one-hour radius. In and around Birmingham, 108 holes are within 90 minutes, and another 90 holes are in the Mobile/Point Clear area. Good sized hotels and conference centers have been built at eight locations adjacent to courses along the Trail.
The annual Trail Pass is just $1,360 for an individual, $2,040 for a couple, which provides free access to all 26 courses; all you pay is the cart fee. For those who live near the 36-hole Silver Lakes complex between Anniston and Gadsden, a $1,860 annual fee not only buys you full Trail access, but also no cart fees at Silver Lakes. (In other words, you pay $500 for 12 months use of a cart; about 30 rounds is the break even point.)
I played three courses on the Trail last week, including two nines at Silver Lakes and, suffice to say for now, they are all what you would expect from a heralded and classic designer like Jones Sr., who came out of retirement to design all the Trail's courses. The properties he was handed were virgin, and his respect for the land is evident. Surely he pushed some dirt around to elevate the greens and tees, but not many other disturbances are evident. The conditions of the courses in early March were what you would expect for late winter, but the turf gave evidence that a month from now, they will be up to private club standards.
Housing along the Trail is evolving. As I mentioned here last week, I stopped by one house for sale at Silver Lakes that featured four bedrooms, three baths and a view of the course for a shockingly low $329,000, or about $600,000 less than a comparably sized home at The Cliffs. Yes, I know the Jones courses are not private and the local mountains aren't that big and there is no equestrian center or nature trail carved into the adjacent countryside. But for those who want just quality golf at a reasonable price, the advice here is to consider keeping up with Jones, not the Joneses.
I'll have more to say in the coming days about the Trail courses I visited, including some words on the origin of The Trail. It is quite an interesting story.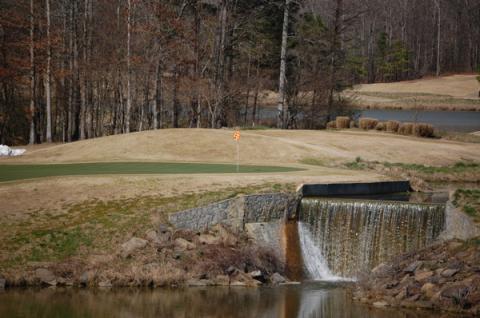 The Jones Trail features seven "Short" courses varying from nine to 18 holes, including the signature "falls" hole at Silver Lakes, between Gadsden and Anniston, AL
Comment
Be the first to comment