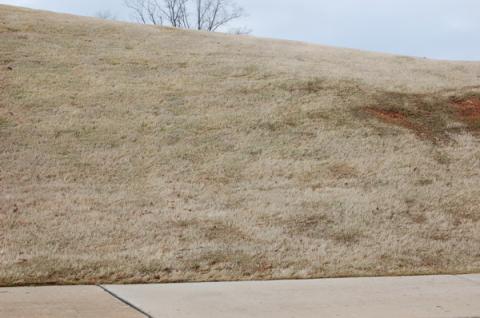 The walk from some cart paths to the fairway at Oxmoor Valley's Ridge Course was an uphill struggle, but the the elevation changes made it all worth the effort.

I may know what Mark Twain had in mind when he made his "good walk spoiled" comment about golf. This week I played three of the courses on the Robert Trent Jones Golf Trail in Alabama. I was relegated to cart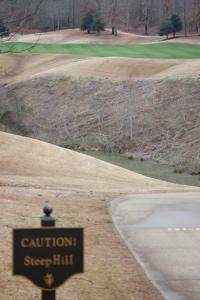 path only all three days after heavy rains. It is a good thing for Mr. Jones that he never was forced to walk his own courses.
The three courses - Grand National near Auburn, Silver Lakes in Glencoe and Oxmoor Valley in Birmingham - feature all the requisite elements of a master designer, with elevations in abundance. Tees are elevated, greens are elevated and fairways are almost all sloped, some severely. As the vagaries of my game would have it, I pushed and pulled drives over the three days, almost always on the opposing side of the fairway from the cart path. Sometimes the walk was uphill from the path just to get over and down to the fariway. At other times I walked down a steep slope which I had to walk back up to get back to the cart. I'm glad I didn't forget to take my blood pressure medicine.
The courses are all excellent and tough, largely because of the elevation changes, but call ahead of time if it rains the night before you are slated to play. Golf is not supposed to be that much exercise.
More on the Jones Golf Trail in coming days.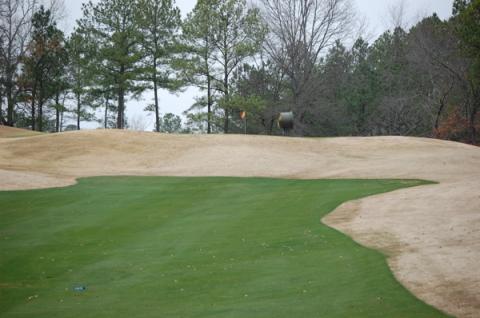 As at the 14th, you have to guess at some of the pin positions at Oxmoor Valley.